Seven Practices of Effective Ministry (with audio)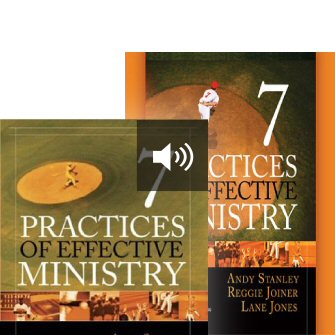 Seven Practices of Effective Ministry (with audio)
•
Runs on Windows, Mac and mobile.
Your Custom Discount
Reg. Price $25.95
Sale Price $19.95
Your Price $19.95
You Save $6.00 23%
Your Price
What's Pre-Pub?
$19.95
Overview
In Seven Practices of Effective Ministry, the authors invite you to take hold of seven simple but powerful principles that are sure to energize your ministry. Each of the seven principles has been put into practice with great success at North Point Community Church, the third most influential church in the US. Now it's your turn to experience real change and real growth in your church. An engaging parable about one overwhelmed pastor is followed by an overview of seven successful team practices, each one developed and applied in a ministry setting. Reinforced by relevant discussion questions, these clear, easy, and strategic practices can turn any ministry into a winning team. This product includes the audio and Logos editions of Seven Practices of Effective Ministry.
Audiobooks add new dimension to your digital library. When you listen in Logos, the audio syncs word-for-word with the text. Your audiobooks also sync across devices—pause a book anytime on your home computer, then pick up where you left off in your car or on your laptop. Listen on your lunch breaks, as a family, or as part of your personal devotional time. Tap into the power of Logos Bible Software in a whole new way
Key Features
Invites readers to incorporate seven simple principles to energize a ministry
Provides discussion questions to assist a team in creating a successful ministry
Uses coaching strategies for easy understanding and application
Contents of Print Edition
Part 1: Getting in the Game: Ray's Story

The Best-Laid Plans
Throwing Strikes
Keeping Score
Getting on Base
Staying Focused
Teaching Fundamentals
The Roar of the Crowd
Developing New Talent
Managing Your Way to Victory

Part 2: Putting the Seven Practices to Work

Clarify to Win
Think Steps, Not Programs
Narrow the Focus
Teach Less for More
Listen to Outsiders
Replace Yourself
Work On It
Resources Included

For many years, I practiced and taught church growth. What I have witnessed as a member at North Point takes church growth to a whole new level. Andy and his team communicate principles that will add value to you and the church you love.
—John C. Maxwell, founder, The INJOY Group
Every professional athlete recognizes the value of solid coaching. The best are always working to get better. From what I've seen at North Point, these seven practices can improve the game of any church in America.
—John Smoltz, Cy Young Award-winning pitcher
The practices covered in this book are down-to-earth, practical, and come from real difference-makers who know what church leadership is all about. Andy, Reggie, and Lane have definitely hit the ball out of the park with the Seven Practices of Effective Ministry.
— Ed Young Jr. senior pastor, Fellowship Church, Grapevine, TX
Dozens of wonderful books have been written for church leaders on how to increase attendance, develop programming, or disciple people. This is not one of those books. The Seven Practices of Effective Ministry is not so much about what to do as it is about what to ask. This book will not tell you how to implement programs, but it will provide you with a new lens through which to evaluate your current programs and any you may be considering. You will find no new strategy hidden in these pages. But as you embrace each of these seven practices, your ministry cannot help but become more strategic and as irresistible as God intended it to be.
— Andy Stanley

Seven Practices of Effective Ministry (audio)
Authors: Andy Stanley, Lane Jones, and Reggie Joiner
Narrator: Kirby Heyborne
Edition: Unabridged
Publisher: christianaudio
Runtime: 5.05 hours
Product Type: Audiobook
About the Authors
Andy Stanley is a graduate of Dallas Theological Seminary and the founding pastor of North Point Community Church in Atlanta, Georgia, with a youthful congregation of more than 12,000. Andy is the author of the 1998 Foreword Book of the Year finalist Visioneering, the bestsellers Like a Rock and The Next Generation Leader, and the recent How Good Is Good Enough. Andy and his wife, Sandra, have two sons and a daughter.
Lane Jones is a native of Atlanta, Georgia, where he lives with his wife, Traci, and their three children, Jared, Caitlin, and Madison. He is on staff at North Point Community Church, where he loves to write and participate in the creative process. Lane holds degrees from Georgia State University and Dallas Theological Seminary.
Reggie Joiner is the executive director of family ministries at North Point Community Church. He leads the staff responsible for children, student, and married adult ministries. He is also creator of FamilyWise, a nonprofit ministry aimed at helping churches and families teach kids character and faith. Reggie lives with his wife, Debbie, and his four teenagers in Cumming, Georgia.