R. Larry Moyer Evangelism Collection (9 vols.)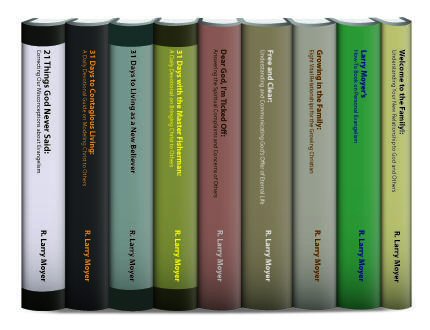 Overview
If the Gospel is such good news, why is it so hard to share? Jesus instructs his followers to carry out the Great Commission—to preach the Gospel in all times and places—yet many of us cannot muster the strength to share the Gospel with our neighbors, family members, and closest friends. Perhaps you find yourself tongue-tied, stumbling over your words, failing in your good intentions. Or maybe you're a pastor, and find the evangelism efforts of your church languishing.
In the 9-volume R. Larry Moyer Evangelism Collection, Moyer shows you how to share your faith and gives you the courage to testify to the work of God. His insight, clarity, and experience in evangelism will breathe new life into your evangelism efforts, and will help you share the Good News in sensible and understandable ways. The books in this collection include devotionals for new believers and evangelists alike, and address the basic questions of non-believers and common obstacles to the faith. Moyer corrects the common misconceptions about evangelism and the mistakes made by evangelists, and also inspires vital evangelistic efforts in churches and in the lives of individuals. Pastors, teachers, and anyone interested in discerning new and exciting ways to follow the Great Commission will benefit from R. Larry Moyer's advice and experience!
Key Features
How-to guides for breathing new life into your evangelistic efforts
Addresses common concerns and misconceptions about evangelism
Daily devotions for evangelists and new believers
Study guides and questions for reflection included in many books in this collection
Product Details
Title: R. Larry Moyer Evangelism Collection
Author: R. Larry Moyer
Publisher: Kregel
Volumes: 9
Pages: 1,230
About R. Larry Moyer
R. Larry Moyer received his Th.M. degree from Dallas Theological Seminary and has been working in the field of evangelistic ministry and evangelism training for more than twenty-five years. He is the president and CEO of EvanTell, Inc., an evangelistic association in Dallas, Texas, and speaks at evangelistic outreaches, training seminars, and in classrooms across the country.