William Mitchell Ramsay Collection (24 vols.)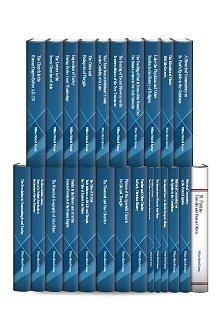 William Mitchell Ramsay Collection (24 vols.)
•
Runs on Windows, Mac and mobile.
Overview
William Mitchell Ramsay is perhaps one of the most fascinating biblical scholars from the turn of the twentieth century, and his writings are full of knowledge and insight that can only come from one who has extensively experienced firsthand the archaeology and people of Asia Minor. For decades, Ramsay immersed himself in the culture of what is now Greece and Turkey, as he set out first to disprove the Bible as factual and then, to his amazement, to show how the New Testament has proved itself to be historically infallible based on his findings.
A fantastic companion collection to New Testament study, these books give geographic and historical context to the Bible, confirming the history and events contained in the Scriptures. Particularly concentrated on the gospel of Luke and the journeys of Paul.
With Logos each volume in the collection is fully integrated with the other resources in your library, including Bibles, maps, dictionaries, and other Bible study tools. All Scripture references are linked directly to your preferred translation, making your Bible study and teaching preparations more effective and rewarding. Explore Scripture on a deeper level with search features, passage guides, and the other interactive features in your library. The Logos editions of these important books are more useful than ever for pastors, teachers, leaders, and anyone who wants to get deeper into the truth of God's Word.
Key Features
Contains over 6,000 pages of biblical and cultural insight into New Testament geography
Offers studies on the credibility of the Bible, based on archaeological evidence
Presents an anthology of essays culled from leading academic and religious journals of the day
Provides historical documentation of William Mitchell Ramsay's journeys in Asia Minor
Includes commentaries on the epistles to the Corinthians and the Pastoral Epistles
Product Details
Individual Titles
About William Mitchell Ramsay
William Mitchell Ramsay was born in Glasgow, Scotland, in 1851. His education took place at Oxford, the University of Aberdeen, and Gottingen, and he later went on to become professor of humanity at University of Aberdeen, as well as the first ever professor of classical archaeology at Oxford. Perhaps most well-known for his archaeological endeavors, he traveled extensively throughout Asia Minor, studying the missionary journeys of Paul and conducting archaeological research, writing numerous books on the findings and adventures of his studies, including St. Paul the Traveller and Roman Citizen His original intent in his studies was to disprove Christianity through archaeology, but through his research he realized that the Bible was accurate and converted to Christianity. Ramsay died in 1939.