Mobile Ed: Text of the Bible Bundle (4 courses)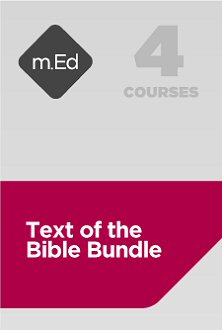 Mobile Ed: Text of the Bible Bundle (4 courses)
•
Runs on Windows, Mac and mobile.
Overview
Find out how we got the Bible, from ancient manuscript to modern translation, with this bundle featuring several of today's leading biblical scholars. Dr. Craig Evans—world-renowned professor and archaeologist—responds to skeptics with a persuasive defense of the reliability of New Testament manuscripts. Dr. Michael Heiser, an expert in a dozen ancient languages, explains how the Old and New Testaments were composed, copied, and canonized. Dr. Mark Strauss—vice chair for the Committee of Bible Translation—surveys the issues in Bible translation so you can understand how and why translations disagree. Gain a deeper appreciation for the text of the Bible from these scholars who have spent more than a combined 75 years in the field.
Individual Courses
Product Details
Getting the most out of Mobile Ed
Logos Mobile Education is a highly effective cross-platform learning environment that integrates world class teaching with the powerful study tools and theological libraries available in Logos Bible Software. Every course provides links to additional resources and suggested readings that supplement the lecture material at the end of every transcript segment.