Life and Works of Phoebe Palmer (7 vols.)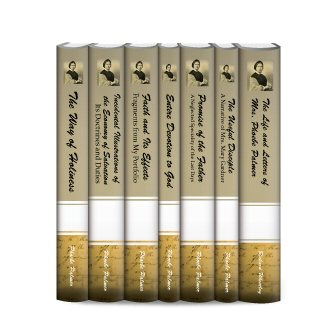 Overview
"It is by strong faith, not feeling that we glorify God," writes Phoebe Palmer—the mother of the Holiness movement. Permeated with warmth, vivacity, and a zealous love for the Bible, Palmer's writings offer a wealth of spiritual wisdom, and a window into the nineteenth-century Holiness revival. Explore some of her best works on the doctrine of holiness and immediate sanctification. Throughout her writing, Palmer offers vibrant personal testimony about the joys of this "Christian perfection," urging other Christians to offer themselves fully to Christ and experience "entire sanctification."
Study Palmer's insight into the path to holiness in her popular The Way of Holiness—a narrative of seeking holiness in the mold of Pilgrim's Progress. See deeper into her life and thought with collections of her correspondence. Examine writings that helped pave the way for other female leaders, reformers, and social advocates such as Catherine Booth, Frances Willard, and Amanda Berry Smith in The Promise of the Father. Palmer responds to resistance against her role as a female evangelist with a passionate defense of permitting women to pray and testify publicly, arguing that the Spirit was given to both men and women. Palmer's work will interest students of history and theology, providing valuable insight into Christian living and the religious landscape of a rapidly changing America.
In the Logos editions, these volumes are even more valuable, enhanced by cutting-edge research tools. Scripture citations link directly to English translations, and important terms link to dictionaries, encyclopedias, and a wealth of other resources in your digital library. Perform powerful searches to find exactly what you're looking for. Use the Timeline feature to track important dates and events. With Logos Bible Software, the most efficient and comprehensive research tools are in one place, so you get the most out of your study.
Key Features
Offers a foundational text of the nineteenth-century Holiness movement
Includes personal letters and memoir
Presents a window into the religious landscape of nineteenth-century America
About Phoebe Palmer
Phoebe Palmer (1807–1874) was a prominent figure in the nineteenth-century Holiness movement in the United States. She was born in New York City to a devout Methodist family. In 1827, she married a homeopathic physician, Walter Palmer. The Palmers became deeply interested in the work of John Wesley, and especially his teaching of "Christian perfection." In 1837, Phoebe Palmer experienced what she would describe as "entire sanctification," and she devoted the rest of her life to sharing this message. She developed what came to be known as "altar phraseology"—believing in the immediate availability of sanctification, when one lays all of oneself on "the altar" of Jesus Christ, who sanctifies the offering through faith in a second act of grace.
In 1840, Phoebe Palmer began leading weekly women's prayer meetings at her home—the Tuesday Meeting for the Promotion of Holiness. These meetings eventually included men, and by the 1850s, ministers, bishops, and educators of many Protestant denominations began to attend. Prayer meetings patterned after these Tuesday Meetings sprang up throughout the surrounding areas, and by 1886, around 200 such meetings were happening across the United States and abroad. Phoebe and Walter Palmer became itinerant preachers, speaking at churches, conferences, and camp meetings across the country and in the UK. Phoebe also wrote several popular books, undertaking a writing and speaking ministry that was highly unusual for a woman at the time. She left an enduring legacy, playing a significant role in helping to spread and renew interest in the concept of Christian holiness across the US, Canada, UK and other parts of the world.