Classic Commentaries and Studies on Exodus Upgrade (14 vols.)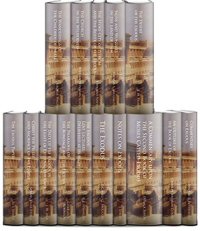 Classic Commentaries and Studies on Exodus Upgrade (14 vols.)
•
Runs on Windows, Mac and mobile.
Overview
This 14 volume collection features some of the best commentaries and studies on the book of Exodus from the eighteenth to early twentieth centuries. With scholars and authors like Richard G. Moulton, Samuel Eyles Pierce, Charles S. Robinson, and E.H. Palmer, Classic Commentaries and Studies on Exodus offers nearly 4,000 pages of quality commentary, criticism, context, interpretation, and application of this important Old Testament book. These 14 commentaries and studies on Exodus have had an enduring impact on Old Testament exegesis. With this exceptional collection you have easy access to a wealth of significant scholarship on Exodus.
In the Logos editions, these valuable volumes are enhanced by amazing functionality. Scripture citations link directly to English translations, and important terms link to dictionaries, encyclopedias, and a wealth of other resources in your digital library. Perform powerful searches to find exactly what you're looking for. Take the discussion with you using tablet and mobile apps. With Logos Bible Software, the most efficient and comprehensive research tools are in one place, so you get the most out of your study.
Key Features
14 classic works studying the book of Exodus
Nearly 4,000 pages of commentary, criticism, context, interpretation, and application
Noted authors from a variety of backgrounds
Product Details
Title: Classic Commentaries and Studies on Exodus Upgrade
Volumes: 14
Pages: 3,799
Topic: Exodus
Individual Titles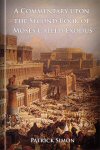 Anglican bishop Patrick Simon's commentary on Exodus is a classic resource for studying the second book of the Pentateuch. Simon, best known for his contribution to A Critical Commentary and Paraphrase on the Old and New Testament and the Apocrypha, provides ample commentary on each verse. The volume covers all 40 chapters of Exodus and is valuable as an expression of English commentary at the height of British empiricism.
Patrick Simon (1626–1707) was an English theologian and the bishop of Chichester (1689–1891) and Ely (1691–1707). He remained rector at St. Paul's, Covent Garden in London during the Great Plague (1665–1666). He published numerous sermons and devotional pieces, and his Old Testament commentaries were incorporated into A Critical Commentary and Paraphrase on the Old and New Testament and the Apocrypha with the work of William Lowth, Moses Lowman, Richard Arnald, and Daniel Whitby.
In the sequel to his work on Genesis, James Davies aims to "smooth the way to the study of what is confessedly one of the most difficult books in the Bible." Davies offers the collation of his extensive research, providing a helpful companion to the book of Exodus. His work provides a solid foundation for studying Exodus and other Mosaic literature.
J. Davies was a faculty member at the University of London. He wrote several local examination manuals for books of the Bible, as well as for the Book of Common Prayer and other liturgical texts.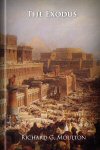 In this unique resource, Richard G. Moulton takes the Revised Version of the Bible and formats it as a modern narrative piece, without verses or traditional chapter breaks. Moulton seeks to replicate the reading experience the earliest readers of the Hebrew text would have had. His formatting aims to bring out the unique literary qualities of Exodus as the narrative of Israel's earliest constitutional history.
The effect of these changes back to the original forms under which the sacred writings first appeared will be, for the vast majority of readers, a surprise and delight; they will feel as if they had come upon new spiritual and intellectual treasures, and they will appreciate for the first time how much the Bible has suffered from the hands of those who have treated it without reference to its literary quality.
—Outlook
Unquestionably here is a task worth carrying out; and it is to be said at once that Dr. Moulton has carried it out with great skill and helpfulness. Both the introduction and the notes are distinct contributions to the better understanding and higher appreciation of the literary character, features, and beauties of the biblical books treated.
—Presbyterian and Reformed Review
Richard G. Moulton (1849–1924) was an English professor, lawyer, and author. He is also the author of Shakespeare as a Dramatic Artist, The Ancient Classical Drama, The Literary Study of the Bible, and The Bible at a Single View.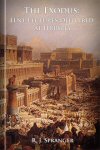 These six lectures from Anglican R.J. Spranger connect the season of Lent with the book of Exodus and Israel's wanderings. Spranger's lectures breathe pastoral warmth into the history of Exodus, providing an excellent devotional resource.
R.J. Spranger was a fellow and tutor at Exeter College, London.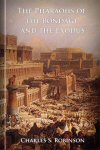 Learn about the Pharaohs and the Egyptian culture during Israel's captivity from Charles S. Robinson. Delivered from the pulpit on Sunday mornings, these essays bring pastoral warmth and insight into the study of Egypt, as well as how modern archaeology and Egyptology can inform our understanding of the trials Israel faced under ancient Egyptian pharaohs.
Charles S. Robinson (1829–1889) was an American pastor and writer. He attended Princeton Theological Seminary and Union Theological Seminary before becoming the pastor of the Park Street Presbyterian Church of Troy, New York. He pastored several other congregations before retiring from ministry in 1887. He published several popular hymnals.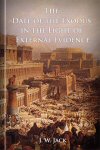 The Date of the Exodus in the Light of External Evidence
Author: J.W. Jack
Publisher: T&T Clark
Publication Date: 1925
Pages: 282
In this volume, J.W. Jack critically discusses various theories on the date of Israel's exodus from captivity in Egypt. Jack focuses on extra-biblical sources and maintains an objective, non-apologetic tone. He surveys a wide range of scholarship and concludes the exodus took place during the reign of Amenophis II, in the fifteenth century BC.
J.W. Jack was an early-twentieth-century Scottish scholar and writer.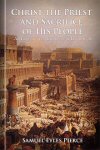 This volume, compiled and published by James Babb after Samuel Eyles Pierce's death, contains Pierce's exegesis of the beginning of the Levitical Priesthood in Exodus 28 and Leviticus 13. Pierce analyzes how the details of the priesthood foreshadow and expand on Jesus' role as high priest and sacrifice.
Samuel Eyles Pierce (1746–1829) was an English preacher, theologian, and Calvinist divine. A dissenter from the Honiton area, Pierce was an evangelical church minister aligned with Calvinist Baptist theology. He wrote more than 50 books and many sermons.
James Babb was minister of Portland Chapel, Plymouth.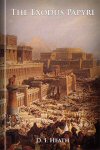 This unique volume, D.I. Heath examines ancient Egyptian papyri to shed light on the culture and conditions Israel was captive in. Heath's insights provide useful information for understanding the nature of Israel's trials during this period, and offer a fascinating glimpse into this period of ancient history.
D.I. Heath (1816–1888) was vicar of Brading, Isle of Wight, and a fellow at Trinity College, Cambridge. He was a respected Egyptologist, was one of the first to translate papyri for the British Museum, and was the editor of the Journal of Anthropology. His book The Future Human Kingdom of Christ—in which he argues for two distinct salvations: that of saved nations in the Old Testament and glorified saints in the New Testament—caused him to be persecuted for heresy and removed from his position.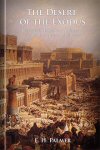 This exciting volume features "a complete exploration of the desert of the Exodus, so as to give an exhaustive account of the scenes of Israel's wanderings." Orientalist E.H. Palmer's work presents an opportunity to see what Moses, Aaron, Joshua, and the rest of the nation of Israel experienced as they alternately grumbled and gave thanks. Palmer's vibrant accounts of his journeys through the desert are supplemented with beautiful maps, illustrations, and photographs.
E. H. Palmer (1840–1882) was an English Orientalist and Lord Almoner's Professor of Arabic, and was fellow of St. John's College, Cambridge.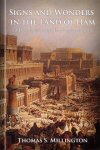 The biblical plagues of Egypt surely must have made an impression on the nation of Egypt, yet there is very little in the Egyptian historical record about the plagues or Israel's exodus. In this volume, Thomas S. Millington investigates this lacuna in the ancient historical record. Millington also studies the conditions the Israelites would have endure in Egypt, and how our knowledge of Egyptian culture illuminates how we understand the plagues.
Thomas S. Millington was vicar of Woodhouse Eaves. He also compiled The Testimony of the Heathen to the Truths of Holy Writ, a Bible commentary that draws from works of Greek and Latin antiquity.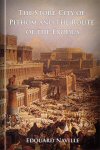 Walk the road the Israelites took out of Egypt renowned nineteenth-century Egyptologist Edouard Naville. Naville's volume is a classic work that provides anthropological insights into the biblical account of the exodus and a vibrant narrative from a modern adventurer into the Egyptian desert.
Edouard Naville (1844–1926) was an internationally renowned Swiss Egyptologist and biblical scholar, famous for excavating several sites in the Nile Delta.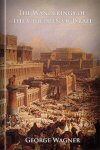 George Wagner preached to a poor congregation in Brighton, England in the late nineteenth century. These sermons, dedicated to his congregation, "contemplate God's dealings with [Israel], as foreshadows of his still more patient and gentle dealings with his people now." Covering the time the Israelites leave Egypt to the capture of Jericho, this volume features Wagner's loving, pastoral voice to cover the spectrum of Christian life from confusion, temptation and trial, to ultimate victory in Christ.
George Wagner was a nineteenth-century Anglican minister. He was the first vicar of St. Stephen's, Brighton.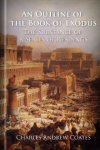 This narrative outline of Exodus from Charles Andrew Coates focuses on how Jesus is foreshadowed and paralleled. Coates hopes to "awaken the hearts" of Christians to the value of the Old Testament.
Charles Andrew Coates (1862–1945) was a prominent English Bible commentator and preacher.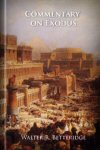 Commentary on Exodus
Author: Walter R. Betteridge
Series: An American Commentary on the Old Testament
Publisher: American Baptist Publication Society
Publication Date: 1914
Pages: 151
Part of the early twentieth-century American Commentary on the Old Testament series, Walter R. Betteridge's commentary on Exodus is a classic in Pentateuch commentary. His readable, yet scholarly work is useful and edifying for Bible students of every level.
Walter R. Betteridge (1863–1916) was an early-twentieth-century Bible scholar and commentator. He was a professor at Rochester Theological Seminary, New York.