The Works of Abraham Booth (3 vols.)
Overview
The Works of Abraham Booth combines the Baptist apologist's writings with details of his life in three volumes of valuable text. A minister for 50 years, Abraham Booth was influential within the Baptist denomination, and he engaged many controversies of his day, such as abolition. Among the pieces included in this collection are Booth's most influential work, The Reign of Grace, a collection of his sermons and tracts, and a memoir of this popular and complex minister.
With Logos Bible Software, these valuable volumes are enhanced by cutting-edge research tools. Scripture citations appear on mouseover in your preferred English translation. Important terms link to dictionaries, encyclopedias, and a wealth of other resources in your digital library. Powerful topical searches help you find exactly what you're looking for. Tablet and mobile apps let you take the discussion with you. With Logos Bible Software, the most efficient and comprehensive research tools are in one place, so you get the most out of your study.
Key Features
A memoir of eighteenth-century Baptist apologist Abraham Booth
Booth's seminal work, The Reign of Grace
A collection of Booth's sermons and tracts
Individual Titles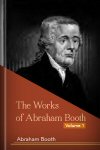 This volume contains a detailed memoir of Abraham Booth, as well as his seminal work, The Reign of Grace, and its supplemental text, The Death of Legal Hope.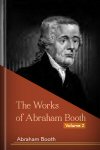 This volume presents Abraham Booth's Glad Tidings to Perishing Sinners, Essay on the Kingdom of Christ, and Apology for the Baptists.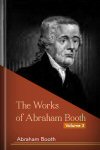 This volume contains 11 sermons and tracts by Abraham Booth, including "Divine Justice Essential to the Divine Character," as well as four posthumous essays and an index to the series.
Product Details
Title: The Works of Abraham Booth
Author: Abraham Booth
Publisher: J. Haddon
Volumes: 3
Pages: 1,374
About Abraham Booth
Abraham Booth (1734–1806) was an English Baptist theologian and pastor. He was baptized in an Arminian Baptist congregation but was later convinced of the doctrines of grace; he published his findings and experience in The Reign of Grace. He also helped found Stepney College.
More details about this resource