The Ecclesiastical Edicts of the Theodosian Code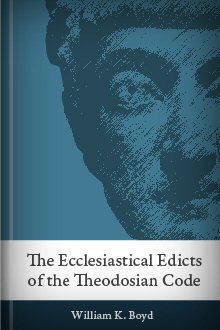 The Ecclesiastical Edicts of the Theodosian Code
•
Runs on Windows, Mac and mobile.
Overview
This volume contains William K. Boyd's 1905 dissertation on the Theodosian Code. Boyd found that the position of the Church in later Roman law hadn't been studied comprehensively, despite its decisive impact on the union of secular and religious forces. Boyd stated, "The blending of civil and ecclesiastical authority in the later Roman Empire is a subject of vast and permanent historic interest. In it the philosophical historian has seen only one of the many evidences of a decline in classical civilization; while the moralist has found it to be the source of all the humane and beneficent influences of the age."
Boyd believed that studying legislation was the best way to historically examine the permeation of good and evil in a particular society, as well as the political and social factors that influenced the church's character. He sifts through the Theodosian Code with this perspective to glean wisdom about ecclesiastical institutions, the church's conflict with paganism, and the influence of the edicts on medieval jurisprudence. This insightful volume will prove useful to those interested in church history, Roman history, medieval history, and ancient culture.
With Logos Bible Software, this valuable volume is enhanced by cutting-edge research tools. Scripture citations link directly to English translations, and important terms link to dictionaries, encyclopedias, and a wealth of other resources in your digital library. Powerful searches help you find exactly what you're looking for. Tablet and mobile apps let you take the discussion with you. With Logos Bible Software, the most efficient and comprehensive research tools are in one place, so you get the most out of your study.
Key Features
Examines the Theodosian Code
Uses legislation to study the effects of good and evil in Roman society
Explores the church's conflict with paganism, ecclesiastical institutions, and the influence of the edicts on medieval jurisprudence
Contents
The Conflict between Paganism and Christianity, As It Appears in the Code
Heresy and Ecclesiastical Institutions
Heresy and Ecclesiastical Institutions (continued)
The Relation of the Church to the Social Organization of the Empire
The Episcopal Courts
The Influence of the Ecclesiastical Edicts of the Theodosian Code upon Early Medieval Jurisprudence
Product Details
Title: The Ecclesiastical Edicts of the Theodosian Code
Author: William K. Boyd
Publisher: Columbia University Press
Publication Date: 1905
Pages: 122
About William K. Boyd
William Kenneth Boyd (1879–1938) was an American historian. He studied history and English literature at Weaver College and Trinity College. He was a teacher, writer, department chair, and eventually director of libraries at Duke University. He is credited with developing Duke from a small college library into a university research library, largely due to his acquisition of the Flowers Collection. He was a member of the American Historical Association and the Methodist Episcopal Church.
Sample Pages from the Print Edition
More details about this resource