Select Works of Joseph Conrad (4 vols.)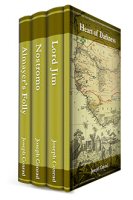 Select Works of Joseph Conrad (4 vols.)
•
Runs on Windows, Mac and mobile.
$16.00
Reg.: $24.95
Print: $33.38
* Projected price. Future bids may change this price.
Place Your Bid!
Click on the highest price you'd pay. If the final price is lower, that's what you'll pay.
Overview
Best-known for his enigmatic and controversial novella, Heart of Darkness, Joseph Conrad is remembered as one of Britain's greatest novelists. Spinning colorful tales of life at sea and wild adventures in the tropics, Conrad was skilled at his craft, and he was often praised for his rich prose and exotic settings. Yet beneath his stories' exciting and dangerous exteriors lie gritty themes of grappling with the evil in the world and in ourselves. Modern critics have ignited a firestorm of discussion in recent years, undertaking post-colonial and feminist readings of Conrad's works. Most notably, accusations of racism by Nigerian writer Chinua Achebe in the 1970s sparked a hotly disputed discussion of the effect of Conrad's portrayals of Africans in Heart of Darkness. Literary critic and professor Harold Bloom asserted that this short work of fiction has been analyzed more than any other piece of literature that is studied in universities, resulting from Conrad's "unique propensity for ambiguity." This collection features the classic, Heart of Darkness, together with three of Conrad's other novels: Lord Jim, Nostromo, and Almayer's Folly, which provide a look at the range of Conrad's talents and his contribution to literature.
The Logos edition of these valuable volumes are enhanced by amazing functionality. Study Conrad's texts alongside a library of classic literature and philosophy. Important terms link to dictionaries, encyclopedias, and a wealth of other resources in your digital library. Powerful searches help you find exactly what you're looking for. Tablet and mobile apps let you take your study with you. With Logos Bible Software, the most efficient and comprehensive research tools are in one place, so you get the most out of your study.
Key Features
Offers four of Joseph Conrad's novels
Includes the enigmatic novella Heart of Darkness
Provides a central text discussed in post-colonial studies
Product Details
Title: Select Works of Joseph Conrad
Author: Joseph Conrad
Volumes: 4
Pages: 1,122
About Joseph Conrad
Joseph Conrad (1857–1924) was born of Polish heritage as Józef Teodor Konrad Korzeniowski in what is now Berdychiv, Ukraine. He began learning English as a boy when his father worked on translating the works of Shakespeare and Victor Hugo to support the family. Conrad didn't become fluent in English until his 20s, yet wrote all of his works in English—an impressive feat. After going to school in Kraków and Switzerland, Conrad left for France, yearning to go to sea. He worked several years as a seaman, apprentice, and deckhand, and he spent 16 years in the British merchant navy, eventually becoming a captain. Conrad had numerous adventures during his life at sea, traveling to places such as Singapore and Bombay, as well as spending four months captaining a Congo River steamboat. His wild variety of experiences fueled his later writings. Conrad eventually settled in England and was granted British nationality in 1886, where he spent the rest of his life writing. In April 1924 he refused an offer of knighthood from Prime Minister Ramsey MacDonald, and he died later that year.