Select Works of Jonathan Swift (3 vols.)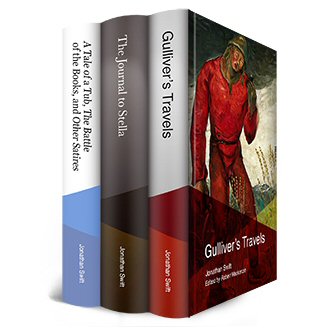 Select Works of Jonathan Swift (3 vols.)
•
Runs on Windows, Mac and mobile.
$15.00
Reg.: $39.95
Print: $70.33
* Projected price. Future bids may change this price.
Place Your Bid!
Click on the highest price you'd pay. If the final price is lower, that's what you'll pay.
Overview
A master of the Horatian and Juvenalian styles of satire, Jonathan Swift wrote powerful politically charged essays addressing the church, culture, government, and human nature. Encyclopedia Britannica calls Swift "the foremost prose satirist in the English language." His writing is playful, humorous, and sometimes highly critical, which generated a wide range of reactions, from adoration to scorn.
The Select Works of Jonathan Swift contains three volumes of his most cherished works, including Gulliver's Travels, A Tale of a Tub, and the famed short satire, "The Battle of the Books." The collection also includes 65 personal letters to his friend, Esther Johnson, who some believe he secretly married. Swift's wit has something to offer to a broad range of readers, and will appeal to lovers of history, culture, and even fantasy.
In the Logos editions, these volumes are enhanced by amazing functionality. Important terms link to dictionaries, encyclopedias, and a wealth of other resources in your digital library. Powerful searches help you find exactly what you're looking for. Tablet and mobile apps let you take the discussion with you. With Logos Bible Software, the most efficient and comprehensive research tools are in one place, so you get the most out of your study.
Key Features
Presents one of the greatest English satirists
Includes Jonathan Swift's most popular literary work
Contains letters, essays, and satires for a wide range of audiences
Product Details
Title: Select Works of Jonathan Swift
Author: Jonathan Swift
Volumes: 3
Pages: 1,237
Individual Titles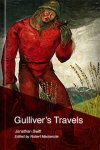 Gulliver's Travels is a classic work of English literature, and Jonathan Swift's most popular book. The novel is a satire of humanity and a travel-narrative parody. The story follows Lemuel Gulliver as he journeys to the remote nations of the world and encounters bizarre people and places.
It is universally read, from the cabinet council to the nursery.
—John Gay, poet
Robert Mackenzie is the editor of numerous works and the author of The 19th Century and America.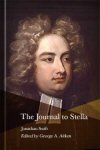 This volume contains 65 letters Jonathan Swift wrote to Esther Johnson. Swift's friend Thomas Sheridan suggested that Swift may have secretly married Johnson, whom he refers to simply as "Stella."
George Atherton Aitken (1860–1917) was an expert on Queen Anne English literature who wrote over 40 articles for the Dictionary of National Biography. He is the author of The Life and Works of John Arbuthnot, The Life of Richard Steele, and Later Stuart Tracts.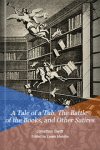 This volume contains a collection of 16 shorter works by Jonathan Swift, including A Tale of a Tub, "The Battle of the Books," "The Bickerstaff Papers," and "A Complete Collection of Genteel and Ingenious Conversation—In Three Dialogues." A Tale of a Tub is Swift's first major work, and while it was wildly popular, the satire was highly criticized for its treatment of the church. After reading the work years later, Swift said, "Good God! What a genius I had when I wrote that book!"
. . . a minute and wonderful completeness of allegory, which no ingenuity either before or since has ever equaled, along with an energy of thought, a quickness and brillancy of wit, a keenness and justness of satire, a purity of language, and an almost vivid distinctness of expression, which in one grand and matchless combination, exhibit all the peculiar excellencies of the genius and the style of Swift.
—The Dublin University Magazine
Lewis Melville (1874–1932) was an English author and actor. His works include In the World of Mimes: A Theatrical Novel, Victorian Novelists, William Makepeace Thackeray: A Biography, and The Life and Letters of Laurence Sterne.
About Jonathan Swift
Jonathan Swift (1667–1745) was an Irish satirist, poet, cleric, and dean of St. Patrick's Cathedral in Dublin. A master of the Horatian and Juvenalian satirical styles, Swift wrote politically charged essays addressing the church, culture, government, and human nature. Swift first published his works anonymously, or under pen names, like Lemuel Gulliver, Isaac Bickerstaff, and M. B. Drapier. In 1702, Swift received his Doctor of Divinity from Trinity College in Dublin. Two years later, he published his first major works, A Tale of a Tub and "The Battle of the Books." Swift's writing was playful, humorous, and sometimes highly critical, which generated a wide range of reactions, from adoration to scorn. Swift published numerous satires, essays, poems, sermons, and letters, including "A Modest Proposal."