The Chronicle of Joshua the Stylite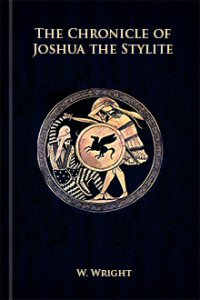 The Chronicle of Joshua the Stylite
•
Runs on Windows, Mac and mobile.
$6.00
Reg.: $15.95
Print: $26.99
* Projected price. Future bids may change this price.
Place Your Bid!
Click on the highest price you'd pay. If the final price is lower, that's what you'll pay.
Overview
This sixth-century Syriac chronicle documents some of the most destructive years of the Byzantine-Sassanid wars. Traditionally attributed to a monk, Joshua of Zuqnin, and preserved in the Zuqnin Chronicle, it is one of the earliest surviving documents in Syriac. It provides a window into the vernacular of the language, in a golden age that featured the work of poets and theologians such as Aphrahat, Ephrem the Syrian, Philoxenus of Mabbug, and Isaac of Ninevah.
This edition of The Chronicle of Joshua the Stylite begins with William Wright's preface, followed by his English translation with extensive notes based in the Syriac original. The narrative begins with a summary of events from the death of the Byzantine emperor Julian in AD 363 to the beginning of the reign of Persian king Kavadh I in AD 489. The following main portion details the Anastasian War (502–506) between the Eastern Roman Empire and the Persians, and the events that led up to it. The author includes many careful accounts of battles at Edessa, Amida, and across Mesopotamia. The writing is simple, straightforward, and specific, suggesting that the author was an eyewitness at several conflicts. The narrative perspective displays a culturally characteristic deference for a divine Christian providence over all things.
The Logos edition of the Chronicle enables you to study ancient texts like never before. Network words, phrases, and concepts across a library of classic works from Plato through late antiquity, as well as modern texts in history and linguistics. Fully indexed texts enable instant search results across this text and the rest of your digital library. Gain instant perspective with the Timeline, featuring both biblical and world events. Take your study with you with free tablet and mobile apps. With Logos, the most efficient and comprehensive research tools are in one place, so you get the most out of your study.
Key Features
Provides contemporaneous historical account of the Anastasian War
Presents a window into the golden age of the Syriac language
Gives you both the original Syriac and an English translation with footnotes from study of the original manuscripts
Contents
William Wright's Preface
English Translation
Original Syriac Text
Maps
Product Details
Title: The Chronicle of Joshua the Stylite
Author: Joshua the Stylite
Editor: William Wright
Translator: William Wright
Publisher: Cambridge University Press
Publication Date: 1882
Pages: 202
About William Wright
William Wright (1830–1889) was a renowned British Orientalist and professor of Arabic at Cambridge. Many of his works on Syriac literature are still in print and remain standard scholastic texts. Among his most influential and enduring works are his Grammar of the Arabic Language (known simply as Wright's Grammar) and his Short History of Syriac Literature.
Sample Pages from the Print Edition