A Practical Arabic Grammar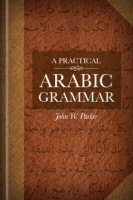 A Practical Arabic Grammar
•
Runs on Windows, Mac and mobile.
$3.00
Reg.: $19.95
Print: $30.75
* Community bid. May go even lower.
Bidding closes at 12:00pm (PST) on Friday, 10/26/2018. Don't miss out!
Place Your Bid!
Click on the highest price you'd pay. If the final price is lower, that's what you'll pay.
Overview
Duncan Stewart's A Practical Arabic Grammar provides an excellent resource for anyone seeking to gain basic knowledge of the Arabic language. Initially published in 1841 as "an attempt to facilitate the study of the Arabic language in England," this text is designed for the beginner. Stewart offers a straight forward introduction to the language, seeking to lay out basic principles in a manner neither too complicated nor too brief to be helpful. Throughout these 300 pages, Stewart introduces the Arabic alphabet, basic grammatical categories, tenses, syntax, and more. He includes useful notes, charts, and examples, and provides suggestions of other resources for taking your study of Arabic further.
With the Logos edition of A Practical Arabic Grammar, you can streamline your Arabic language education. Fully integrated into your digital library, this text will link to dictionaries, encyclopedias and a wealth of other resources. Perform powerful searches to find exactly what you're looking for. And free tablet and mobile apps let you take the classroom with you. With Logos Bible Software, the most efficient and comprehensive research tools are in one place, so you get the most out of your study.
Key Features
Provides a basic introduction to Arabic
Includes helpful notes, charts, and examples
Offers language-learning materials designed for the beginner
Furnishes the students with simple extracts to practice with
Contents
Alphabetical Table
Observations on the Alphabet
Rules of Permutation of the Letters
Verb
Of Tenses
On the Tenses of the Regular Trilateral Verbs
Passive Voice
The Surd Verb
Of the Irregular Verbs
Of Nouns
The Article
Of the Pronoun
Of Particles
Syntax
Proverbs
Extracts
Product Details
Title: A Practical Arabic Grammar
Author: Duncan Stewart
Publisher: John W. Parker
Publication Date: 1841
Pages: 301
Sample Pages from the Print Edition