A History of the Times (4 vols.)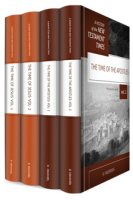 Overview
This collection is an English-language translation of German theologian Adolf Hausrath's A History of the New Testament Times. In these texts, Hausrath recounts the history of the New Testament, uniting sacred events with their surrounding cultural developments. Drawing from the works of Philo and Josephus, Hausrath illustrates Christianity as a part of a historical process, not its product. A History of the New Testament Times is an engaging narrative filled with both spiritual reverence and Hausrath's historical insights.
The Logos Bible Software edition of A History of the Times is designed to enhance your study. Scripture passages link directly to your English translations and original language texts, and important theological concepts link to dictionaries, encyclopedias, and a wealth of other resources in your digital library. In addition, you can perform powerful searches by topic and find what other authors, scholars, and theologians have to say about New Testament history.
Key Features
Historical account of the New Testament era
Portrayal of Christianity's role in history
Written to appeal to a wide readership
Praise for the Print Edition
[Hausrath] makes this memorable and agitated epoch live again in a very picturesque manner.
—Frédéric Lichtenberger, author, History of German Theology in the Nineteenth Century
Product Details
Title: A History of the Times
Author: Adolf Hausrath
Translators: Charles T. Poynting, Philip Quenzer, and L. Huxley
Publisher: Williams and Norgate
Volumes: 4
Pages: 1,084
About Adolf Hausrath
Adolf Hausrath (1837–1909) was a Protestant German theologian. His other works include Der Apostel Paulus, D. F. Strauss und die Theologie seiner Zeit, and Luther.