The Anabaptists (2 vols.)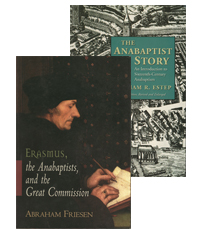 Overview
Five centuries ago the Anabaptist movement was launched with the inauguration of believer's baptism (as opposed to infant baptism) and the formation of the first congregation of the Swiss Brethren in Zurich, Switzerland. They emphasized piety, good works, and nonviolence, and had a strong aversion to state-run churches. Although they were part of the Reformation movement, they would come to experience severe persecution not only from the Roman Catholic Church, but from their fellow Protestants. Believing that they must work out their salvation in fear and trembling, the Anabaptists attempted to commit their communal living to the teachings of the Sermon on the Mount. They emphasized peaceful living, justice making, and the voluntary sharing of goods. Judged unfairly through several centuries, misunderstood or deliberately misrepresented, ignored and, of course, persecuted, William Estep believes the Anabaptists deserve a fresh look. Abraham Friesen has used the latest research to promote the idea that Erasmus and his famous paraphrase of Christ's Great Commission were instrumental in establishing early Anabaptist thought. Today we know the Anabaptists primarily as the Amish, Mennonites and the Church of the Brethren.
Individual Titles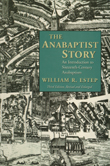 This standard introduction to the history of Anabaptism offers a vivid chronicle of the rise and spread of this vigorous Christian group. Estep provides a historical review of each Anabaptist leader's influence and discusses their positions on such doctrines as infant baptism, the Trinity, pacifism, the swearing of oaths and civil authority. The author, wanting to impart more than just information, hopes "that through these pages the world of the sixteenth century may come alive, and the Anabaptists within it, with all their virtues and faults, their strengths and weaknesses, but above all with the faith and ideals that motivated them to witness in word and deed, in life and in death, for that truth which for them was worth the living and the dying."
In this third edition, The Anabaptist Story has been substantially revised and enlarged to take into account the numerous Anabaptist sources that have come to light in the last half-century. Estep was also able to take advantage of the significant number of monographs and other scholarly research on Anabaptist themes that have appeared more recently. He challenges a number of assumptions held by contemporary historians of sixteenth-century Anabaptism and offers fresh insights into the historical movement to which we owe the notion of religious liberty that prevails today.
A sympathetic and fair-minded account. Estep is a spiritually sensitive, careful, and thoughtful scholar. His book is the best popular synthetic treatment of sixteenth-century Anabaptist history.
—Restoration Quarterly
A valuable contribution to Reformation studies….It would be difficult to find a better volume for an introduction to sixteenth-century Anabaptism.
—Fides et Historia
Recommended for its forceful and engaging style and for its unquestionable scholarship. Pastors, students, and scholars will be better informed in the area of Radical Reformation studies by its careful perusal.
—Southwestern Journal of Theology
Accurate historically and may be used effectively for introductions by those within the believing camp of Anabaptism as well as by inquiring outsiders.
—Church History
William R. Estep (1920-2000) was Distinguished Professor Emeritus of Church History at Southwestern Baptist Theological Seminary, Fort Worth, Texas. He participated in several church organizations including the American Society of Church History; the Conference on Faith and History; Southern Baptist Historical Society; the Texas Baptist Historical Society; and the Historical Committee of the Baptist General Convention of Texas. He is the author of Renaissance and Reformation and Revolution within the Revolution.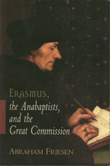 Many scholars have pointed to the influence of Erasmus on the early Swiss Anabaptists and on Menno Simons, an Anabaptist leader from Friesland who founded the Mennonites. Yet the extent of this influence has never been firmly established. Friesen uses new research to build a more convincing case for the early Anabaptist movement's dependence on Erasmus's thought by tracing the intellectual origins of both Swiss Anabaptism and Menno Simons to the writings of Erasmus. He is able to link their intellectual origins to Erasmus's unique interpretation of Christ's Great Commission as represented in his famous paraphrases of Matthew and Acts.
Friesen presents a convincing argument that the Anabaptist movement's understanding of believers' baptism was derived from Erasmus's 1522 preface to his Greek New Testament, his paraphrase of the Great Commission, and his annotations of the New Testament….All students of Anabaptism are indebted to Friesen for sharing his meticulous research into the indebtedness of the Anabaptists to Erasmus. For anyone interested in the origins and/or the intellectual sources of sixteenth-century Anabaptism, this book is indispensable.
—William R. Estep
A world-class historian here makes a contribution that will be of great interest not only to his fellow historians but also to biblical scholars. Friesen brings to his task an expertise, particularly in Reformation studies, that Biblicists cannot hope to match, and he traces the story of Erasmus, the Anabaptists, and the Great Commission right into our own era. As a result, his treatment also carries important implications for theologians who are currently engaged in discussion of ecclesial questions. A sumptuous feast for biblical scholars, historians, and theologians alike!
—Robert H. Gundry, Westmont College
Friesen presents the first thoroughly analytical study of the influence of Erasmus on the Anabaptists, showing how Erasmus's interpretation of Christ's Great Commission provides the key to understanding the core of Anabaptist belief and practice. Friesen shows that interpreters of Anabaptism and modern descendants of early Anabaptists, torn between rigid biblicism and rationalist theology, have often paid scant attention to Erasmus since the 'prince of humanists' did not fit into either mold.
—Peter J. Klassen, California State University, Fresno
Abraham Friesen is Professor Emeritus of Renaissance and Reformation history at the University of California, Santa Barbara. He received his Ph.D. from Stanford University. In Defense of Privilege and Reformation and Utopia are among the books he has written.
Product Details
Title: The Anabaptists
Authors: William R. Estep and Abraham Friesen
Publisher: Eerdmans
Volumes: 2
Pages: 454
Sample Pages from the Print Edition
More details about these resources