Journal of Biblical and Pneumatological Research (2009–2012) (4 vols.)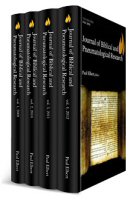 Journal of Biblical and Pneumatological Research (2009–2012) (4 vols.)
•
Runs on Windows, Mac and mobile.
Overview
The Journal of Biblical and Pneumatological Research (JBPR) is a new international peer-reviewed journal dedicated to narratively and rhetorically minded exegesis of biblical and related texts. Topics include theological and pneumatological interpretation; the role of spiritual experience within authorial, canonical, and contemporary contexts; and the activity of Ruach Yahweh, Ruach Elohim, and various identifications of the Holy Spirit. The journal hopes to stimulate thematic and narrative-critical examination in under-explored research areas.
The editorial board includes 27 biblical scholars from a dozen countries around the world, including Marvin Breneman from Costa Rica, William Kurz from the U.S., and Keith Warrington from the UK, as well as voices from Colombia, the Phillipines, New Zealand, South Korea, South Africa, and more.
In the Logos editions, these valuable volumes are enhanced by amazing functionality. Scripture citations link directly to English translations, and important terms link to dictionaries, encyclopedias, and a wealth of other resources in your digital library. Perform powerful searches to find exactly what you're looking for. Take the discussion with you using tablet and mobile apps. With Logos Bible Software, the most efficient and comprehensive research tools are in one place, so you get the most out of your study.
Key Features
Provides dozens of articles on various areas of theological and pneumatological interpretation
Includes helpful editorial introductions to each volume
Offers perspectives from scholars and editors around the world
Product Details
Title: Journal of Biblical and Pneumatological Research (2009–2012)
Editor: Paul Elbert
Publisher: Wipf & Stock
Volumes: 4
Pages: 610
Individual Titles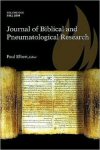 The first volume of JBPR, published in 2009, containing 11 scholarly articles and reviews. It also includes an introduction by the editor.
Contents
"Contextual Analysis and Interpretation with Sensitivity to the Spirit as Interactive Person: Editor's Explanation and Welcome to JBPR" by Paul Elbert
"Suffering and the Spirit in Luke-Acts" by Keith Warrington
"Empowered by the Spirit of Yahweh: A Study of Micah 3:8" by Wilhelm J. Wessels
"The Narrative and Rhetorical Use of Divine Necessity in Luke-Acts" by Kenneth Bass
"Acts of the Spirit: Ezekiel 37 in the Light of Contemporary Speech-Act Theory" by Jacqueline Grey
"Spirit-Gifted Callings in the Pauline Corpus, Part I: The Laying On of Hands" by John C. Poirier
"Luke: Storyteller, Interpreter, Evangelist: A Review Article" by Rob Starner
"Review of Wilda C. Gafney, Daughters of Miriam: Women Prophets in Ancient Israel" by Leonard P. Maré
"Review of Richard M. Davidson, Flame of Yahweh: Sexuality in the Old Testament" by Roger D. Cotton
"Review of Robby Waddell, The Spirit of the Book of Revelation" by David G. Clark
"Review of Graham Twelftree, In the Name of Jesus: Exorcism Among Early Christians" by Jon Mark Ruthven
"Reviews of Gordon Fee, Galatians" by Janet Meyer Everts and George Lyons

Volume two, published in 2010, includes the next installment of academic articles and reviews.
Contents
"Editor's Overview of Volume 2" by Paul Elbert
"Canonical Messages in the Book of Esther" by A. Kay Fountain
"The Spirit and Political Dissent: Revisiting Mark 13:11" by Emerson B. Powery
"Zechariah's Two Sons of Oil: Zechariah 4" by Lyle Story
"An Exegetical Analysis of Galatians 3:1–5, with Particluar Reference to Pneumatological Themes That Relate to the Onset and Continuation of Christian Identity, with Respect to Law and Gospel" by Stephen Kerry
"'Where are all his wonders?': The Exodus Motif in Book of Judges" by Lee Roy Martin
"Review of Scott Ellington, Risking Truth: Reshaping the World through Prayers of Lament" by Walter Brueggemann
"Review of Dale B. Martin, Pedagogy of the Bible: An Analysis and Proposal" by Adrian Hinkle
"Review of James Robinson, Word and Spirit in Ezekiel" by Wonsuk Ma
"Review of J. Gordon McConville, God and Earthly Power: An Old Testament Political Theology, Genesis–Kings" by Hélène Dallaire
"Review of Rebecca Skaggs and Priscilla C. Benham, Revelation" by Robby Waddell

Volume three, published in the fall of 2011, contains seven scholarly articles and six reviews.
Contents
"Editor's Overview of Volume 3" by Paul Elbert
"The Cutting Edge of Prophetic Imagery" by Galen L. Goldsmith
"The Audio/Visual Motif in the Apocalypse of John through the Lens of Rhetorical Analysis" by Rebecca Skaggs and Thomas Doyle
"Sensitivity to Aural Elements of a Text: Some Acoustical Elements in Revelation" by David Seal
"The Spirit and Wisdom in 1 Corinthians 2:1-13" by Simo Frestadius
"Righteousness and Characteristics of Yahweh" by Keith Whitt
"Luke's Point of View of the Gentile Mission: The Test Case of Acts 11:1-18" by Vanthanh Nguyen
"Luke's Instructive Dynamics for Resolving Conflicts: The Jerusalem Council" by Lyle Story
"Review of Christopher L. Carter, The Great Sermon Tradition as a Fiscal Framework in 1 Corinthians: Towards a Pauline Theology of Material Possessions" by R. G. Dela Cruz
"Review of Robert P. Debelek Jr., Hidden in Plain Sight: Esther and a Marginalized Hermeneutic" by A. Kay Fountain
"Review of Richard Feldmeier, The First Letter of Peter: A Commentary on the Greek Text " by Rebecca Skaggs and Thomas Doyle
"Review of Rodrigo J. Morales, The Spirit and the Restoration of Israel: New Exodus and New Creation Motifs in Galatians" by James C. Miller
"Review of Robin Routledge, Old Testament Theology: A Thematic Approach" by Andrew Davies
"Review of John C. Poirier, The Tongues of Angels: The Concept of Angelic Languages in Classical Jewish and Christian Texts" by Russell P. Spittler

Volume four contains an introductory overview, six articles, and five scholarly reviews.
Contents
"Editor's Overview of Volume 4" by Paul Elbert
"Seeing the Unseeable—Speaking the Unspeakable: From a Kenosis of Exegesis toward a Spiritual Biblical Theology" by Markus Locker
"The Johannine Paraclete—Herald of the Eschaton " by Andreas Hoeck
"The Contribution of Socio-Rhetorical Criticism to Spirit-Sensitive Hermeneutics: A Contextual Example—Luke 11:13" by Riku P. Tuppurainen
"One Banquet with Many Courses (Luke 14:1-24)" by Lyle Story
"Ezekiel: Prophet of the Name and Glory of YHWH—The Character of His Book and Several of Its Main Themes" by Pieter de Vries
"How Does the Holy Spirit Change Us?" by Mark Saucy
"Review of Elim Hiu, Regulations Concerning Tongues and Prophecy in 1 Corinthians 14.26-40: Relevance beyond the Corinthian Church" by M. Fred Haltom
"Review of Joseph Peter Becker, Paul's Use of charis in 2 Corinthians 8-9: An Ontology of Grace" by Rebecca Skaggs and Thomas Doyle
"Review of Manfred Baumert, Natürlich—Übernatürlich: Charismen entdecken und weiterentwickeln (Natural—Supernatural: Discovering and Developing Spiritual Gifts)" by Wolfgang Vondey
"Review of Norbert Baumert, Sorgen des Seelsorgers: Übersetzung und Auslegung des ersten Korintherbriefes (Worries of Pastors: Translation and Interpretation of First Corinthians)" by Manfred Baumert and Paul Elbert
"Review of Gonzalo Haya-Prats, Empowered Believers: The Holy Spirit in the Book of Acts" by Martin Mittelstaadt, Lyle Story, and James Shelton
About the Editor
Paul Elbert teaches theology and science at the Pentecostal Theological Seminary in Cleveland, Tennessee. He is co-chair of the Formation of Luke-Acts section in the Society of Biblical Literature and is a research advisor to the Dominican Biblical Institute, in Limerick, Ireland. His writings have appeared in Zeitschrift für die neutestamentliche Wissenschaft and Catholic Biblical Quarterly. He also served as editor of Essays on Apostolic Themes and Faces of Renewal.
More details about these resources