Baylor Early Christian History Collection (5 vols.)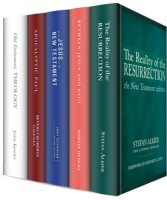 Baylor Early Christian History Collection (5 vols.)
•
Runs on Windows, Mac and mobile.
Overview
The Baylor Early Christian History Collection assembles five engaging studies focusing on early Christian history. Neatly bookending this collection are John Kessler's book on Old Testament theology and Stefan Alkier's fresh historical and theological explorations of the Resurrection. These volumes, along with the other provocative books included in this collection, provide foundational knowledge for studying the work of Christ as recorded in the Gospels, and the history of the early church; together, they also maintain the crucial connection between individual events and the greater narrative of Scripture. Touching on an array of interesting topics such as christology and the origin of the New Testament canon, this insightful collection offers a substantive addition to any Bible scholar's library.
In the Logos editions, these valuable volumes are enhanced by amazing functionality. Scripture and ancient-text citations link directly to English translations and original-language texts, and important terms link to dictionaries, encyclopedias, and a wealth of other resources in your digital library. Perform powerful searches with the Topic Guide to instantly gather relevant biblical texts and resources, enabling you to jump into the conversation with the foremost scholars on issues within early Christian history. Tablet and mobile apps let you take the discussion with you. With Logos Bible Software, the most efficient and comprehensive research tools are in one place so you get the most out of your study.
Key Features
Provides a robust ensemble of scholarly voices
Compiles fresh volumes on array of subjects surrounding early Christianity
Includes a foundational text tracing the divine-human relationship from the Old Testament to the New
Individual Titles

Old Testament Theology: Divine Call and Human Response
Author: John Kessler
Publisher: Baylor University Press
Publication Date: 2013
Pages: 623
Old Testament Theology provides a foundational tool for a theological reading of the Old Testament. In the book's central chapters, John Kessler delineates six differing representations of the divine-human relationship, with special emphasis on the kind of response each one evokes from the people of God. He traces these representations through the Old Testament into the New Testament, and he reflects on their significance for the values and character formation of the people of God today. Old Testament Theology combines elements of Old Testament history, exegesis, hermeneutics, and theology, and it situates them within the social, cultural, and intellectual world of ancient Israel and Israelite religious institutions. The result is a comprehensive and readable introduction to Old Testament theology for students in seminaries and colleges.
John Kessler has integrated his responses to the ground problems and antagonisms regarding the Scriptures into his exegetical method. The author challenges readers to look after other streams that determine the faith tradition from which the Hebrew Bible ensues. The study relies on thorough knowledge of the Scriptures themselves, the history of their interpretation, the contemporary discussion on language concerning transcendental issues and the large variety of historical and literary methods applied. Therefore, master and postgraduate students, teachers and pastors of every Christian denomination, moreover readers of divergent disposition, in love of or curious about or even prejudiced against the Old Testament as part of the Christian Bible, will find their questions taken seriously to the end while being helped to assess the Book at its true values.
—Willem A. M. Beuken, Catholic University Leuven
John Kessler's Old Testament Theology: Divine Call and Human Response helps students navigate the often confusing thought world of the Old Testament by identifying key theological streams and the kind of response each one seeks from the people of God.
—Marion Ann Taylor, professor of Old Testament, Wycliffe College, University of Toronto
Kessler's sensitive and deep-level readings provide a helpful guide through the diverse traditions of the Old Testament in order to hear the relational responses being summoned from the text throughout. This is the work of a confident and bold scholar who is not threatened by the theological diversity running along the crevices and fractures of the Old Testament text.
—Bill T. Arnold, acting dean, School of Biblical Interpretation and Paul S. Amos Professor of Old Testament Interpretation, Asbury Theological Seminary
John Kessler is professor of Old Testament at Tyndale University College and Seminary, and he serves as chair of the Biblical Studies Department.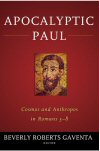 Apocalyptic Paul: Cosmos and Anthropos in Romans 5-8
Editor: Beverly Roberts Gaventa
Publisher: Baylor University Press
Publication Date: 2013
Pages: 207
Romans 5–8 revolves around God's dramatic cosmic activity and its implications for humanity and all of creation. This collection of insightful essays from 10 different scholars, including the editor, measures the power of Paul's rhetoric about the relationship of cosmic power to the Law, interpretations of righteousness and the self, and the link between grace and obedience. Apocalyptic Paul is a revealing study of Paul's understanding of humanity in light of God's apocalyptic action through Jesus Christ; it illuminates Romans 5–8 and shows how critical this neglected part of Romans was to Paul's literary project.
We are indebted to Beverly Gaventa for this fine collection. This is an unusually strong series of studies by respected Paul scholars that should be of interest to anyone preaching and teaching from Romans, especially Romans 5–8.
—A. Katherine Grieb, professor of New Testament, Virginia Theological Seminary
Romans 5–8 are explored, pressed, and at times—as they should be—simply celebrated. Every reader interested in Paul will benefit from this interplay of theology, exegesis, and subtle intertextuality, threaded through with church tradition. Perhaps most importantly, many of the apostle's most powerful and challenging thoughts are on display here at the hands of some of his most significant and gifted current interpreters.
—Douglas A. Campbell, associate professor of New Testament, Duke Divinity School
This volume brings us into the company of seasoned Pauline scholars focused on the center of Paul's Epistle to the Romans. The conversation among these experts, all sympathetic (though not all in the same way) to the designation of Paul as an 'apocalyptic figure,' reveals richly informed engagement with the text and honest wrestling with the large questions of cosmology and anthropology raised by Romans 5–8. Altogether the essays in this volume stand as a profoundly stimulating, challenging, crucial, and timely contribution to the conversation about Paul's interpretation of the gospel in what remains for the time being contested territory.
—Alexandra Brown, Jessie Ball duPont Professor of Religion, Washington and Lee University
Beverly Roberts Gaventa is distinguished professor of New Testament interpretation at Baylor University. She has authored many books, including From Darkness to Light: Aspects of Conversion in the New Testament, and Our Mother Saint Paul.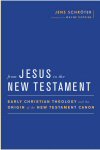 From Jesus to the New Testament: Early Christian Theology and the Origin of the New Testament Canon
Author: Jens Schröter
Translator: Wayne Coppins
Publisher: Baylor University Press
Publication Date: 2013
Pages: 431
Jens Schröter's celebrated From Jesus to the New Testament highlights a rich narrative to Christian history by looking back upon the theological forces that created the New Testament canon. Through his textual, historical, and hermeneutical examination of early Christianity, Schröter reveals how various writings that form the New Testament's building blocks are held together. Jesus not only bound the New Testament, but also launched a theological project that resulted in the canon. Schröter's study will undoubtedly spark new discussion about the formation of the canon.
Schröter does what very few New Testament scholars—whether English- or German-speaking—manage: to ground his historical analysis explicitly in a nuanced and sophisticated theoretical discussion of what it means to do history. Schröter's book serves as a superb introduction to and analysis of German New Testament scholarship.
—Adele Reinhartz, professor, Department of Classics and Religious Studies, University of Ottawa
Jens Schröter's collection of essays seeks to penetrate deeply below the surface of the New Testament and its history and historical figures, and to bring into a meaningful perspective the theology and history that gave rise to the faith of the earliest Christians. Many think a New Testament canon is a snapshot of what went on, but Schröter shows that the canon itself can only be understood in light of a long history of developments in different directions.
—Scot McKnight, professor of New Testament, Northern Seminary
Jens Schröter is chair of theology and exegesis of the New Testament and the New Testament Apocrypha of the Theological Faculty of Humboldt University of Berlin. He has also served as professor of biblical studies at the University of Erfurt, chair of New Testament in the department of theology at the University of Hamburg, and visiting professor at the department of religious studies at Rice University in Houston, Texas.
Between Jesus and Paul: Studies in the Earliest History of Christianity
Author: Martin Hengel
Publisher: Baylor University Press
Publication Date: 2013
Pages: 240
Martin Hengel spent a lifetime studying the first three decades of Christianity—the span from Christ's ascension to Paul's conversion. Between Jesus and Paul represents a collection of six formative studies by Hengel concerning early Christology, the formation and success of the Christian mission, the functions of hymn singing in the young church, and Pauline dogma. Drawing upon a wealth of source material, Hengel pieces together the development of Christianity's first decades. Any Bible student or scholar will find useful points of embarkation for studying Christianity within this text.
A stimulating and provocative book. Martin Hengel has a confident mastery of an immense range of ancient literature and an ease of presentation. This collection of articles is coherent: all the pieces deal with the crucial first thirty years of the emerging Christian movement. Hengel explores as a genuine historian the shadowy period in question, and comes up with new and surprisingly clear insights.
—Tom Wright, professor of New Testament and Early Christianity, University of St. Andrews
Combining his incredible knowledge of the Jewish and Hellenistic world with the keen perception of a detective, Martin Hengel casts new light on the dark first three decades of Early Christianity as well as on the mysterious development of its Christology.
—Reinhard Feldmeier, professor of New Testament, Göttingen
Martin Hengel (1926–2009) was a German historian of religion. His many books include The Charismatic Leader and His Followers and The Four Gospels and the One Gospel of Jesus Christ.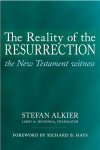 The Reality of the Resurrection: The New Testament Witness
Author: Stefan Alkier
Translator: Leroy A. Huizenga
Publisher: Baylor University Press
Publication Date: 2013
Pages: 351
In The Reality of the Resurrection Stefan Alkier bridges the gap between history and theology. Through a patient historical, canonical, and hermeneutical study, Alkier demonstrates that the resurrection of Jesus is inextricably bound to the general eschatological resurrection of the dead. Jesus' resurrection is no isolated miracle but is instead the crucial disclosure of the nature of reality, the identity of God, and the destiny of human beings. Interpretation of Jesus' resurrection is thus historical and theological. Through a exegetical survey of New Testament rhetoric, Alkier locates the resurrection of the Crucified One within a distinct narrative world. He then employs the semiotics of C. S. Peirce to develop a creative epistemology that avoids propositional literalism and modernist reductionism. Alkier finally outlines how resurrection impacts Christian praxis. The Reality of the Resurrection witnesses to that which Paul names as of "first importance"—not only for the early Christian communities but also for the shaping of our communities today.
The Reality of the Resurrection is a thought-provoking work that not only makes a significant contribution to theological debates about the resurrection but also offers fresh perspectives on the relation between biblical studies and theology. Rather than attempting to fit resurrection into modernity's conceptual categories, Alkier insists on an intellectual revolution, a transformation of the mind brought about by the resurrection as a real event by the power of God. Readers of these pages will be brought into a deeper encounter with a proclamation that the Apostle Paul describes as a matter of "first importance"—not only for the early Christian communities but also for the shaping of our communities today.
—Richard Hays, from the Foreword, George Washington Ivey Professor of New Testament, Duke Divinity School
...excellent set of essays on the book of Revelation.
—Bible Today (July 2013)
…offers a stimulating and constructive engagement with the Apocalypse.
—Grant Macaskill, Journal for the Study of the New Testament (35:5, August 2013)
This work is provocative, innovative, erudite, yet replete with practical pedagogical implications, and well worth contemplating.
—Craig L. Blomberg, Distinguished Professor of New Testament, Denver Seminary
Stefan Alkier's theologically insightful and spiritually uplifting reflections will supply the reader with many new horizons to explore concerning the significance of Jesus' resurrection from the dead and the Christian doctrine of immortality.
—Paul Copan, Pledger Family Chair of Philosophy and Ethics, Palm Beach Atlantic University
Stefan Alkier is professor of New Testament and history of the church at Fachbereich Evangelische Theologie, Johann Wolfgang Goethe-Universität, Frankfurt am Main, Germany.
Product Details
Title: Baylor Early Christian History Collection
Publisher: Baylor University Press
Volumes: 5
Pages: 1,852