Church Leadership Collection (4 vols.)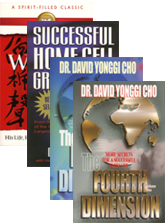 Overview
The Church Leadership Collection offers four resources important for today's pastor and layperson alike. Focusing on faith, prayer and evangelism, they provide excellent principles to guide us to a stronger walk with God and a more mature fellowship with one another. The two volumes on The Fourth Dimension teach valuable lessons for every Christian regarding the power of faith and prayer.
Dr. Cho submits vignettes from his own life to show how God works in and through prayer and faith. The book on home cell groups gives practical guidelines, showing how every Christian has the opportunity to participate in the ministry of their church and bring revival to their neighborhood. Because Watchman Nee continues to be influential in the lives of many Christians today, it is important for pastors and the laity to understand his teachings. We have added Dana Roberts' constructive critique of Nee's life and thought to the collection for this purpose.
Product Details
Title: Church Leadership Collection (4 vols.)
Authors: Dr. David Yonggi Cho and Dana Roberts
Publisher: Bridge-Logos
Volumes: 4
Pages: 717
About the Authors
Dr. David Yonggi Cho is the pastor of the Yoido Full Gospel Central Church in Seoul, Korea. The church has grown to become the largest worshiping body in the world with a congregation that numbers over 800,000 members, who are involved in more than 25,000 home cell groups. Dr. Cho is the author of several other books including, Unleashing the Power of Faith and A Leap of Faith. He studied theology under a scholarship at Full Gospel Bible College in Seoul, graduating in March, 1958. He has spent more than 44 years emphasizing the importance of cell group ministry. He founded Church Growth International, in 1976, to teach pastors the principles of evangelism and church growth. Southern Baptist pastor, Rick Warren conducted a Purpose-Driven conference at the Yoido Full Gospel Central Church, in 2006.
Dana Roberts received a B.A. from Bridgewater State College, MA, a Master of Theological Studies from the New Testament Dept. at Gordon-Conwell Theological Seminary, South Hamilton, MA, and a Master of Arts in Religious Studies at Eastern Nazarene College for his research into the theology of Watchman Nee. He has spent many years researching and teaching the differences between Christian Culture and the Non-Western World. He currently resides in China and teaches theology at Hainan University.
Sample Pages from the Print Edition
More details about these resources