Introduction to Latin Collection (3 vols.)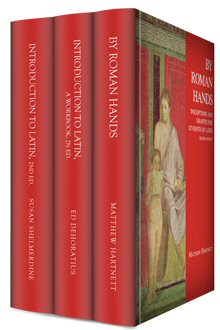 Overview
The Introduction to Latin Collection provides students and instructors of Latin with everything they need to learn and teach this classic and culturally rich language. Introduction to Latin serves as an up-to-date and pedagogically effective first-year college grammar. The companion workbook supplements this solid grammar with challenging exercises, extensive vocabulary lists, and comprehensive English–Latin and Latin–English glossaries. With the innovative text By Roman Hands, students are propelled even further into the language and culture of the classical world through unadapted Latin inscriptions and graffiti as they actually appeared on Roman monuments, walls, and tombs. This collection unites the study of language and culture in a novel and compelling way, and provides all the tools needed for early Latin learners to grasp and discuss this enduring language.
In the digital edition, this resource is enhanced by amazing functionality. Pull up these resources for reference as you explore the classics in the Latin Classics Research Library. Important terms link to dictionaries, encyclopedias, and a wealth of other resources in your digital library. Tablet and mobile apps let you learn on the go. With Logos, the most efficient and comprehensive research tools are in one place, so you get the most out of your study.
Key Features
Promotes language learning through reading fluency
Offers succinct grammatical explanations
Includes innovative exercises
Provides aids for vocabulary learning
Individual Titles

Introduction to Latin is a complete introductory Latin text specifically designed as a core text for a full year of college course work. The text is designed as a streamlined and uncluttered approach to Latin and grammar, providing a complete course without hindering the first year student's mastery of the material. It covers all aspects of Latin grammar in a familiar pedagogical flow, with English grammar explained as needed, providing students with an in-text reference point for new Latin material. Latin readings occur throughout the text, early and often, in the form of sentences and short passages. They are unconnected, providing the instructor the option of covering them as time and need allows. This text also includes a variety of exercises that provide different approaches to mastery of the language, especially in the early chapters.
Shelmerdine has greatly improved an already excellent book . . . I have always liked the way she explains concepts, such as sentence patterns, subordinate clauses, correlating conjunctions, etc., that other books take for granted . . . [T]he book discusses the structure of the Latin sentence as a whole before breaking it down into its individual parts, allowing the students (and the teachers!) to really understand how the Romans put words together.
—Thomas Kohn, associate professor of classics, Wayne State University
A concise, no-nonsense approach that isn't 'over-scripted.' Shelmerdine allows the instructor scope for real teaching and meaningful interaction with students.
—Peter O'Brien, assistant professor of Latin literature, Dalhousie University
Susan Shelmerdine is professor in the Department of Classical Studies at the University of North Carolina, Greensboro. She is also the author of Homeric Hymns.

Ed DeHoratius' Introduction to Latin: A Workbook is an essential companion to Shelmerdine's Introduction to Latin, providing additional innovative exercises that help students build reading fluency in Latin. This text is tailored first-year courses in Latin employing a traditional approach through grammar, readings, and exercises. DeHoratius provides extensive exercises on every aspect of Latin covered in Shelmerdine's introduction, as well as vocabulary lists and both English-Latin and Latin-English glossaries.
Ed DeHoratius is an instructor of Latin at Wayland High School in Wayland, MA. He has taught all levels of Latin in both public and private high schools for over 14 years, as well as courses in ancient history, and classical and medieval literature.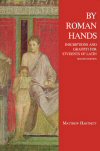 By Roman Hands takes Latin out of the textbook and allows students to see and translate Latin as it actually appeared on Roman monuments, walls, and tombs. The first collection of entirely authentic and unadapted inscriptions and graffiti accessible to beginning and intermediate students of Latin, By Roman Hands unites the study of language and culture in a novel and compelling way and at a level that the Latin can be grasped and discussed by early Latin learners. Ranging from a love letter hastily scratched on a Pompeian wall to the proclamation of an emperor's achievements formally inscribed on a monumental arch, these carefully selected texts afford fascinating glimpses into the lives and minds of the Romans, even as they illustrate and reinforce the basic elements of the Latin language.
This edition has been revised to work in parallel with Susan Shelmerdine's Introduction to Latin, as well as other standard beginning Latin texts. Additional features include practice and review sections, running notes on grammar, vocabulary, and context, a comprehensive vocabulary section, and an index of selected grammar, syntax, and figures.
The book is neatly printed and is likely to turn out to be pleasant and instructive to use in class . . . Those with a particular interest in inscriptions will find this book useful too.
—Roger Wright, professor of cultures, languages, and area studies, University of Liverpool
Matthew Hartnett teaches Latin and Greek at Phillips Exeter Academy in New Hampshire. He holds a BA in classical studies from the College of William and Mary and a PhD in classics from Columbia University. In 2006, he received the Matthew I. Wiencke Teaching Award from the Classical Association of New England.
More details about these resources