David Wilkerson Collection (3 vols.)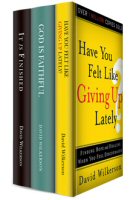 Overview
Experience the Father's love through a man who changed the world with it. Bestselling author David Wilkerson was dedicated to helping others achieve lasting peace through God's love. The powerful true stories and wisdom found in this three-volume collection have been gleaned from a lifetime of service. In It Is Finished, God Is Faithful, and Have You Felt like Giving Up Lately? Wilkerson gently guides you to the point of giving your troubles over to God and believing that he will work miracles in your life. He supplies the tools and encouragement you need to overcome sin and maintain a faithful journey with God.
Logos Bible Software makes this collection easier to study than ever before. Your preferred Scripture translation appears on mouseover, and with Logos' advanced features, you can perform comprehensive searches by topic or Scripture reference—finding, for example, every mention of "trust," or "1 Corinthians 10:13."
Key Features
Encourages you to break free from sin once and for all
Includes true stories of God's faithfulness
Offers tools for achieving genuine, lasting peace
Individual Titles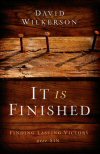 If you hate repeatedly falling into sin; if you grieve over a life-controlling habit; if you are crying out to the Lord to deliver you from the enemy's snares; if you feel helpless, weak, and despondent in the face of temptation; then there is good news: the Lord has provided for your absolute freedom. He offers you pardon from all sin and its guilt and liberty from all bondage.
The concept of the New Covenant sounds theological and theoretical. But with seasoned clarity and warmth, David Wilkerson makes it accessible to all believers. He shows that through the glorious provisions of the New Covenant, God has given you all the spiritual resources you need to defeat life-controlling sins. Here, in the pages of Wilkerson's most powerful teaching, you will be enabled to stop the seemingly endless cycle of sinning and confessing. True transformation, renewed hope, and lasting peace—these can be yours today.
Wilkerson has left behind an encouraging, liberating roadmap for finding victory by accepting the many facets of God's love and grace as laid out in the New Covenant.
—Worship Leader
David Wilkerson was devoted to seeking and serving the Lord. Through the ministries he founded—Teen Challenge, World Challenge, and Times Square Church—Dave helped transform lives all over the world. This book honors his tremendous spiritual legacy. Mined from his personal writings, it offers 365 insightful, inspiring reflections that reveal the loving heart of the Father. Each day in this year-long devotional journey, you can experience what Wilkerson knew intimately and preached passionately to all: God is faithful and he takes great delight in you.
My friend Dave Wilkerson's voice continues to speak words of encouragement to people of faith. You will be blessed daily as you meditate on his devotional thoughts from the Word of God.
—Jim Cymbala, pastor, The Brooklyn Tabernacle, NY
The life and witness of David Wilkerson is a testimony to the power of Holy Spirit ministry and the wisdom and sanity of a life lived in alignment with God's Word and ways. This devotional guide will doubtless assist many on the pathway to such a Christ-honoring lifestyle.
—Jack W. Hayford, chancellor, The King's University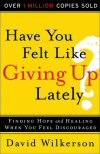 We all experiences times of sadness, trials, and pain. But what happens when grief and depression seem so overwhelming that we feel like simply giving up? As the founder of World Challenge, Inc., David Wilkerson worked with troubled people of every kind. In this encouraging book, he examines the universal problem of discouragement and offers you real hope for the days, weeks, months, and years ahead. He shows you how to win over temptation, lay down your guilt, trust God to bring you through the storm, achieve victory over sin, wait on God's answers to prayer, and much more.
Only God can conquer your pain. With powerful true stories and wisdom gleaned from a lifetime of service, Wilkerson gently guides you to the point of giving it over to God and believing that he will work miracles in your life.
About David Wilkerson
David Wilkerson (1931–2011) was the founder of Teen Challenge and World Challenge and longtime senior pastor of Times Square Church. He authored more than 30 books, including the bestsellers The Cross and the Switchblade and Knowing God by Name. He ministered to people worldwide, and on the day of his death, he was still ministering.