St. John of Kronstadt (2 vols.)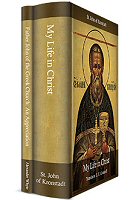 Overview
This collection provides an essential introduction to the life and works of one of Russia's most influential, recent Saints, John of Kronstadt. Born Ivan Ilyich Sergiyev, Fr. John was an archpriest, or a presbyter of great distinction, in the Russian Orthodox Church. He served at the Cathedral in St. Petersburg for many years, and was most noted for his charitable works as well as his writings on Orthodox Christian spirituality. As both a priest and a spiritual father, he sought to help prepare both himself and his fellow Christians for the life in Christ that awaits us on the other side of the resurrection. Seeing this life as a time of preparation and spiritual growth-through-struggle, his famous My Life in Christ is one of the greatest works of Russian spirituality in the last two hundred years.
With the Logos edition, all Scripture references are tagged and appear in your favorite translation on mouseover. You can also cross-reference related texts at the touch of a button, and all your dictionaries and other reference tools are just a click away.
Key Features
Biographical introduction to the life and work of St. John of Kronstadt
Excerpts from the writings of St. John
His monumental My Life in Christ, translated into English and presented in its entirety
Individual Titles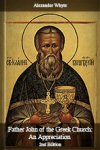 A biographical appreciation of the life and writings of Fr. John Sergieff (later glorified by the Orthodox Church as St. John of Kronstadt), this book contains not only a brief overview of the life of this great saint, but also some selections from his spiritual writings.
Alexander Whyte (1836–1921) was a Scottish minister of the Free Church of Scotland and served as a professor of New Testament literature at the New College of Edinburgh. He also authored biographies of Samuel Rutherford and Cardinal Newman.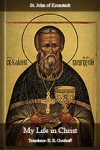 A collection of writings from the diary of St. John of Kronstadt, this volume has become an extremely influential work on Orthodox Christian spirituality. It serves as a handbook for a Christian's spiritual struggle through this life and into the next.
St. John of Kronstadt (1829–1908), born Ivan Ilyich Sergiyev, was an archpriest of the Russian Orthodox Church and served at the Cathedral of St. Andrew in Kronstadt, Russia (St. Petersburg). He was noted for his works of charity throughout his life, and was being venerated by the faithful even before his repose. He was glorified as a Saint by the Russian Orthodox Church in 1990, and there are several churches around the world that are named in his honor, including the second-largest monastery in St. Petersburg. He is commemorated by the Orthodox Church on both December 20 and October 19.
Product Details
Title: St. John of Kronstadt (2 vols.)
Volumes: 2
Pages: 641
More details about these resources