A Short Grammar of Biblical Aramaic (2 vols.)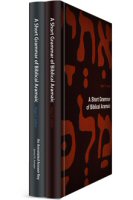 A Short Grammar of Biblical Aramaic (2 vols.)
•
Runs on Windows, Mac and mobile.
Overview
This two-volume collection combines the thorough teaching of A Short Grammar of Biblical Aramaic with the useful comments of a comprehensive answer key. Alger F. Johns' concise Grammar teaches the fundamental language content you need in order to accurately translate biblical Aramaic. Focused exercises at the end of each chapter directly correspond to sections of James Jumper's Annotated Answer Key, with explanations to illuminate even the toughest exercises. Whether you're just beginning to study biblical Aramaic or you're undertaking a translation of the book of Daniel, the volumes in A Short Grammar of Biblical Aramaic will be invaluable additions to your library.
With Logos Bible Software, this collection integrates seamlessly into your personal digital library, making these language tools even more effective. Access dictionaries and other reference resources with a click. Read your preferred Scripture translation alongside Aramaic passages for faster learning and a more robust understanding of the language.
Key Features
Outlines the principles of biblical Aramaic syntax
Combines instructional text and annotated exercises for more efficient learning
Clearly explains grammatical terminology in familiar English terms before using Aramaic examples
Individual Titles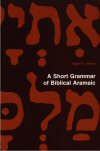 This standard grammar book of biblical Aramaic has been an invaluable resource for students at seminaries and universities around the world. Each of the following chapters contains practice exercises that can be checked and corrected with the Annotated Answer Key, included in this collection.
Phonology of Biblical Aramaic
Nouns and Adjectives
Independent Personal Pronouns and Suffixes on Nouns
Other Pronouns
The Verbal System: The Perfect
The Verbal System: The Imperfect, the Infinitive, Etc.
Classes of Nouns
The Derived Active Conjugations
The Passive and Reflexive Conjugations
Laryngeal Verbs
Pe Nun, Pe Yodh, and Pe Aleph Verbs
Hollow Verbs
Geminate Verbs
Lamedh He Verbs
Other Doubly Weak and Irregular Verbs
Verbal Suffixes: With the Perfect
Verbal Suffixes: With the Imperfect, the Infinitive, Etc.
Noun Types
Similar Noun Classes
The Numerals
Alger F. Johns earned a PhD from Johns Hopkins University and taught Old Testament at Andrews University (SDA).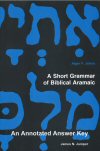 This companion volume to Alger Johns' A Short Grammar of Biblical Aramaic provides translations for the exercises in Johns' textbook. Addressing each chapter of the grammar, James Jumper offers valuable annotations, grammar reminders, and easy cross-referencing. Jumper references and repeats important linguistic concepts that will help students and scholars learn the features of Aramaic they will encounter as they study and translate.
James N. Jumper served as a teaching fellow at Harvard University, where he is currently working toward a PhD in Hebrew Bible.
More details about these resources