T&T Clark Lutheran Studies Collection (3 vols.)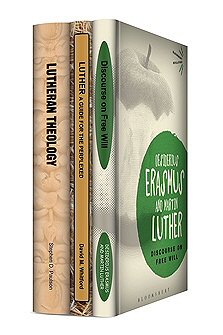 T&T Clark Lutheran Studies Collection (3 vols.)
•
Runs on Windows, Mac and mobile.
Overview
What are the essentials of Lutheran theology? This collection examines this question from a number of different angles. Lutheran Theology examines the genesis and development of Lutheran theology, affirming and critiquing along the way. Luther: A Guide for the Perplexed presents insights into the mind of the first Lutheran, Martin Luther himself. Finally, there is a unique volume that juxtaposes Luther's understanding of free will with that of his sympathetic nemesis Desiderius Erasmus.
The Logos edition enables you to get the most out of this collection. Every word is indexed for near-instant search results. The works are completely tagged for easy cross-referencing and side-by-side comparison. Scripture references appear on mouseover and a click takes you to the passage in context. Whether you are new to the tradition or a cradle Lutheran, this collection is a must.
Key Features
Explanation of key Lutheran beliefs by major Lutheran scholars
Comparison of central Reformation documents
In-depth analysis of the best-known Lutheran theologian of the twentieth century
Product Details
Individual Titles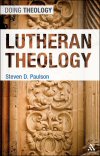 This title offers an introduction for students and lay readers to doing theology in the Lutheran tradition. Lutheran theology found its source, and so its name, in Martin Luther in the sixteenth century. The theology that emerged identified two essential matters for the relationship between humans and God, the law and the gospel. It made a simple but extremely unusual and controversial claim—that it was not the law that made a person right before God's final judgment, but the gospel of Christ's death on the cross for sinners. This book will lay out the implications of having all theology confessed and delivered in two parts: the sinner and God (the justifier).
"Unwilling to neutralize the core Lutheran teaching that God is in the business of killing off sinners just so that new beings might rise in faith, Paulson holds the wider Lutheran tradition accountable to Luther's own unique distinction of the law as accusation and the gospel as promise. Here we learn much of the Lutheran tradition—Paulson himself writes in the grand style of theological loci, approaching doctrine as outlined from Paul's argument in Romans. Paulson's approach to faith has an inerasable edge—if theology is to avoid being pointless, it must be for proclamation. Here is a theology beholden to God's word that does what it says and says what it does—finally remaking humanity out of the nothingness of sin and death.
—Mark Mattes, professor of religion and philosophy, Grand View University
Martin Luther did not so much set out to reform the church as he did to reform preaching. Steven Paulson gets to the heart of Lutheranism—not as a denomination nor as a movement—but as the preaching of Christ crucified for the justification of sinners. Tracing the trajectory of Luther's preaching in subsequent centuries, noting how it bumps up against attempts to domesticate its assertiveness or ground its doctrine according to one worldview or another, Paulson is persistent in following Luther's own evangelical logic in making the necessary distinction between law and gospel, God hidden and God revealed, to provide contemporary readers with a vigorous introduction to the loci of Lutheran theology. With the epistle to the Romans as his framework, Paulson deftly gives an account of Luther's confession of Jesus Christ and with precision and literary craftsmanship identifies the use (and misuse) of this theology in the church which bears his name.
—John T. Pless, assistant professor of pastoral ministry and mission, Concordia Theological Seminary
Looking over Martin Luther's shoulder as he studies the Scriptures and into his heart as it hosts the battle between Satan's deception and doubt and the Holy Spirit's truth and trust, Paulson plunges into the depths of Luther's way of thinking. He penetrates the Wittenberg reformer's intricate yet simple address of the realities of human experience with the gospel of Jesus Christ. Throughout, he engages other representatives of Lutheran culture and tradition, critically and perceptively, as they repeated or departed from Luther's insights. This volume aids twenty-first century readers in reaping a rich harvest from his insight for the proclamation of repentance and the forgiveness of sins in our day.
—Robert Kolb, professor emeritus of systematic theology, Concordia Seminary
Stephen D. Paulson is associate professor of systematic theology at Luther Seminary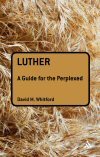 This is an upper-level introduction to the German Reformer Martin Luther, who by his thought and action was a key pioneer in the Reformation movement. Martin Luther was one of the most influential and important figures of the second millennium. His break with Rome and the development of separate Evangelical churches affected not just the religious life of Europe, but also social and political landscapes as well. More books have been written about Luther than nearly any other historical figure. Despite all these books, Luther remains an enigmatic figure. This book proposes to examine a number of key moments in Luther's life and fundamental theological positions that remain perplexing to most students. This book will also present an introduction to the primary sources available to a student and important secondary works that ought to be consulted.
Martin Luther is for the most part fascinating, sometimes annoying, and for many people perplexing. David Whitford provides an insight to the reformer's biographical context, his theological foundations, and primarily his political theory. The basic nature of the content leads to an elementary understanding of Luther. At no point does Whitford evade discussing problems in Luther's theology, instead inviting discussion with him concerning his interpretation. The book should be read by beginners in Luther studies, taking their first steps, as well by scholars who seek a fresh look on Luther.
—Volker Leppin, professor of church history, University of Tübingen
David Whitford's graceful new study does exactly what its title promises: guide readers who have only a vague notion of Martin Luther through his life, ideas, and key writings. The book explains complex theological issues in clear, but not overly simplistic, language, and does not avoid the controversies in which Luther was involved, many of which remain matters of debate today: Do humans have free will? Does religion allow one to oppose the government? How should Christians regard the Jews? How should Christians regard—and treat—each other?
—Merry E. Wiesner-Hanks, department of history, University of Wisconsin
Venturing across centuries and continents to encounter great thinkers of the past always involves a cross-cultural experience, for which a guide is mandatory as we make the first trip. David Whitford takes twenty-first century readers without much background in the Europe of the sixteenth century in hand and offers views of Martin's life and thought that provide a path into his world and way of proclaiming the biblical message to his contemporaries. Readers in conversation with the author gain facts and flavor as they move across the bridges he builds from now back to then.
—Robert Kolb, professor emeritus of systematic theology, Concordia Seminary
David M. Whitford is professor of religion in Reformation studies at Baylor University in Waco, Texas. He is the author of Tyranny and Resistance: The Lutheran Tradition and the Magdeburg Confession and Reformation and Early Modern Europe: A Guide to Research as well as numerous articles on Reformation Europe. He is the associate editor of The Sixteenth Century Journal.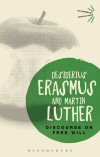 Desiderius Erasmus was the most renowned scholar of his age, a celebrated humanist and classicist, and the first teacher of Greek at Cambridge. An influential figure in the Protestant Reformation, though without ever breaking from the Church himself, he satirised both human folly and the corruption of the Church. Martin Luther was the founder of the German Reformation. His 95 Theses became a manifesto for reform of the Catholic Church and led to his being tried for heresy. He remained in Germany, professor of biblical exegesis at the University of Wittenberg, until his death, publishing a large number of works, including three major treatises and a translation of the New Testament into German. Comprising Erasmus's The Free Will and Luther's The Bondage of the Will, Discourse on Free Will is a landmark text in the history of Protestantism. Encapsulating the perspective on free will of two of the most important figures in the history of Christianity, it remains to this day a powerful, thought-provoking, and timely work.
Desiderius Erasmus (1466–1536) was a priest, scholar, author, and translator known as a leading figure in the Renaissance humanist movement before and during the Reformation. In 1506, he graduated as doctor of divinity from Turin University, and later was Lady Margaret's professor of divinity at the University of Cambridge. He then taught at Queens College, Cambridge, for five years before becoming an independent scholar. Erasmus' works were very influential: his books were produced in many editions and translations and printed all through Europe during his lifetime.
Martin Luther (1483–1546) was one of the most significant figures in Western history and a key figure in the Protestant Reformation. Over the course of his life, Luther was a monk, a priest, a professor of biblical literature, a reformer, a husband, and a father.
More details about these resources