Encyclicals of Pope John XXIII in English & Latin (2 vols.)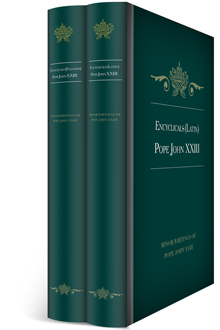 Encyclicals of Pope John XXIII in English & Latin (2 vols.)
•
Runs on Windows, Mac and mobile.
Overview
For nearly two thousand years, popes have communicated to the world primarily through their letters. In the premodern world, the papal chancery turned out tens of thousands of letters a year. On occasion, a letter dealt with broad concerns and was intended to circulate through the churches of a given region. Such letters became known as encyclicals. In the modern period, papal encyclicals have become the primary medium through which the papacy exercises its teaching office. Through them, the popes address theological topics of especially timely concern, applying Christian doctrine to the immediate circumstances of the day.
These encyclicals are a testament to their times. Written during the turbulent 1950s and 1960s, they demonstrate Blessed Pope John XXIII's commitment to bringing the Gospel to humankind. In Pacem in Terris (Peace on Earth), the first papal encyclical ever addressed not just to the Catholic faithful but "all Men of Good Will," Pope John XXIII outlines the requirements for basic human rights, saying "Man has the right to live. He has the right to bodily integrity and to the means necessary for the proper development of life. . ." He continues by listing economic, political, immigration, vocational, and religious freedoms that must exist where they are able (e.g. first-world countries). This encyclical, perhaps more than any other pre-Vatican II papal writing, has begun the foundation for the modern Catholic teaching on human rights, freedoms, and responsibilities.
The Logos edition of these encyclicals brings incredible value to your library. When other resources cite these encyclicals, you have access to the entire reference with just a click. Or you can search through these encyclicals to learn more on the topic of your study, whether it be "social justice" or "heaven."
Key Features
Key encyclicals promulgated immediately prior to the Second Vatican Council
Official translations by the Vatican from Latin to English
Contents
Pacem in Terris
Paenitentiam Agere
Aeterna Dei Sapientia
Mater et Magistra
Princeps Pastorum
Grata Recordatio
Sacerdotii Nostri Primordia
Ad Petri Cathedram
Pacem in Terris (Latin)
Paenitentiam Agere (Latin)
Aeterna Dei Sapientia (Latin)
Mater et Magistra (Latin)
Princeps Pastorum (Latin)
Grata Recordatio (Latin)
Sacerdotii Nostri Primordia (Latin)
Ad Petri Cathedram (Latin)
Product Details
Title: The Encyclicals of Pope John XXIII in English & Latin
Author: Pope John XXIII
Publisher: Libreria Editrice Vaticana
Publication Date: 1963
About Pope John XXIII
John XXIII (Angelo Giuseppe Roncalli) (1881–1963) led the Catholic Church and was head of state for the Vatican City from 1958 until his death.
Ordained a priest in 1904, Roncalli completed his ThD the same year in Rome. He was a lecturer in the seminary of Bergamo, Italy, from 1914 until he was drafted into the Royal Italian Army during World War I, where he served as a sergeant in the medical corps and as a chaplain. When he left the army in 1919, he was named spiritual director of the seminary at Bergamo.
In 1944, Pope Pius XII named Roncalli the Apostolic Nuncio to France, where Roncalli worked to negotiate the retirement of bishops who collaborated with the German occupying power during World War II. He worked tirelessly during World War II to assist in the transportation of Jews away from Germany, Bulgaria, Romania, and Italy to places of safer refuge.
In 1953, he was appointed Patriarch of Venice and was promoted to Cardinal by Pope Pius XII. After Pope Pius XII's death five years later, Roncalli was elected pope. During his papacy, he worked to purify the Church of anti-semitism, called the Second Vatican Council, offered to mediate between President John F. Kennedy and Nikita Khruschev during the Cuban Missile Crisis, and frequently made pastoral visits to various parish hospitals, prisons, and churches in Rome.
He passed away on June 3rd, 1963. His last words, spoken three days prior, began, "I had the great grace to be born into a Christian family, modest and poor, but with the fear of the Lord. My time on earth is drawing to a close. But Christ lives on and continues his work in the Church. Souls, souls, Ut omnes unum sint."
Sample Pages
More details about these resources
Show More