Baylor New Testament Backgrounds Collection (4 vols.)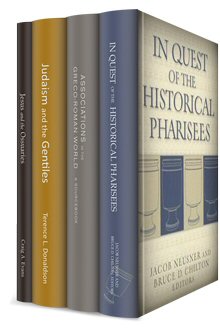 Baylor New Testament Backgrounds Collection (4 vols.)
•
Runs on Windows, Mac and mobile.
Overview
This collection offers the most recent and extensive scholarship on several important issues relating to the background of the New Testament and the Greco-Roman world around the first century. In Jesus and the Ossuaries, Craig Evans examines recent archaeological discoveries that shed light on the question of the historical Jesus. In Judaism and the Gentiles, Terence Donaldson offers extensive primary-source information on Jew-Gentile relationships in the first century. Associations in the Greco-Roman World is an extensive reference work on inscriptions and papyri from the Greco-Roman world. Finally, In Quest of the Historical Pharisees provides readers with an excellent compilation of scholarship on the identity and nature of the Jewish sect called the Pharisees. These volumes are a must for anyone interested in delving deeper into New Testament backgrounds.
With the Logos edition of these volumes, all scripture and ancient text citations are linked to the other resources in your Logos library. Fully searchable and integrated into the Logos softeware, these resources will yield a wealth of information on relevant topics whenever you research subjects or key ideas they address.
Key Features
New translations and introductions to first-century Greco-Roman inscriptions and papyri
Extensive primary-source material on the historical Pharisees
Recent scholarship on New Testament backgrounds research
Product Details
Title: Baylor New Testament Backgrounds Collection (4 vols.)
Publisher: Baylor University Press
Volumes: 4
Pages: 1,742
Individual Titles
More details about these resources