The Genesis Apocryphon of Qumran Cave 1 (1Q20): A Commentary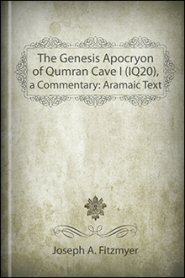 The Genesis Apocryphon of Qumran Cave 1 (1Q20): A Commentary
•
Runs on Windows, Mac and mobile.
Overview
This is the third, revised edition of the standard commentary on the Genesis Apocryphon. This edition has integrated new textual findings, in particular two columns of the text previously considered to be too fragmentary for inclusion. The commentary also evaluates recent scholarly discussion on virtually every part of the text. This edition also presents an updated reference grammar of the Aramaic of the Genesis Apocryphon and a complete glossary. In this respect, the book can also serve as a solid introduction to the study of the Aramaic of Qumran.
With Logos Bible Software, this volume is completely searchable, with Scripture passages appearing on mouseover and linking to your favorite Bible translation in your library. This makes this text more powerful and easier to access than ever before for scholarly work or personal Bible study. With the advanced search features of Logos Bible Software, you can perform powerful searches by topic or Scripture reference—finding, for example, every mention of "covenant" or "Promised Land."
Key Features
Commentary on the Genesis Apocryphon
Evaluates recent scholarly discussion of the text
Reference grammar of the Aramaic of the Genesis Apocryphon
Product Details
Title: The Genesis Apocryphon of Qumran Cave 1 (1Q20): A Commentary
Author: Joseph A. Fitzmyer
Edition: 3rd
Publisher: Pontifical Biblical Institute
Publication Date: 2004
Pages: 343
About Joseph A. Fitzmyer
Joseph A. Fitzmyer is a professor emeritus of biblical studies at the Catholic University of America and resides at the Jesuit Community of the Georgetown University in Washington, D.C. His authoritative publications dominate three major areas of research: the New Testament, especially Luke–Acts and the Pauline corpus, Qumran texts and traditions, and Aramaic studies. He has published a compendious edition of Aramaic texts from Qumran and related materials which he co-authored with D. J. Harrington, A Manual of Palestinian Aramaic Texts.
More details about these resources