New Monastic Library: Resources for Radical Discipleship (10 vols.)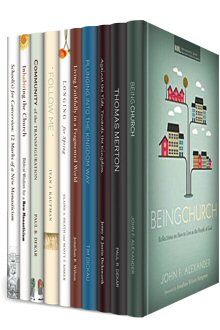 New Monastic Library: Resources for Radical Discipleship (10 vols.)
•
Cascade 2005–2012
Runs on Windows, Mac and mobile.
Overview
For over a millennium, if a Christian wanted to read theology, practice Christian spirituality, or study the Bible, he or she went to a monastery to do so. There, people who inhabited the tradition and prayed the prayers of the church also copied manuscripts and offered fresh reflections about living the Gospel in a new time. Two thousand years after the birth of the church, there is a new monastic movement stirring in North America. In keeping with ancient tradition, new monastics study the classics of Christian reflection and are beginning to offer some reflections for a new time. The New Monastic Library exists to share reflections from new monastics and to provide classic monastic resources unavailable elsewhere.
With the Logos Bible Software edition of the New Monastic Library: Resources for Radical Discipleship, you have unprecedented access to resources that offer relatable and insightful material for your study. You can do hours of biblical research with a click. With powerful searching by topic or Bible passage, instantly viewable Scripture references, a vast library of resources, and much more, Logos is the perfect software to expand your understanding of Christian monasticism, St. Benedict's monastic rules, and living in community.
Key Features
Provides reflections from monastic communities in the USA, Australia, Canada, and New Zealand
Analyzes what it means to live in contemporary Christian community
Emphasizes the importance of living an intentional Christian life
Analyzes Benedictine monasticism and Thomas Merton's views on technology, war, and consumerism
Equips pastors to plant, lead, and grow neomonastic communities