Frank Viola Collection (4 vols.)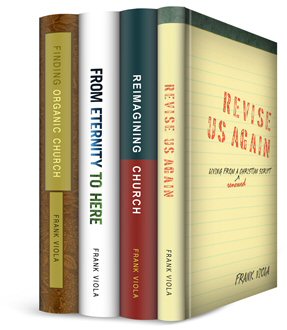 Overview
Renowned author, speaker, and blogger Frank Viola has one of the top rated Christian blogs on the Web today: BeyondEvangelical.com. An influential voice in the missional church movement, Frank has written numerous books on radical church renewal and the deeper Christian life.
The Frank Viola Christian Living Collection illustrates how a church can flourish if its foundation is built on Christ and it adheres to God's original plan and purpose. It encourages authentic relationships within the body of Christ and lays out what it means to live the Christian life. The Frank Viola Christian Living Collection, brimming with spiritual insight and practical tools, helps you discover your identity in Christ and uncover the nourishment that is found in organic church communities.
The Logos version of the Frank Viola Christian Living Collection provides you with unique benefits available nowhere else. Scripture references appear on mouse-over and link to your preferred translation or the original-language text. This collection fully integrates into your digital library, cross-referencing to your dictionaries, commentaries, and other reference tools and allowing you to discover what other scholars and theologians have to say about the missional church and Christian living.
Key Features
Examines the house church movement
Illustrates God's plan and purpose for the church
Provides a look at what it means to live the Christian life
About Frank Viola
Frank Viola is a frequent conference speaker and author of numerous books on the deeper Christian life and church restoration, including Jesus Manifesto, coathored with Leanard Sweet. He is a nationally recognized expert on emerging trends for the church, and he is actively engaged in planting New Testament-style churches.