Works of Augustus Hopkins Strong (11 vols.)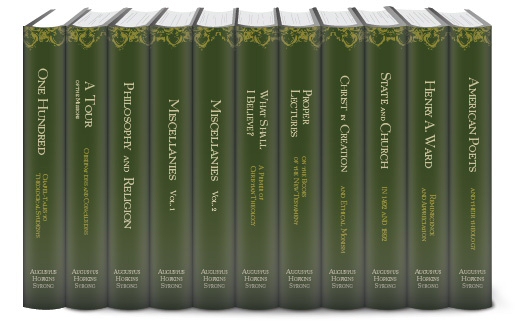 Overview
Augustus Hopkins Strong is one of the most notable Baptist theologians of the nineteenth and early twentieth centuries. His theology combined traditional Reformed emphases with Baptist convictions, nonetheless open to modern thought. Renowned for his work in Systematic Theology, Strong has influenced generations of believers with his focused historical criticism of the Scriptures. Now, in this 11-volume collection, you have access to this American theologian and professor's insights, observations, and wisdom.
With Logos Bible Software, Scripture passages appear on mouse-over, and all cross-references link to the other resources in your digital library, making this collection powerful and easy to access—a rich supplement to any study on Augustus Hopkins Strong. Perform comprehensive searches by topic or Scripture reference—finding, for instance, every mention of "missionary" or "creation."
Key Features
11 volumes of insights, observations, and wisdom from Augustus Hopkins Strong
Exposition of Systematic Theology's key points
Resources fully linked with your digital library
Product Details
Title: Works of Augustus Hopkins Strong
Author: Augustus Hopkins Strong
Volumes: 11
Pages: 3,746
Collection Details
About Augustus Hopkins Strong
Augustus Hopkins Strong (1836–1921), a Reformed Baptist, was president and professor of biblical theology at the Rochester Theological Seminary. His classic three-volume Systematic Theology is still widely used and cited.