The Revised English Bible with the Apocrypha (REB)
The Revised English Bible with the Apocrypha (REB)
Runs on Windows, Mac and mobile.
Overview
The second half of the twentieth century produced many new versions of the Bible, One of the most notable pioneers was the NEB, distinctive in being both freshly translated from the ancient texts and officially commissioned by the majority of British churches.
The Revised English Bible with the Apocrypha is a complete and thorough revision of The New English Bible, and like its predecessor, it was translated straight into British English. Avoiding technical, over-literary, and traditionally "religious" forms of expression, it renders the Bible accessible to everyone. The result is a faithful but fluent translation, which has become popular in private study and public worship.
In the Logos edition, The Revised English Bible with the Apocrypha is fully integrated with your digital library resources. Verses link to your original language texts, preferred translations, and commentaries, enabling you to perform comprehensive word studies and enhancing your research.
Key Features
Clear, direct, contemporary English
Gender-inclusive language
Devotional content
Praise for the Print Edition
Care has been taken to ensure that the style of English used is fluent and of appropriate dignity for liturgical use, while maintaining intelligibility for worshippers of a wide range of ages and backgrounds.
—from the preface
Welcomed for its suitability to every reading and study need. The teams of specialists as well as ordinary people involved have produced a text of up-to-date but dignified language.
—Church Times
Individual Titles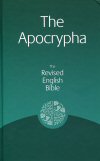 The Apocrypha—a Greek word meaning "hidden things"—is composed of 15 books or fragments that exist outside the Hebrew canon. Though not part of Hebrew Scriptures, they were originally written in Hebrew, and they provide a bridge between the Old and New Testaments. They were the books included in the Latin Vulgate by St. Jerome. The REB Apocrypha, like the rest of the Revised English Bible, provides a version that's both faithful and idiomatic, conveying a purer meaning of the original texts.
Product Details
Title: The Revised English Bible with the Apocrypha (REB)
Publisher: Cambridge University Press
Volumes: 2
Pages: 1,246
More details about this resource