Stanley Hauerwas Collection (7 vols.)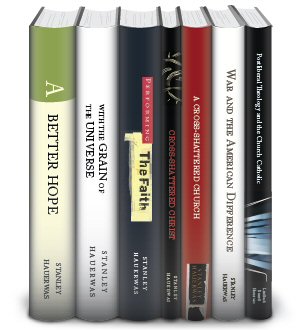 Overview
Discover what "contemporary theology's foremost intellectual provocateur," Stanley Hauerwas, has to say about several oft-debated and controversial issues. Hauerwas, one of the world's most influential living theologians, is best known for his work and thought on Christian ethics, nonviolence, pacifism, ecclesiology, and the intersection of Christianity and politics. The Stanley Hauerwas Collection presents six volumes on postmodernity, secular idealism, natural theology, violence, Jesus' last words, postliberalism, and more. Hauerwas analyzes what the church's response should be to such topics and draws from numerous sources—Dietrich Bonhoeffer, Martin Luther King Jr., and C. S. Lewis—to affirm his thought.
This collection includes Hauerwas' Gifford lectures and 17 of his best sermons, as well as John Wright's Postliberal Theology and the Church Catholic—George Lindbeck's, David Burrell's, and Hauerwas' examinations of postliberalism in relation to Roman Catholic theology.
With Logos Bible Software, Scripture passages appear on mouse-over, and all cross-references link to the other resources in your digital library, making this collection powerful and easy to access—a cornerstone reference for scholarly work or personal Bible study. Perform comprehensive searches by topic or Scripture reference—finding, for instance, every mention of "ecclesiology" or "violence."
Key Features
Provides keen insight on controversial and contemporary topics
Brings you right into today's discussion on postliberalism
Includes Hauerwas' Gifford lectures
Product Details
Title: Stanley Hauerwas Collection
Volumes: 7
Pages: 1,488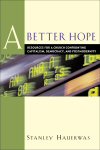 By his own admission, Stanley Hauerwas, never one to duck a good fight, has, in the past three decades, established himself as one of our most important and most disputatious theologians. With A Better Hope, he concentrates on the constructive case for the truth and power of the church and its faith, "since Christians cannot afford to let ourselves be defined by what we are against. Whatever or whomever we are against, we are so only because God has given us so much to be for."
Hauerwas not only crystallizes and extends profound criticisms of America, liberalism, capitalism, and postmodernism, but also identifies unlikely allies (such as Chicago Archbishop Francis Cardinal George) and locates surprising resources for Christian survival (such as mystery novels). Interlocutors along the way include Reinhold Niebuhr, John Courtney Murray, and, in a significant and previously unpublished essay, social gospeller Walter Rauschenbusch.
Never boring and often telling, A Better Hope demonstrates how a thinker so often accused of being "tribal" and "sectarian" is, at the same time, one of few contemporary theologians read not just by other theologians, but by political scientists, philosophers, medical ethicists, law professors, and literary theorists.
Stanley Hauerwas is always provocative, regularly funny, and right more often than his critics will ever admit. His pacifism implies no objection to vigorous intellectual combat. As Shakespeare put it, 'Once more into the breach, dear friends.'
—William Placher (1948–2008), LaFollette Distinguished Professor in the Humanities, Wabash College
Engaging and provocative. . . . Those who know Hauerwas will enjoy this, and those who don't may consider it a fine way to become acquainted with his thought.
—Publishers Weekly
Both interesting and challenging—in style as well as content. It is thought-provoking, often contentious but far from conclusive.
—Themelios
Hauerwas offers believers much that is worth pondering. . . . Perhaps Hauerwas' work, along with similar works, will encourage debate within the churches that will create opportunities for building a distinctly Christian subculture that can effectively challenge this world's assumptions.
—Philosophia Christi
Ranging over a wide variety of topics, Hauerwas demonstrates why he is one of the most provocative (in every sense of the word) theologians in America today. . . . That he goes against the cultural and theological steam is more than evident. That we have much to learn from him should be equally evident.
—Trinity Seminary Review
Hauerwas, never shy with his critiques, offers up a sharply drawn account of the church's abuse of secular idealism in shaping its own inner workings. Though critical in nature, A Better Hope offers valuable insights from a theologian who has led the ethical revolution on how the church may impact, while itself not be impacted by secular society. . . . For those who desire a refreshing new approach to the church's interaction with society, Hauerwas will certainly not disappoint.
—Ashland Theological Journal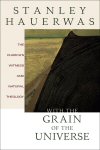 With the Grain of the Universe contains lectures that explore how natural theology, divorced from a confessional doctrine of God, inevitably distorts our understanding of God's character and the world in which we live. Hauerwas criticizes those who use natural theology to defend theism as the philosophical prerequisite to confessional claims. Instead, after Karl Barth, he argues that natural theology should witness to "the non-Godforsakeness of the world, even under the conditions of sin."
Stanley Hauerwas has good news for the church: theology can still tell us something significant about the way things are. In fact, the church is more than a social institution, and the cross of Christ, never peripheral, is central to knowing God. Whatever our native moral intelligence, the truth is that God is not available apart from moral transformation. Ultimately—and despite the scars left by modernity—theology must translate into a life transformed by confession and the witness of the church.
In this stunning book, the great Christian ethicist Stanley Hauerwas offers the comprehensive theological argument we have long requested. Of course, if we were worthier students, we would have known that this could not come in the form of a conceptual system. Like Barth, whom he makes the hero of this book, Hauerwas teaches that Christian theological argument begins not with our own rational constructs, but by bearing witness to God's life among us. The argument proceeds not by speculating on what God's life might mean, but by narrating how it is in fact imitated by sanctified lives here in this created world. The argument ends not by framing doctrines, but by warning us of the error, violence, suffering, and death that remain in this world, and it calls us, in imitation of God's life, to help heal this world and to work for its final redemption. For those whose habit is to call this world 'nature,' Hauerwas' theological argument may be dubbed 'natural theology,' and the consequence will be a radical change in what we take natural theology to be: the story of God's life as it is lived, visibly, in this world; as its meaning is disclosed to the community of those who inquire after it; and as its truth is displayed through its visible effects in transforming this world into the one it would be and will be.
—Peter Ochs, Edgar Bronfman Professor of Modern Judaic Studies, University of Virginia
This is a book to delight and to educate the reader. As always, Hauerwas is wonderfully worth reading, and here the wide-screen scale of his vision is at full stretch. I cannot imagine any reader of this book not benefiting in all sorts of tangential ways from its densely packed route through some of the highways and by-ways of twentieth-century theology.
—Heythrop Journal
Through imaginative and often provocative arguments, Hauerwas challenges and often inverts many conventional assumptions in Christian theology and ethics. Written for the Gifford Lectures, this is an academic book. But anyone broadly conversant with Christian theology will be able to follow the main ideas here and will be richly stimulated by one of the leading theologians writing today.
—America
Hauerwas' story is a simple one—and this is his most sophisticated, and convincing, telling of it. The story is that ethics—theology—is about God. He goes on telling it for an even simpler reason. The reason is this: most of his colleagues in the Church, whom he longs—as Barth longed—to be witnesses, continue instead to believe, bewilderingly, that ethics and theology are not about God; they are about America.
—Science & Theology News
Few theologians are as punchy and readable as Hauerwas. Though he may generate more heat than light at times, he practices in academia what he preaches—that the church should be a visible witness to the God of Jesus Christ who redeems the world on his own terms.
—Themelios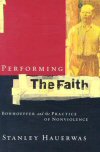 Performing the Faith: Bonhoeffer and the Practice of Nonviolence
Author: Stanley Hauerwas
Publisher: Brazos Press
Publication Date: 2004
Pages: 256
September 11, Afghanistan, Iraq—more than ever, this is a time for the church to be taking up the question of what, as Christians, our response to violence should be. In Performing the Faith, Stanley Hauerwas revisits the familiar territory of political nonviolence through discussion of the writings of Dietrich Bonhoeffer—Christian ethicist, theologian, and by some definitions, martyr. This book is an intriguing commentary on Bonhoeffer's claim that if our common life rests on lies and injustice, we cannot be a community of peace. Pastors, seminarians, and those interested in Christian ethics are among the many who will be interested in this new word from an unwavering, faithful voice.

In Cross-Shattered Christ, theologian Stanley Hauerwas offers a moving reflection on Jesus' final words from the cross. This small and powerful volume is theologically poignant and steeped in humility. Hauerwas' pithy discussion opens our ears to the language of Scripture and opens our hearts to a truer vision of God. Touching on, in original and surprising ways, subjects such as praying the Psalms and our need to be remembered by Jesus, Hauerwas emphasizes Christ's humanity as well as the sheer "differentness" of God. Cross-Shattered Christ is ideal for personal devotion during Lent and throughout the year and offers a transformative reading of Jesus' words that goes directly to the heart of the Gospel.
Hauerwas strips down the seven last sayings of Jesus to their barest essence, refusing to psychologize or proffer easy explanations for hard truths. For the third saying ('Woman, behold thy son!'), he points out that the Jesus of the New Testament was nothing if not anti-family, and then launches into an utterly fascinating argument that Mary, the mother of Jesus, is presented as the 'new Abraham' throughout the Gospels and the Book of Hebrews. Many readers will find it refreshing to see a Protestant theologian recognize Mary's unique role in salvation and in the church. One note of caution: although these essays are short and the entire book clocks in at right around a hundred pages, even serious readers will find that this is not a collection to be consumed in a single sitting. It would make excellent devotional reading for all of Holy Week, using each reflection for a full day's rumination.
—Publishers Weekly
Hauerwas rightly reckons that you cannot understand the birth of Jesus without wrestling with his death.
—Wall Street Journal
Packed with good theology. . . . I read Hauerwas' book slowly and, in the process, discovered a number of new ways of thinking about the Passion narratives. This book would make good reading during the Lenten season, or a nice companion text for a retreat.
—Commonweal
This slim volume provides some strong and salutary reading for the Lenten season. Famed theologian and writer Stanley Hauerwas takes up a time-honored and beautiful tradition of reflecting on the seven last words of Jesus . . . Each of these meditations . . . deals powerfully with these evocative biblical texts and their implications for Christian life today.
—The Bible Today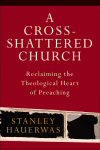 In A Cross-Shattered Church, eminent theologian Stanley Hauerwas shows how the sermon is the best context for doing good theology. He writes, "I am convinced that the recovery of the sermon as the context for theological reflection is crucial if Christians are to negotiate the world in which we find ourselves." The book includes 17 sermons preached by Hauerwas, which he considers his best theological work. They are divided into four sections: Seeing, Saying, Living, and Events. Sermon titles cover a broad range of topics, including (among others): "Believing Is Seeing," "The Glory of the Trinity," "The End of Sacrifice," "Was It Fitting for Jesus to Die on a Cross?," "Only Fear Can Drive Out Fear," "The Appeal of Judas," "Slavery as Salvation," "To Be Made Human," and "Water Is Thicker than Blood." Professors and students of theology, pastors, and those interested in what Hauerwas has to say about theology and preaching will value this work.
A rich collection of challenging and powerful sermons, each anchored securely in selected passages from the Bible, and taking place in a particular detailed situation. . . . Stanley Hauerwas is probably the most creative, provocative, exciting, challenging and sometimes exasperating theologian in the English speaking world today. . . . This exciting book of profound and often challenging sermons by Hauerwas is to be warmly welcomed, as it will enrich the life of the Church and its proclamation of the Gospel—to say nothing of revitalizing relevant Christian theology.
—Expository Times
Hauerwas' collection of sermons is what we would expect from Hauerwas: preaching the lectionary texts to our time with characteristic wit, poignancy, and fight. His creativity and insight are exemplified in the faithful connections he makes between lectionary texts. The sermons make profound arguments. . . . Cross-Shattered Church exemplifies how pastors and preachers may use the lectionary in a narrative style of preaching.
—Wesleyan Theological Journal
Stanley Hauerwas adds to his theological corpus with this thoughtful and provocative collection of sermons and reflections on the relationship between theology, as practiced in the academy, and preaching, as practiced in the pulpit. . . . This collection of sermons, with its accompanying essay on Hauerwas' theological work, lays the groundwork for a fruitful discussion of the essential interdependence of theology and preaching, and the ways in which theology and preaching can and should interact. This book provides a point of entry to many different theological topics and could assist in provoking discussions with groups of students at a variety of levels. Even more, Hauerwas' sermons may encourage other preachers to be theological and other theologians to bring their theology into the daily lives of more Christians, outside the ivory tower.
—Catholic Books Review
In an age where so much preaching has degenerated into pablum, it is refreshing to read a message in which the preacher is not only willing to tell the story of a dying friend, but to follow that with material from Wittgenstein and Augustine, as well as a scholarly reading of the biblical text. Theological and compelling.
—Review & Expositor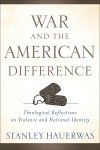 How are American identity and America's presence in the world shaped by war? And what does God have to do with it? In this compelling volume, Stanley Hauerwas helps readers reflect theologically on war, church, justice, and nonviolence. He explores such issues as how America depends on war for its identity, how war affects the soul of a nation, the sacrifices that war entails, and why war is considered "necessary," especially in America. He also examines the views of nonviolence held by Martin Luther King Jr. and C. S. Lewis, how Jesus constitutes the justice of God, and the relationship between congregational ministry and Christian formation in America. Students and teachers of Christian theology and ethics, American church history, and American cultural studies will value this work.
Beginning from the startling claim that war defines American political identity, these essays should interest both religious and secular readers. Hauerwas defends a Christian pacifism that allows no compromises with war, including that most common form of compromise—just war theory. Christians will be powerfully challenged by his claim that nonviolence is a necessary condition of a church that is a living witness to Christ. Secular readers will be forced to rethink the ground of their own commitment to a politics built on violent sacrifice. Hauerwas demands of all of us that we think through the character of our faith and the sources of ultimate meaning in our lives.
—Paul W. Kahn, Robert W. Winner Professor of Law and the Humanities, Yale Law School
Disenthralling Americans from war will require an authentic realism that displaces the illusions commonly passing for realism. In this luminous volume, Stanley Hauerwas continues the vital work of planting the signposts that show us the way.
—Andrew J. Bacevich, professor of international relations, Boston University
Although [Hauerwas] . . . has written extensively over the years on issues of peace and violence, this collection is significant as his first work focused primarily on these issues and their public significance in the United States, and particularly in the context of our post-9/11 world.
—Englewood Review of Books
Stanley Hauerwas always makes for an interesting read, and this work proves no exception. . . . This work on Christian pacifism sets itself apart by the way it connects the moral issues surrounding war with the unique challenge faced by American Christians. . . . While Hauerwas certainly leans on his decades-long effort to move pacifism to the forefront of Christian theological discussions, his work here approaches the topic from enough creative angles to ensure an engaging read, even for the most seasoned reader of Hauerwas. Besides tackling the ethical challenges unique to the American experience, he also engages the thought and practice of some of the most profound twentieth-century thinkers on these topics. . . . Christians from all traditions will find themselves challenged by his interpretation of the Gospel.
—Catholic Books Review
The reason to read yet another book by Hauerwas is his reason for writing it: to 'help us, Christian and non-Christian alike, to confront the reality of war.' He confronts us with compelling evidence that 'war is America's central liturgical act' by which it renews its sense of being a unique nation. Our sacrifices and the sacrificed, beginning with the Civil War, compel us to engage in war as a noble calling to redeem the world. Absent a church disciplined by divine justice (that is, by Jesus) and articulate about human suffering (a Pentecostal gift), war will remain the most compelling option we have.
—Christian Century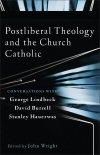 How does postliberalism relate to Roman Catholic theology? More specifically, how reliant is postliberalism on what happened at Vatican II? This volume centers on conversations with three of the most important North American theologians from the last half of the twentieth century—George Lindbeck, David Burrell, and Stanley Hauerwas—to examine the Roman Catholic roots of postliberal theology. After two opening chapters by John Wright, the book includes three chapters based on interviews with each theologian, followed by a dialogue between them and a conclusion by Wright. This work not only offers insight into the contingent histories of three seminal theologians but also places postliberal theology within the broader stream of the great tradition of the church. It will appeal to theologians, scholars, and graduate students, as well as readers of Lindbeck, Burrell, and Hauerwas.
A powerful and much-needed defense of Christian 'postliberalism' as central to the unity of the church catholic. . . . Wright shows how the words of Lindbeck, Hauerwas, and Burrell serve as best witness for the defense, and his own words brilliantly join theirs to the ressourcement of Congar and de Lubac. . . . Wright's book marks a new day (and new names) for 'postliberal' theology, now Protestant and Catholic, and more urgent than ever. The book is amazing.
—Peter Ochs, Edgar Bronfman Professor of Modern Judaic Studies, University of Virginia
John Wright (PhD, University of Notre Dame) is a professor of theology and Christian Scriptures at Point Loma Nazarene University in San Diego, California. He is also the senior pastor of The Church of the Nazarene in San Diego and author of Telling God's Story: Narrative Preaching for Christian Formation.
About Stanley Hauerwas
Stanley Hauerwas is the Gilbert T. Rowe Professor of Theological Ethics at Duke University. Prior to that, he was a professor at the University of Notre Dame. In 2001, he was named "America's Best Theologian" by TIME Magazine. Hauerwas is the author of numerous books, including Unsettling Arguments, Hannah's Child: A Theologian's Memoir, Christian Existence Today, and Living Gently in a Violent World.