The Works of John L. Dagg (4 vols.)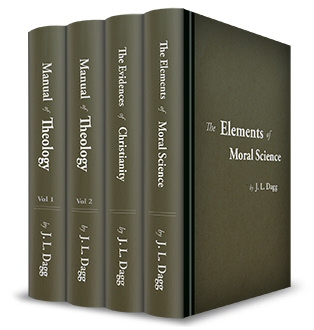 Overview
Known as the first Baptist systematic theologian in America, John L. Dagg overcame extraordinary odds—limited education, near-blindness, physical disablement—to become a professor of theology and the president of Mercer University in Georgia. His magnum opus, the two-volume Manual of Theology, was a highly influential and widely used as a textbook. The first volume is an in-depth treatise on Christian doctrine, the second, a treatise on Church Order. Dagg's other two works, The Evidences of Christianity and The Elements of Moral Science, were also widely circulated; they enjoyed several editions. The Works of John L. Dagg includes all four of these important works.
In the Logos Bible Software edition, all Scripture passages in The Works of John L. Dagg (4 vols.) are tagged and appear on mouse-over. What's more, Scripture references link to the wealth of language resources in your Logos library. This makes these texts more powerful and easier to access than ever before. With the advanced features of Logos Bible Software, you can perform powerful searches by topic or Scripture reference—finding, for example, every mention of "grace" or "2 Timothy 1:9."
Key Features
Includes Dagg's two-volume Manual of Theology
Also contains Evidences of Christianity and Elements of Moral Science
Provides completely searchable analysis linking to your favorite Bibles and other resources
Product Details
Title: The Works of John L. Dagg
Author: John L. Dagg
Volumes: 4
Pages: 1,483
About John L. Dagg
John Leadly Dagg (1794–1884) was known as the first Baptist systematic theologian. He was born in Middleburg, Virginia, in 1794. From 1825 to 1834, he served as the minister of a prominent Philadelphia church. After losing his voice, he retired from the pulpit and began teaching at Haddington Literary and Theological Institute. He was professor and president of Mercer University, Georgia, from 1844 to 1856. After his retirement in 1856, he penned the four works that sealed his reputation as a theologian and ethicist.
More details about these resources