Enduring Divine Absence: The Challenge of Modern Atheism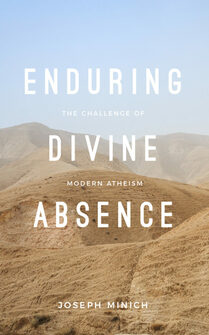 Enduring Divine Absence: The Challenge of Modern Atheism
•
Runs on Windows, Mac and mobile.
Your Custom Discount
Reg. Price $7.99
Sale Price $4.99
Your Price $4.99
You Save $3.00 37%
Your Price
What's Pre-Pub?
$4.99
Overview
Today, millions of people in the modern West identify as atheists. And even for believers, the intellectual and spiritual temptations to deny the existence of God seem greater than ever. Too often we respond to this pressure by seeking more and more rational proofs of God's existence, but what if a lack of reason to believe is not our main problem? In this volume, Joseph Minich argues that our real challenge is existential and imaginative—a felt absence of God that is more visceral in our modern world than for most generations past, and the sense that if God cannot be sensed, He cannot be there. Why are we so haunted and disoriented today by this sense of God's absence? And how can we learn to sustain and strengthen our faith in the face of it? In these pages, Minich charts a way back to a renewal of our hearts and imaginations that can enable us to embrace the challenge of finding and being found by the hidden God.
Davenant Engagements seek to creatively and critically apply the received wisdom of our historic Protestant tradition to modern intellectual and cultural challenges that we face in the twenty-first century.
In the Logos edition, this volume is enhanced by amazing functionality. Important terms link to dictionaries, encyclopedias, and a wealth of other resources in your digital library. Perform powerful searches to find exactly what you're looking for. Take the discussion with you using tablet and mobile apps. With Logos Bible Software, the most efficient and comprehensive research tools are in one place, so you get the most out of your study.
Key Features
Explores the philosophical question of divine existance and absence
Applies the received wisdom of the Protestant tradition to modern intellectual and cultural challenges
Addresses the problem of the temptation of atheism
Contents
Introductory Reflections
Modernity and Divine Absence
The Silencing of God
Seeking, Finding, and Being Found
Concluding Reflections
Praise for the Print Edition
Most people today become atheists less because of persuasive arguments than because of the social realities of our secular age. There are plenty of good apologetics books out there. But few target the 'gut'—that is, the pre-understandings and social practices that make belief in God more difficult today than in previous generations. This is a must-read.
—Michael Horton
The problem of God's hiddenness is not new. The Psalmist questioned, "Why, O LORD, do you stand far away?" Isaiah exclaimed in wonder, "Truly, you are a God who hides himself!" And yet, in the modern period—our secular age—a pervasive sense of God's absence presses in on the Late Modern self with peculiar force. Even believers of deep faith, with a grasp on the rational reasons for belief in God, still feel the force of his absence. they too can be caught in the imaginative appeal of living bravely in a world without God. In this elegant little work, Joseph Minich explores a bit of the history and a uniquely perceptive account of the existential reality of how and why that is the case. More importantly, for all who would learn to faithfully endure nevertheless, he wisely points us to the God Who Is and who is for us in the Cross. I highly recommend this work.
—Derek Rishmawy
Joseph Minich's Enduring Divine Absence is a marvelous essay that deals with the underappreciated temptation or psychological pull of atheism, the feeling that atheism is still somehow plausible even for believers who are aware of atheism's intellectual problems. Minich thoughtfully analyzes this temptation, beginning with accurately and sympathetically explaining what it actually feels like (and I would know). He then gives insightful suggestions on some of its main causes, and ends by helpfully offering practical advice for those who feel it (who are more numerous than most of us realize). Again, Minich clearly understands those who are tempted in this way, gently assuring them that it is an entirely understandable feeling, but without going so far as to make doubt a positive, Promethean virtue that's necessary for "the journey of faith." I recommend this book to those who have nagging doubts about God's existence or have been surprised by the sting of an objection to Christianity. I greatly benefited from it.
—Mitch Stokes
About Joseph Minich
Joseph Minich is a graduate of Reformed Theological Seminary in Washington D.C. and is currently pursuing a Ph.D in Humanities at The University of Texas at Dallas. Some of his writing can be found at The Calvinist International and Mere Orthodoxy.
Sample Pages from the Print Edition