Questions and Rhetoric in the Greek New Testament: An Essential Reference Resource for Exegesis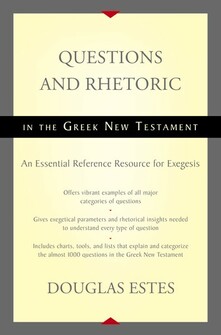 Questions and Rhetoric in the Greek New Testament: An Essential Reference Resource for Exegesis
•
Runs on Windows, Mac and mobile.
Your Custom Discount
Reg. Price $39.99
Sale Price $31.99
Your Price $31.99
You Save $8.00 20%
Your Price
What's Pre-Pub?
$31.99
Overview
While there are almost 1000 questions in the Greek New Testament, many commentators, pastors, and students skip over the questions for more 'theological' verses or worse they convert questions into statements to mine them for what they are saying theologically. However, this is not the way questions in the Greek New Testament work, and it overlooks the rhetorical importance of questions and how they were used in the ancient world.
Questions and Rhetoric in the Greek New Testament is a helpful and thorough examination of questions in the Greek New Testament, seen from the standpoint of grammatical, semantic, and linguistic analysis, with special emphasis on their rhetorical effects. It includes charts, tools, and lists that explain and categorize the almost 1000 questions in the Greek New Testament. Thus, the user is able to go to the section in the book dealing with the type of question they are studying and find the exegetical parameters needed to understand that question.
Questions and Rhetoric in the Greek New Testament offers vibrant examples of all the major categories of questions to aid the reader in grasping how questions work in the Greek New Testament. Special emphasis is given to the way questions persuade and influence readers of the Greek New Testament.
In the Logos edition, this volume is enhanced by a world-class set of research and study tools. Important terms link to dictionaries, encyclopedias, and a wealth of other resources in your digital library. Perform powerful searches to find exactly what you're looking for. Take the discussion with you using tablet and mobile apps. With Logos Bible Software, the most efficient and comprehensive research tools are in one place, so you get the most out of your study.
Key Features
Includes insightful examples of all major types of categories of questions in the New Testament
Guides the reader with suggestions regarding exegetical issues
Illustrates how questions are used rhetorically for the New Testament writer's communicative purposes
Contents
The Basics of Question Formation
Questions Driven by Syntax
Questions Driven by Semantics
Questions Driven by Pragmatics
The Function of Questions in the Greek New Testament
Praise for the Print Edition
Douglas Estes has written a very useful book. Not only will readers now see old questions in a new light, but they will also be prompted to ask new questions for the first time. The technical language and theoretical categories that drive the book are shown to have clear payoff in understanding the text of the New Testament in a new light. Especially interesting here are the case studies that conclude each section, where Estes shows us with great care and precision just how much is being asked by the different types of questions in the New Testament.
—George L. Parsenios, associate professor of New Testament, Princeton Theological Seminary
Recognizing that questions are both central to ancient rhetoric and often overlooked in contemporary exegesis, Estes offers an expansive interdisciplinary treatment of questions in the Greek New Testament against the backdrop of grammatical theory, linguistics, and historiography, among other disciplines. He develops — in much greater detail — his previous research on the questions of Jesus in the Gospel of John, and in the process provides students, scholars, and pastors with an incredibly useful tool for exegetical research. Writing with the precision of an expert, the nuance of a skilled teacher, and the sensitivity of an exegete, Estes introduces the reader to the twenty-eight linguistic features of question asking, the four major formations of questions, and the thirty-six question types found within the NT. This impressive book represents an important achievement in the study of NT Greek and deserves to be among the required texts for advanced courses in Biblical Greek grammar. I cannot recommend this book highly enough!
—Christopher W. Skinner, associate professor of New Testament and early Christianity, Loyola University Chicago
This is an exceptional book. It addresses an issue that most of us do not spend much time considering, namely, the questions of the New Testament. But questions give shape to the rhetoric of the text in ways we fail to appreciate, not to mention the fact that fifteen percent of the New Testament involves questions of various kinds. Estes writes with linguistic and academic savvy while remaining very clear, offering helpful examples and illustrations. If you have never questioned New Testament questions — or even if you have — this book will prove enormously useful.
—Constantine R. Campbell, associate professor of New Testament, Trinity Evangelical Divinity School
Product Details
Title: Questions and Rhetoric in the Greek New Testament: An Essential Reference Resource for Exegesis
Author: Douglas Estes
Publisher: Zondervan
Publication Date: 2017
Pages: 400
Resource Type: Monograph
Topic: Grammar
About Douglas Estes
Douglas Estes is Assistant Professor of New Testament and Practical Theology and DMin Program Director at South University-Columbia. He received his PhD in Theology from the University of Nottingham, UK, and completed a Post Doc at the Dominican Biblical Institute. He has written or edited six books, as well as numerous essays, articles and reviews. He has served as an adjunct professor at Phoenix Seminary and Western Seminary, and has sixteen years of pastoral ministry experience.
Sample Pages from the Print Edition