IVP UK Reference Collection (9 vols.)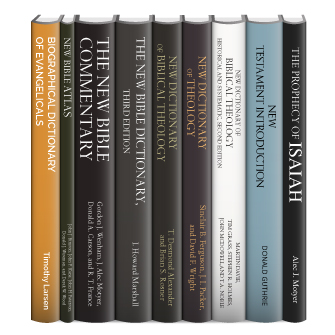 Overview
The IVP UK Reference Collection makes available some of the most useful reference works in Bible and theology. With a world class reputation, IVP's dictionaries and single volume commentaries have set a high standard for blending rigorous scholarship with practical and pastoral accessibility. Providing nearly eight thousand pages of reference material, you will be able to dig into fascinating and important topics in biblical theology, geography, cultural, and exegesis.
Discover answers to questions of authorship in Hebrew or the Pastoral Epistles or dive deep in to challenging interpretive and theological issues in the Book of Isaiah. The IVP UK Reference Collection the resources you need for in depth study of Scripture and its teaching.
In the Logos edition, these volumes are enhanced by amazing functionality. Important terms link to dictionaries, encyclopedias, and a wealth of other resources in your digital library. Perform powerful searches to find exactly what you're looking for. Take the discussion with you using tablet and mobile apps. With Logos Bible Software, the most efficient and comprehensive research tools are in one place, so you get the most out of your study.
Key Features
Includes contributions from a wide range of international respected scholars
Provides dictionaries, commentaries, and introduction to the biblical text
Introduces users to essential theological topics and points toward resources for further study
Product Details
Title: IVP UK Reference Collection
Publisher: IVP UK
Volumes: 9
Pages: 7,957
Individual Titles
The Biographical Dictionary of Evangelicals from InterVarsity Press contains biographies of more than four hundred prominent evangelicals and evangelical forebearers. Each of these figures has significantly influenced the evangelical community: to learn about them is to better understand the history and present nature of that community.
The volume ranges chronologically from the morning star of the Reformation, John Wycliffe, to important shapers of twentieth-century evangelicalism such as John Stott. The great Reformers, Puritans and Pietists appear alongside the leaders of the eighteenth-century evangelical revival and many of their diverse successors. Ministers and theologians, evangelists and preachers, writers and missionaries, and some from other professions comprise a gallery of notables from the English-speaking evangelical world. Comprehensive and accessible articles combine rigorous historical scholarship with profound human interest.
The Biographical Dictionary of Evangelicals is authored by an international team of contributors, including some of the greatest contemporary scholars of evangelicalism. It serves as an invaluable reference tool for students, scholars, ministers and anyone interested in the history of this fascinating movement.
Be sure to read the Author Interview at the InterVarsity Press website. Larsen shares details about what distinguishes BDE from other dictionaries (longer, more detailed entries that go beyond bald facts to offer assessments); insights on why biography is useful to students and others ("I think it is the way into everything. You could track most any theme this way."); quirky facts about famous Christians ("Adam Clarke...taught that Eve was not tempted by a serpent but rather by an orangutan"); and the top five evangelicals from the past that he would invite to a dinner party (you'll have to read it to find out).
The lives of some 400 notable evangelicals, selected from many countries and centuries, including heroes of the faith, pastors, theologians, missionaries and church leaders, are here summarized with scholarship, warmth and the insight that comes from understanding. The dictionary is the work of an outstanding team of contributors, including many acknowledged experts in their own field. It will prove a much-valued companion for all who seek a wider knowledge of our evangelical inheritance.
—Timothy Dudley-Smith, biographer of John Stott
[4 1/2 Stars Out of 5] " The Biographical Dictionary of Evangelicals is an unusual, invaluable collection of 400 brief biographies. Pastors, teachers, and lay people will profit immensely by consulting it often."
This volume will be a highly valuable work of reference. Written by academic specialists, the articles are both authoritative and very readable, lucid and well balanced, generally sympathetic but without being partisan.
—Hugh McLeod, University of Birmingham, England
An impressive work of collective scholarship and admirably wide-ranging, this Biographical Dictionary will be welcomed by all who have an interest in the history of evangelicals, or in religious history more generally. Individual entries are authoritative and valuable in themselves; collectively they serve as a powerful reminder of the complexity, pluralism and international reach of English-speaking evangelicalism as it has evolved over the last five hundred years and more.
—Richard Carwardine, Oxford University
...Each succinctly written article gives sufficient detail, making this much more than a simple who's who. Such evangelists as Oliver Cromwell, Frances Crosby, Billy Graham, Dwight Moody, and William Tyndale are subjects of well-developed essays that are both factual and critical. Most are several pages in length. Entries are signed and conclude with bibliographies encouraging the reader to pursue additional biographical or autobiographical sources.
—Booklist
Any Who's Who or Who Was Who of evangelical history is bound to be a useful resource, since few such volumes are readily available. This one is especially helpful, comprising nearly 800 pages of information about more than 400 significant evangelical lives — all for a reasonable price!
—Evangelical Times
You will...enjoy reading through this informative volume
—Equip magazine
Timothy Larsen is associate professor of theology at Wheaton College in Wheaton, Illinois. He is the author of Friends of Religious Equality: Nonconformist Politics in Mid-Victorian England.

New Bible Atlas
Editors: J.J. Bimson, J.P. Kane, J.H. Paterson, D.J. Wiseman, and D.R.W. Wood
Publisher: IVP
Publication Date: 1994
Pages: 128
The New Bible Atlas combines the geography of the Holy land with the history of the Holy Bible in a colorful, large-format book that will delight the eye and inform the mind.

New Bible Commentary
Editors: Gordon J. Wenham, J. Alec Motyer, Donald A. Carson, and R. T. France
Edition: 21st Century Edition
Publisher: IVP
Publication Date: 1994
Pages: xiii, 1,455
For 40 years, the New Bible Commentary has set the standard for works of its kind. Now in this completely revised fourth edition (including over 80% new and updated material), the New Bible Commentary is positioned to maintain its standing as the leading one-volume commentary on the whole Bible well into the 21st century.
This readable and accessible volume brings together many of the finest scholars of our day to meet the needs of students, teachers and Bible readers. The 21st-century edition of the New Bible Commentary offers 66 solid, concise, evangelical commentaries—one on each book of the Bible. These detailed (passage-by-passage or verse-by-verse) commentaries, based on the NIV text, are accompanied by introductory material on date, authorship, purpose, key themes, outlines and discussions of recent developments in biblical scholarship. In addition seven articles overview biblical history and types of biblical literature, including the Pentateuch, poetry, the Gospels, the Epistles, and the Apocrypha and other apocalyptic writings.
For many years I recommended the old New Bible Commentary as the best of its kind on the market. I expect to find myself saying the same of this new work that replaces it.
—J. I. Packer
Gordon J. Wenhamis lecturer in Old Testament at Trinity College, Bristol. He was formerly professor of Old Testament at the University of Gloucestershire.
J. Alec Motyerr (M.A., B.D., D.D.) was formerly principal of Trinity College in Bristol, England. He has extensive experience in parish ministry and is well known as a Bible expositor.
Donald A. Carson is research professor of New Testament at Trinity Evangelical Divinity School in Deerfield, Illinois.
R. T. France has taught at London Bible College and was principal of Wycliffe Hall, Oxford, from 1989 to 1995. He has also been the rector of seven Anglican parishes.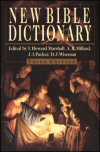 New Bible Dictionary
Editors: I. Howard Marshall, A. R. Millard, J. I. Packer, and Donald J. Wiseman
Edition: 3rd
Publisher: IVP
Publication Date: 1996
Pages: xix, 1,298
The New Bible Dictionary is a reference work ideally suited for people of all ages and backgrounds. This magnificent and comprehensive Bible dictionary has set the standard for evangelical Bible dictionaries for five decades. Now in its third, updated edition, it is the clear leader in its field.
The third edition is an important step forward in bringing this classic work up to date with the latest developments in biblical studies, ancient Near Eastern studies and archaeological finds. One hundred of the most important articles have been revised and rewritten. All of the bibliographies have been revised, taking into account the vast increase in publications since the second edition was released.
The third edition of the New Bible Dictionary will increase the reader's knowledge and understanding of God's Word as no other single book can do. It is an invaluable reference book for schools and colleges, theological and Bible college students, ministers and laypeople, teachers and professional scholars--everyone who wants to know and understand the Bible better.
The text is clearly written, up to date, cognizant of critical theories, yet true to the Bible as God's Word and replete with helpful information. This work is destined to become a standard that will be turned to often by students and ministers alike.
—Christianity Today
I doubt if there is any better value for the money today. As a basic book for every thinking Christian's library, it is indispensable.
—John Stott
A. R. Millard is Rankin Professor of Hebrew and Ancient Semitic Languages at the University of Liverpool.
J. I. Packer is Board of Governors Professor of Theology at Regent College in Vancouver, British Columbia. He also serves as contributing editor to Christianity Today.
Donald J. Wiseman is emeritus professor of Assyriology at the University of London in England.

New Dictionary of Biblical Theology
General Editors: T. Desmond Alexander and Brian S. Rosner
Consulting Editors: Donald A. Carson and Graeme Goldsworthy
Publisher: IVP
Publication Date: 2000
Pages: xx, 866
At the heart of this work is an A-to-Z encyclopedia of over 200 key biblical-theological themes such as atonement, creation, eschatology, Israel, Jesus Christ, the kingdom of God, redemption, suffering, wisdom and worship. Students and communicators of the Bible will be well served by articles exploring the theology of each biblical book. And for those interested in the wider discipline of biblical theology, major articles explore foundational issues such as the history of biblical theology, the challenges raised against biblical theology, and the unity and diversity of Scripture.
Over 120 contributors drawn from the front ranks of biblical scholarship in the English-speaking world make the New Dictionary of Biblical Theology a work of distinction and a benchmark of evangelical biblical theology at the turn of the twenty-first century. Bibliographies round out all articles, directing readers to research trails leading out of the Dictionary and into crucial studies on every subject. Cross-references throughout send readers through the varied maze of reading pathways, maximizing the usefulness of this volume.
Comprehensive, authoritative and easily accessible, the New Dictionary of Biblical Theology is certain to establish itself as an essential resource for students of the Bible and theology.
The New Dictionary of Biblical Theology is a valuable resource for teachers, preachers and students.
—David L. Baker, Ashland Theological Seminary, Ashland, Ohio
It is a quality volume, which I'm sure will become a standard reference work for all serious Bible students, especially those committed to teaching and preaching the whole Bible as Christian Scripture.
—Barry G. Webb, Moore Theological College, Sydney, Australia
T. Desmond Alexander is senior lecturer in biblical studies and director of postgraduate studies at Union Theological College in Belfast, Northern Ireland.
Brian S. Rosner is senior lecturer in New Testament and ethics at Moore Theological College in Australia.
Graeme Goldsworthy was formerly lecturer in Old Testament, biblical theology and hermeneutics at Moore Theological College in Sydney, Australia.

New Dictionary of Theology
Editors: Sinclair B. Ferguson, J. I. Packer, and David F. Wright
Publisher: IVP
Publication Date: 1988
Pages: xix, 738
Since its publication, the New Dictionary of Theology has rapidly established itself as a standard, authoritative reference work in systematic and historical theology. More than 630 articles cover a variety of theological themes, thinkers and movements:
from creation to the millennium
from Abelard to Zwingli
from Third World liberation theology to South African Dutch Reformed theology
Firmly anchored in the evangelical tradition, the NDOT is nevertheless wide-ranging in its scope. Over 200 contributors, experts in their individual fields, offer both Western and international perspective. Concise and comprehensive, biblically grounded and historically informed, even-handed and free from unduly technical language, this dictionary has been praised by general readers, pastors and scholars.
The NDOT combines a breadth of interest with careful scholarship and readable style, making it a most valuable resource. . . . I commend it enthusiastically
—David Atkinson
This is the best one-volume dictionary of Christian theology I have read.
—DAlister McGrath
Sinclair B. Ferguson is senior minister at First Presbyterian Church in Columbia, South Carolina, and serves as professor of systematic theology at Westminster Seminary in Dallas, Texas.
David F. Wright(1937-2008) was professor of patristic and Reformation Christianity at New College, University of Edinburgh. He wrote a number of books on both historical and theological topics.
This classic one-volume reference work has been appreciated for decades. It is now substantially expanded and revised to focus on a variety of theological themes, thinkers and movements. From African Christian Theology to Zionism, this volume of historical and systematic theology offers a wealth of information and insight for students, pastors and all thoughtful Christians.
Over half of the more than eight hundred articles are new or rewritten with hundreds more thoroughly revised. Fully one-third larger than its predecessor, this volume focusing on systematic and historical theology has added entries and material on theological writers and themes in North America and around the world. Helpful bibliographies have also been updated throughout.
Over three hundred contributors form an international team of renowned scholars including Marcella Altaus-Reid, Richard Bauckham, David Bebbington, Kwame Bediako, Todd Billings, Oliver Crisp, Samuel Escobar, John Goldingay, Tremper Longman III, John McGuckin, Jennifer McNutt, Michael J. Nasir-Ali, Bradley Nassif, Mark Noll, Anthony Thiselton, John Webster and N.T. Wright.
This new edition combines excellence in scholarship with a high standard of clarity and profound insight into current theological issues. Yet it avoids being unduly technical. Now an even more indispensable reference, this volume is a valuable primer and introduction to the grand spectrum of theology.
New Testament Introduction
Author: Donald Guthrie
Publisher: IVP
Publication Date: 1996
Pages: 1,123
In this updated edition of his widely acclaimed reference work Guthrie provides background information for each book of the New Testament and examines issues such as authorship and authenticity, literary structure, and cultural setting. These discussions, as well as the notes and bibliography, are enhanced by Guthrie's attention to recent scholarship and current issues in biblical studies.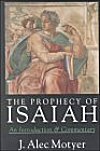 The Prophecy of Isaiah
Author: J. Alec Motyer
Publisher: IVP
Publication Date: 1996
Pages: 544
Drawing on a lifetime of study and teaching the book, J. Alec Motyer presents a landmark, single-volume commentary on the prophecy of Isaiah. He emphasizes the grammatical, historical, structural, literary, and theological dimensions of the text, and pays particular attention to three central and recurring themes: the messianic hope, the motif of the city, and the theology of the Holy One of Israel.
More details about these resources