Paul and His Letter to the Ephesians by N. T. Wright (4.5 hour course)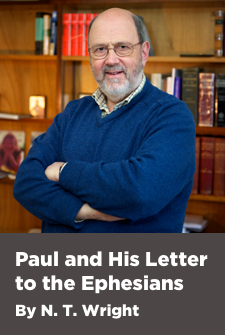 Paul and His Letter to the Ephesians by N. T. Wright (4.5 hour course)
•
Runs on Windows, Mac and mobile.
Overview
Prof. N. T. Wright, renowned biblical scholar and historian, will walk you through Paul's Letter to the Ephesians. This course begins with the big picture of God's ultimate intention of bringing forth the joining of "heaven" and "earth," reuniting what had been fractured long ago. Paul explains that, through the Messiah, God has brought together one new humanity. This new family of God will lead to a different way of thinking, speaking, and living. In addition, attention is given to the reality of the unseen world as it plays out in the lives of this New Family which lives in unity and holiness. Dig deep into the New Testament through studying this wonderful and practical epistle.
Learning Objectives
Upon successful completion you should be able to:
Develop a deeper appreciation for the way Paul presents his message as a prisoner for Christ in this powerful epistle
Discern the implications of Paul's message as you look at the present age and manner of life around you
Understand the heart of Paul's message to the Ephesian church
Apply the contents and principles of the letter to your own inner life of devotion
Present a coherent summary of this letter of which seeks to bring together the realities of "heaven" and "earth"
Learn to live out your commitment to King Jesus with the new reality of the one family of God
Who Should Take this Course?
This course is intended for anyone who has an interest in the message of the New Testament and who would like to examine the expansive wonder Paul's Letter to the Ephesians of one of the Apostle Paul's most powerful letters.
This course is designed for a general audience. You do not have to have previous theological training to understand the concepts.
Product Details
Title: Paul and His Letter to the Ephesians
Instructor: N. T. Wright
Publisher: The Wisconsin Center for Christian Study
Publication Date: 2019
Product Type: Faithlife Course
Resource Type: Courseware, including quizzes, and video resources
Courses: 1
Video Hours: 4.5
About the Instructor
Nicholas Thomas "Tom" Wright has been named by Christianity Today as one of our time's top theologians. He is currently professor of New Testament and early Christianity at St. Andrews University. Wright holds a bachelor's degree in theology, a master's in Anglican ministry, and a DPhil, all from University of Oxford.
A fellow and chaplain at Cambridge from 1978 to 1981, he then served as assistant professor of New Testament language and literature at McGill University in Montreal. Before becoming a chaplain, tutor, lecturer, and fellow at Oxford in 1986, Wright served as dean of Lichfield Cathedral, canon theologian of Westminster Abbey, and bishop of Durham.
His academic work has usually been published under the name "N. T. Wright," but works such as What St. Paul Really Said and Simply Christian, aimed at a more popular readership, were published under the less formal name of "Tom Wright."
More details about these resources