Mobile Ed: NT328 Theological Themes of Luke-Acts (3 hour course)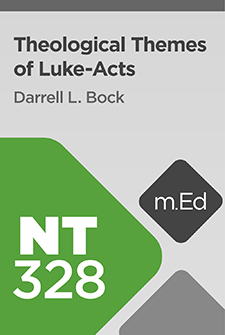 Mobile Ed: NT328 Theological Themes of Luke-Acts (3 hour course)
•
Runs on Windows, Mac and mobile.
Overview
In NT328, Dr. Darrell L. Bock will walk you through ten theological themes of the unified work Luke-Acts. You will learn what Luke-Acts has to say about salvation, the kingdom, Christians in society, the future of Israel, and so much more. By the end of this course, you will be well acquainted with major themes that are woven throughout the biggest literary work in the New Testament.
Learning Objectives
Upon successful completion you should be able to:
Describe Luke's purpose for writing Luke-Acts
Outline the main themes of Luke-Acts
Explain the importance of Jesus's resurrection/ascension
Recognize why the Holy Spirit is the sign of the new era
Course Outline
Introduction
Introducing the Speaker and the Course
Unit 1: Background to Luke and Acts
Luke, the Orphan of the Gospels
Who Wrote the Gospel of Luke?
Date of the Gospel of Luke
Purpose of the Gospel of Luke
Genre and Orality of Luke
Unit 2: Prologue and Infancy Narratives (Luke 1:1–2:52)
Prologue and Announcement of John the Baptist
Announcement of the Birth of Jesus
Mary's Visit to Elizabeth
Birth of John the Baptist
Birth of Jesus
Piety and Division
Jesus Speaks for Himself
Unit 3: Baptism, Roots, and Temptation (Luke 3:1–4:13)
John the Baptist: One Who Goes Before
Baptism of Jesus and the Divine Voice
Genealogy of Jesus
Temptation of Jesus
Unit 4: Galilean Ministry (Luke 4:14–9:50)
Jesus Rejected in Hometown Synagogue
Day in Capernaum
Jesus Calls the First Disciples
Miracles and Controversies (Part 1)
Miracles and Controversies (Part 2)
Sermon on the Plain (Part 1)
Sermon on the Plain (Part 2)
Healing of Centurion's Servant and Raising of Widow's Son
Reflections on John the Baptist and Jesus
Anointed by a Sinful Woman
Kingdom Parables and the Word of God
Four Miracles Revealing Jesus's Power
Toward the Confession of Peter
Jesus's Messiahship and the Disciples' Confusion
Unit 5: Toward Jerusalem (Luke 9:51–14:35)
Establishing Priorities
Mission of the Seventy-Two
The Good Samaritan, and Martha and Mary
Jesus's Teaching on Prayer
Debate over Jesus's Ministry
Woes to Pharisees and Scribes
Whom to Fear
Rich Fool and Trustworthy God
Parable of the Servants and Responding to the Times
Repentance
Healings and the Kingdom
Compassion and the Kingdom
Themes on Discipleship
Unit 6: Toward Jerusalem (Luke 15:1–19:44)
Pursuing the Lost
Parable of the Prodigal Son
Unrighteous Steward and Kingdom Ethics
Parable of the Rich Man and Lazarus
Miscellaneous Teachings and Gratitude
Judgment and the Son of Man
Persistence, Humility, and Trust
Challenging the Rich Ruler
Warning of Suffering and Healing the Blind
Zacchaeus and the Parable of the Ten Minas
Entry into Jerusalem
Prediction of Jerusalem's Destruction
Unit 7: Last Week in Jerusalem (Luke 19:45–24:53)
Temple Cleansing
John the Baptist and the Parable of the Wicked Tenants
Roman Taxes and Resurrection
Psalm 110
Hypocritical Scribes and a Poor Widow
Introduction to Eschatological Discourse
Toward the Destruction of Jerusalem
Keep Watch for Son of Man's Return
Events Associated with the Last Supper
Greatness, Kingdom Authority, and Prediction of Peter's Denials
Gethsemane, Jesus's Arrest, and Peter's Denials
Mocking and Jewish Trial of Jesus
Examination by Pilate
Crucifixion and Burial of Jesus
Women at the Tomb
Emmaus Disciples
Jesus Meets with the Disciples
Conclusion
Theophilus Reassured
Hearing Luke's Heartbeat
Product Details
Title: Theological Themes of Luke-Acts
Instructor: Darrell L. Bock
Publisher: Lexham Press
Publication Date: 2018
Product Type: Logos Mobile Education
Resource Type: Courseware, including transcripts, audio, and video resources
Courses: 1
Video Hours: 3
About Darrell L. Bock
Dr. Darrell L. Bock, research professor of New Testament studies and professor of spiritual development and culture at Dallas Theological Seminary, serves as editor-at-large for Christianity Today, and is on the board of Chosen People Ministries and Wheaton College. From 2000 to 2001, Dr. Bock served as president of the Evangelical Theological Society.
He has earned international recognition as a Humboldt Scholar for his work in Luke-Acts, historical Jesus study, biblical theology, as well as with messianic Jewish ministries. He has published articles in the Los Angeles Times and The Dallas Morning News and is a well-known author of over 30 books. His publications include Studying the Historical Jesus: A Guide to Sources and Methods, Jesus according to Scripture, an NIV Application Commentary on Luke, Breaking the Da Vinci Code, and commentaries on Acts and Luke in the Baker Exegetical Commentary on the New Testament (BECNT) series.
Getting the most out of Mobile Ed
Logos Mobile Education is a highly effective cross-platform learning environment that integrates world class teaching with the powerful study tools and theological libraries available in Logos Bible Software. Every course provides links to additional resources and suggested readings that supplement the lecture material at the end of every transcript segment.
This course was produced with screencast videos. These videos provide tutorials showing you how to use Logos Bible Software in ways that are tied directly into the content of the course. We are now producing Activities resources as a replacement for screencast videos. We plan on updating this course to include this additional Activities resource in the future for no extra charge.
More details about these resources