Mobile Ed: CH261 History of the Doctrine of the Trinity (10 hour course)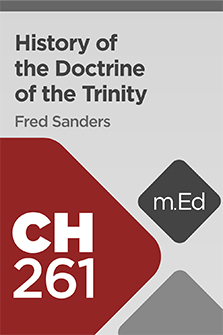 Mobile Ed: CH261 History of the Doctrine of the Trinity (10 hour course)
•
Runs on Windows, Mac and mobile.
Your Custom Discount
Reg. Price $379.99
Sale Price $229.99
Your Price $229.99
You Save $150.00 39%
Your Price
What's Pre-Pub?
$229.99
Overview
God's trinitarian nature is eternal and unchanging, yet how Christians have understood and expressed the doctrine of the Trinity has been shaped over two thousand years of church history. Dr. Fred Sanders surveys the development of the theology of the triune God from the age of the apostolic fathers down to the modern era. He emphasizes that while the source and foundation of this doctrine is Scripture, understanding the perspectives of believers over time can be a resource for us as we reflect on God's self-revelation. You will be shown in depth how the testimony of the church has affirmed God's triunity over the millennia, and you will come to see more clearly your position in the long line of believers standing face to face with Scripture, learning there of the Father, Son, and Holy Spirit.
Course Outline
Unit 1: Method and Background
Method
Three Factors Driving Elaboration
Times of the Trinity: Periodization
Unit 2: Pre-Nicene Period
Introduction: Clarity
Baptismal Formula
Gloria Patri
Apostolic Fathers
Apologists
Justin Martyr
Apostles' Creed
Irenaeus
Tertullian
Origen
Logos Doctrine
Unit 3: Nicene Trinitarianism
Story of Nicaea
Athanasius: Part 1
Athanasius: Part 2
Hilary of Poitiers
Basil
Gregory of Nazianzus
Nicene Creed
Augustine: Part 1
Augustine: Part 2
Augustine: Part 3
Athanasian Creed
Unit 4: Early Medieval Trinitarianism
Dionysius
Boethius
The Creed of the Council of Toledo 11
John of Damascus
Photius and Filioque
Peter Lombard
Anselm
Bernard of Clairvaux
Rupert of Deutz
Gerhoch the Great
Richard of Saint Victor
Unit 5: Later Medieval Trinitarianism
Aquinas: Part 1
Aquinas: Part 2
Bonaventure
Palamas
Ruusbroec
Mechthild of Magdeburg
Unit 6: Reformation-Era Trinitarianism
Introduction
Luther
Calvin
Anti-Trinitarians
Cranmer
Protestant Scholastics
Unit 7: Puritan Trinitarianism
Owen
Goodwin
Flavel
Lewis Bayly
Unit 8: Early Modern Trinitarianism
Excursus: Petavius vs. Bull and the Development of Doctrine
Hard Times: Newton, Locke, Milton
Samuel Clarke
Unit 9: Modern Trinitarianism
Urlsperger
Schleiermacher
Hegel
de Regnon
Bavinck
Barth
Rahner
Moltmann
Pannenberg
LaCugna
Revising the Revisionists
Webster
Product Details
Title: CH261 History of the Doctrine of the Trinity
Instructor: Fred Sanders
Publisher: Lexham Press
Publication Date: 2018
Product Type: Logos Mobile Education
Resource Type: Courseware, including transcripts, audio, and video resources
Courses: 1
Video Hours: 10
About the Instructor
Fred Sanders is professor of theology in the Torrey Honors Institute at Biola University. He holds a BA in drawing and printmaking, an MDiv from Asbury Theological Seminary, and a PhD in systematic theology from the Graduate Theological Union in Berkeley, California. His research covers a wide range of the major Christian doctrines, but his consistent focus is on the doctrine of the Trinity. He is the author of The Deep Things of God: How the Trinity Changes Everything, The Triune God, and several other books and articles.
Getting the most out of Mobile Ed
Logos Mobile Education is a highly effective cross-platform learning environment that integrates world class teaching with the powerful study tools and theological libraries available in Logos Bible Software. Every course provides links to additional resources and suggested readings that supplement the lecture material at the end of every transcript segment.
This course comes with an Activities resource that functions as a type of "workbook" for the course. This resource includes learning activities such as: places for you to respond to reflection questions, exercises that will challenge and show you how deepen your understanding of this course by using specific Logos tools and resources, tutorial videos on different features of Logos Bible Software, and links to relevant Logos guides and tools. A link to open the Activities resource is conveniently placed at the end of every segment.