The Works of Samuel M. Zwemer (18 vols.)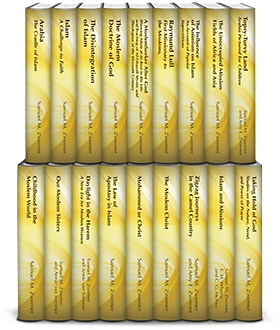 Overview
Nicknamed the "Apostle to Islam," for nearly 40 years Samuel M. Zwemer lived and worked in the Middle East, preaching the Gospel of Jesus and training hundreds of missionaries. Founder and editor of The Moslem World, Zwemer—familiar with the land, language, and people of Islam—provided a window into a growing religion and culture that few Westerners knew. This collection is the fruit of that labor, bringing together all of Zwemer's major works about Islam at the turn of the twentieth century.
Consisting of essays, lectures, articles from The Moslem World, and the books that made him a respected authority in his field, Zwemer's legacy as one of the finest Christian scholars of Islam is still recognized today.
In the Logos edition, all Scripture passages in The Works of Samuel M. Zwemer are tagged and appear on mouse-over. What's more, Scripture references are linked to the wealth of language resources in your Logos library. If you own the English and Arabic Qur'an, you can follow along with Zwemer in his analysis of Islamic doctrine and his studies comparing Islam to Christianity. This makes these texts more powerful and easier to access than ever before for scholarly work or personal Bible study. With the advanced search features of Logos Bible Software, you can perform powerful searches by topic or Scripture reference—finding, for example, every mention of "atonement" or "apostasy."
Key Features
Key works from the "Apostle to Islam," Samuel M. Zwemer
Detailed studies of Islam and Muhammad
Ideal for comparative religion studies
Biographies of Raymund Lull and Al-Ghazali included
Product Details
Title: The Works of Samuel M. Zwemer
Author: Samuel M. Zwemer
Volumes: 18
Pages: 4,215
About Samuel M. Zwemer
Samuel Marinus Zwemer (1867–1952) was born in Vriesland, Michigan and educated at Hope College, New Brunswick Theological Seminary, Muskingham College, and Rutgers College. Zwemer served as a missionary in the Middle East from 1891–1929 where he earned his nickname "The Apostle to Islam." In 1929, he was appointed professor of missions and professor of the history of religion at Princeton Theological Seminary. He retired from Princeton College Seminary at the age of 70.
Zwemer was the founder and edited The Moslem World for 35 years and the author of dozens of books, articles, essays, and periodicals—mostly revolving around missionary work and Islam.