Constructive Theology: A Contemporary Approach to Classical Themes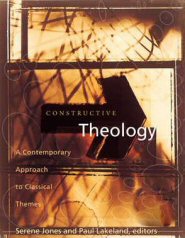 Constructive Theology: A Contemporary Approach to Classical Themes
•
Runs on Windows, Mac and mobile.
Overview
Coordinated by Serene Jones of Yale Divinity School and Paul Lakeland of Fairfield University, fifty of North America's top teaching theologians—members of the Workgroup on Constructive Christian Theology—have devised a text that allows students to experience the deeper point of theological questions, to delve into the fractures and disagreements that figured in the development of traditional Christian doctrines, and to sample the diverse and conflicting theological voices that vie for allegiance today.
With the Logos Bible Software edition of Constructive Theology participate in the activity of religious reflection. All Scripture passages are linked to your favorite Bible translation in your library. With the advanced search features of Logos Bible Software, you can perform powerful searches by topic or Scripture reference.
Key Features
Study aids for students
Includes bibliographical references and an index
Praise for the Print Edition
Constructive Theology celebrates a rich, kaleidoscopic variety of theological structures, genres, arguments, and insights. The authors are committed to retrieving the deep insights of the classical tradition by bringing contemporary problems and experiences to bear on the work of theological construction . . . A fresh engagement with Christian faith.
—Peter C. Hodgson, Vanderbilt Divinity School
Product Details
Title: Constructive Theology: A Contemporary Approach to Classical Themes
Editors: Serene Jones and Paul Lakeland
Publisher: Fortress Press
Publication Date: 2003
About the Editors
Serene Jones is Professor of Theology at Yale Divinity School and author of Feminist Theory and Christian Theology and Calvin and the Rhetoric of Piety.
Paul Lakeland is Professor of Theology at Fairfield University in Connecticut. Among his works are Theology and Critical Theory, Postmodernity, and The Liberation of the Laity.
Sample Pages from the Print Edition
More details about these resources