Mobile Ed: TH207 The Clarity of Scripture (0.5 hour course)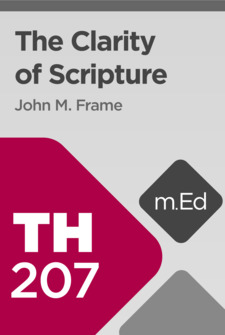 Mobile Ed: TH207 The Clarity of Scripture (0.5 hour course)
•
Runs on Windows, Mac and mobile.
Overview
The clarity of Scripture is a key part of the Reformation doctrine of Scripture. In this short course, John Frame considers what the clarity of Scripture means. He describes its origin and discusses it in light of three of God's attributes: His sovereignty, His authority, and His presence. Dr. Frame also explains how to understand the clarity of Scripture when reading passages in the Bible that do not seem to be clear.
Course Outline
Introduction
Introducing the Speaker and Course
The Clarity of Scripture
The Westminster Confession of Faith on the Clarity of Scripture
Clarity and God's Sovereignty
Clarity and God's Authority
Clarity and the Spirit's Presence
Dealing with Apparent Unclarity
Conclusion
God Has Spoken to Us; We Can Understand
Product Details
Title: TH207 The Clarity of Scripture
Instructor: John Frame
Publisher: Lexham Press
Publication Date: 2018
Product Type: Logos Mobile Education
Resource Type: Courseware, including transcripts, audio, and video resources
Courses: 1
Video Hours: 0.5
About John M. Frame
John M. Frame (b. 1939) is an American philosopher and a Calvinist theologian especially noted for his work in epistemology, presuppositional apologetics, systematic theology, and ethics. He is one of the foremost interpreters and critics of the thought of Cornelius Van Til. He is currently professor of systematic theology and philosophy at Reformed Theological Seminary, Orlando.
Getting the most out of Mobile Ed
Logos Mobile Education is a highly effective cross-platform learning environment that integrates world class teaching with the powerful study tools and theological libraries available in Logos Bible Software. Every course provides links to additional resources and suggested readings that supplement the lecture material at the end of every transcript segment.
This course comes with an Activities resource that functions as a type of "workbook" for the course. This resource includes learning activities such as: places for you to respond to reflection questions, exercises that will challenge and show you how deepen your understanding of this course by using specific Logos tools and resources, tutorial videos on different features of Logos Bible Software, and links to relevant Logos guides and tools. A link to open the Activities resource is conveniently placed at the end of every segment.
More details about these resources