Mobile Ed: CS211 History of Philosophy (2 hour course)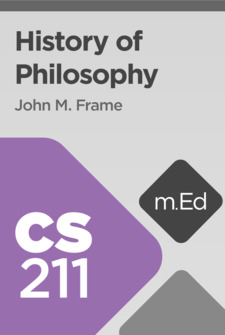 Mobile Ed: CS211 History of Philosophy (2 hour course)
•
Runs on Windows, Mac and mobile.
Overview
In CS211 History of Philosophy, John Frame presents a brief survey of philosophy. Beginning with the garden of Eden, Dr. Frame describes the development of thought and worldview, and he explores how different philosophies have reflected or influenced theology. This course will help you to understand the assumptions present in a range of worldviews and to be better equipped to interact with different ways of thinking.
Course Outline
Introduction
Introducing the Speaker and Course
Unit 1: Ancient Philosophy
Philosophy in the Beginning
Pre-Socratic Greek Philosophy
Classical Philosophy: Plato and Aristotle
The Apostolic Fathers and Early Christian Philosophy
Medieval Philosophy
Unit 2: Modern Philosophy
Early Modern Philosophy
Immanuel Kant
Liberal Theology: Part 1
Liberal Theology: Part 2
Nineteenth- and Twentieth-Century Philosophy
Recent Christian Philosophy
Conclusion
Product Details
Title: CS211 History of Philosophy
Instructor: John Frame
Publisher: Lexham Press
Publication Date: 2018
Product Type: Logos Mobile Education
Resource Type: Courseware, including transcripts, audio, and video resources
Courses: 1
Video Hours: 2
About John M. Frame
John M. Frame (b. 1939) is an American philosopher and a Calvinist theologian especially noted for his work in epistemology, presuppositional apologetics, systematic theology, and ethics. He is one of the foremost interpreters and critics of the thought of Cornelius Van Til. He is currently professor of systematic theology and philosophy at Reformed Theological Seminary, Orlando.
Getting the most out of Mobile Ed
Logos Mobile Education is a highly effective cross-platform learning environment that integrates world class teaching with the powerful study tools and theological libraries available in Logos Bible Software. Every course provides links to additional resources and suggested readings that supplement the lecture material at the end of every transcript segment.
This course comes with an Activities resource that functions as a type of "workbook" for the course. This resource includes learning activities such as: places for you to respond to reflection questions, exercises that will challenge and show you how deepen your understanding of this course by using specific Logos tools and resources, tutorial videos on different features of Logos Bible Software, and links to relevant Logos guides and tools. A link to open the Activities resource is conveniently placed at the end of every segment.
More details about these resources