The Works of William Paley (4 vols.)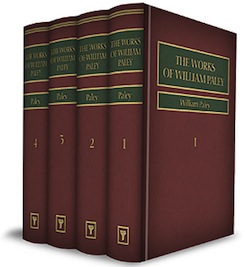 Overview
One of the most influential Christian philosophers of his day, William Paley possessed exceptional reasoning and writing abilities which are best on display in The Works of William Paley (4 vols.). Known primarily for his contributions in ethics, philosophy, and natural theology, many of his works were used as textbooks at Cambridge, being widely used even until the 1920s.
His Principles of Moral and Political Philosophy, for example, was a highly influential work, standing to this day as a foundational philosophical text of late Enlightenment Britain. Paving the way for future developments in social and political policy in both the United States and Britain, he argued for such foreward-thinking agendas as the abolition of the slave trade, women's rights, and a graduated income tax.
Natural Theology was Paley's last published work, wherein he argued that the existence of God can be proven from the general well-being present in the physical and social order. In this work he famously penned the Watchmaker Analogy, which is still used by many Christian apologists today.
Also included in this collection are an in-depth biography, private and public sermons, and several topical treatises.
This extensive collection brings together all the works of this important figure in Christian thought, and with the Logos Bible Software edition, each volume in The Works of William Paley (4 vols.) is fully integrated with the other resources in your Logos library, including Bibles, dictionaries, and numerous other Bible study tools. The Logos edition also allows you to perform powerful searches and word studies, and scripture references are linked to the wealth of language resources in your digital library. This makes The Works of William Paley (4 vols.) more powerful and easier to access than ever before for reading, sermon preparation, research, and Bible study.
Key Features
Collected works of Paley, including his seminal work Natural Theology
Extensive biography totalling more than 200 pages
Dozens of public and private sermons
Complete integration with Logos Bible Software, including cross-referencing and scripture passage hyperlinks
Praise for William Paley
It is gratifying to behold the man, whose penetrating mind could enlighten the abstrusest difficulties of philosophy, cheerfully engaged in the humblest works of utility; the writer, who could instruct divines and scholars, employed, like the amiable Dr. Watts, in reducing knowledge to the level of the most youthful capacity.
—Rev. Robert Lynam
The logic of this book and, as I may add, of his 'Natural Theology,' gave me as much delight as did Euclid. The careful study of these works, without attempting to learn any part by rote, was the only part of the academical course which, as I then felt and as I still believe, was of the least use to me in the education of my mind.
—Charles Darwin
The examples and detail Paley presents are amazing in both quantity and literary quality. Even with the age of his book, the extent to which Paley draws from the scientific information available to him is truly impressive, and, one could argue, is still persuasive in light of contemporary science.
Individual Titles
Product Details
Title: The Works of William Paley
Author: William Paley, D.D.
Edition: Revised and Expanded
Publisher: Longman and Co.
Volumes: 4
Pages: 1,870
About the Author
William Paley (1743–1805) was one of the most influential philosophers of the late Enlightenment period. Having studied at Christ's College, Cambridge, he later became a tutor of philosophy and the Greek New Testament. Later on in his life, he became Archdeacon of Carlisle within the Anglican Church. His work in the area of natural theology was groundbreaking, particularly in his formulation of the Watchmaker Analogy. Some of his other important works delve into the areas of social and political ethics and were added to the list of required texts at Cambridge shortly after their printing. A magnate of Christian philosophy, Paley's works paved the way for modern studies in Christian apologetics and historical criticism.
More details about these resources