The New Testament in the Original Greek: Byzantine Textform 2005 (BYZ)(Robinson-Pierpont) (audio)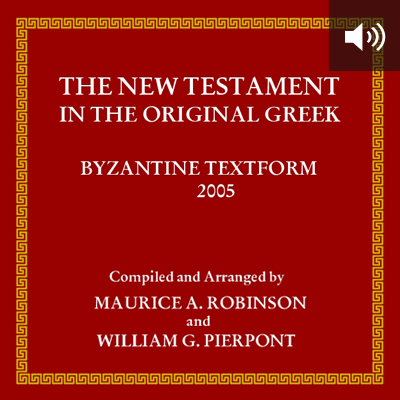 The New Testament in the Original Greek: Byzantine Textform 2005 (BYZ)(Robinson-Pierpont) (audio)
•
Runs on Windows, Mac and mobile.
Overview
The Byzantine Textform represents the text type reflected among the vast majority of extant manuscripts. It is a critical edition of the Byzantine texts that the early printed Greek New Testaments ("Textus Receptus" editions) and early English versions such as the Bishop's, Geneva, Coverdale, and King James Version derive. This audio edition provides a complete reading of the Greek New Testament using the Erasmian pronunciation system.
Audiobooks add new dimension to your digital library. When you listen in Logos, your audiobooks sync across devices—pause a book anytime on your home computer, then pick up where you left off in your car or on your laptop. Listen on your lunch breaks, as a family, or as part of your personal devotional time. Tap into the power of Logos Bible Software in a whole new way.
Key Features
Perfect users who want to practice their NT Greek auditory comprehension
Provides an easy and simply want to enjoy the Greek New Testament while on the go
Brings the Greek text to life for students and pastors beyond the printed word
More details about this resource