Pentecostal Theology Collection (2 vols.)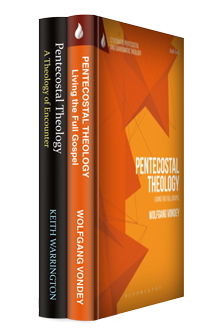 Overview
The Pentecostal Theology Collection includes two monographs that offer in-depth systematic analyses of theological topics from a Charismatic or Pentecostal perspective in order to coordinate the systematic presentation (broadly construed) of Pentecostal and Charismatic theology worldwide. These two volumes seek to encourage younger scholars to engage in a systematic theological endeavor from Pentecostal and Charismatic perspectives and to facilitate the systematic and constructive development of Pentecostal and Charismatic theology.
These two books explore interrelated theological themes: ranging from traditional and uniquely Pentecostal doctrines to theological method, hermeneutics, spirituality, ethics, liturgy, as well as interdisciplinary engagements through the lens of Pentecostal and Charismatic theology. Hence, the series fosters broad theological conversations in and outside the Pentecostal and Charismatic movements with the purpose to offer constructive presentations for Pentecostal/Charismatic and non-Pentecostal/Charismatic audiences.
In the Logos edition, these volumes are enhanced by amazing functionality. Important terms link to dictionaries, encyclopedias, and a wealth of other resources in your digital library. Perform powerful searches to find exactly what you're looking for. Take the discussion with you using tablet and mobile apps. With Logos Bible Software, the most efficient and comprehensive research tools are in one place, so you get the most out of your study.
Key Features
Initiates critical discussion of traditional Pentecostal doctrines by Pentecostal scholars
Examines central Pentecostal or Charismatic doctrines and practices
Provides ecumenical and interdisciplinary conversations of systematic Pentecostal and Charismatic theologies with other theological traditions
Individual Titles
Pentecostals (traditionally) do not think theologically so much as they think practically. This book will present Pentecostal theology as well as the particular style of Pentecostal thinking and praxis that makes it different. Pentecostalism is not just distinctive because of its belief base but also because of the worldview it owns. The latter is based on a certainty that a religion that does not work is not worth much. Consequently, they look for expressions of life and vitality in their faith. These dominate, rather than an expression of the cerebral, though this is changing.
Nevertheless, the sense of the immediate, the God of the now not the distant past, underlie how they do theology. Pentecostal theology tends to be seen through the eyes of people, not theologians; through the community, not traditions (though they have them); through their faith and worship, not ancient creeds. It is a theology of the dynamic, seen through the lens of experience. It is a functional theology that exists to operate; to incorporate an experiential dimension. Pentecostal theology does not operate as other theologies which often only detail a list of beliefs; it does this but also and (more) importantly, it explores them in the context of praxis. Thus, this volume incorporates praxis as part of the enquiry relating to theology.
Here, at last, is a scholarly and comprehensive account of Pentecostal theology from one of this tradition's leading scholars. It is written in an engaging style and presented in a balanced and non-polemical manner. Warrington has achieved what has not been done before: with lucid clarity and a willingness to engage with differing perspectives, combined with a skilled use of biblical exegesis and abundant secondary literature he has written a volume that will stand as a benchmark for years to come. Pentecostals and Charismatics of every persuasion and those from older Christian traditions will find this an eminently readable text.
—Allan Anderson, professor of global Pentecostal studies, University of Birmingham, UK
Keith Warrington is Vice-Principal and Director of Doctoral Studies, Regents Theological College, England
Pentecostalism is the most rapidly growing branch of Christianity since the 20th century, yet it does not lend itself well to a singular doctrine and there is, therefore, no single comprehensive account of Pentecostal theology worldwide. Wolfgang Vondey suggests an account of Pentecostal theology that is genuine to Pentecostals worldwide while allowing for different adaptation and explication among the various Pentecostal groups. He argues that Pentecostal theology is fundamentally concerned with the renewal of the Christian life identified by the transforming work of the Holy Spirit and directed toward the kingdom of God.
The book unfolds in two main parts illustrating the full gospel story and theology. Eleven chapters identify the spiritual underpinnings and motivations for Pentecostal theology, formulate a Pentecostal theology of action, translate, apply, and exemplify Pentecostal practices and experiences, and integrate Pentecostal theology in the wider Christian tradition.
This is a beautifully written literary masterpiece, presenting a visionary method and example for constructing Pentecostal systematic theology ... I strongly recommend this volume as requisite reading in Pentecostal theology. Its highly readable style makes it assessable for both academic and non-academic settings, such as for a church or ministry resource.
—Asian Journal of Pentecostal Theology
Wolfgang Vondey is Reader in Contemporary Christianity and Pentecostal Studies at the University of Birmingham, UK and Director at the Center for Pentecostal and Charismatic Studies.
More details about these resources