Mobile Ed: NT361: Book Study: The Letter to the Hebrews (audio)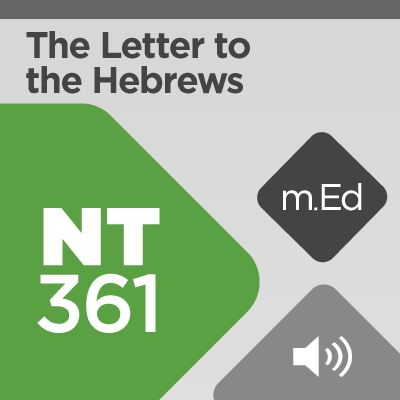 Mobile Ed: NT361: Book Study: The Letter to the Hebrews (audio)
•
Runs on Windows, Mac and mobile.
Overview
This course is the culmination of over 20 years of research and teaching on the book of Hebrews by Dr. George Guthrie. Dr. Guthrie walks you through the entire text, explaining its complex structure and navigating you through its twists and turns. You'll learn about specific issues the first-century church faced and see how we are still dealing with those issues today. You'll also gain an understanding of the theological foundations laid in Hebrews. Dr. Guthrie draws from his extensive research to provide insight on the priesthood of Jesus and God's covenant promises.
The aim of this course is that by better understanding what the text says about who Jesus is and what He's done for us, you will be encouraged to live faithfully and persevere. As Dr. Guthrie states, "Your perseverance in the Christian faith will be in direct proportion to the clarity with which you see who Jesus is and what He has accomplished on our behalf!"
This is the audio only version of NT361 Book Study: The Letter to the Hebrews. To purchase the full course, click here.
Course Outline
Introduction
Introducing the Speaker and the Course
Unit 1: Introductory Matters
Historical Fiction
Authorship
Finding Places Where the New Testament Cites the Old Testament
Best Guess at Author
Audience
Date
Message of Hebrews for Today
The Structure of Hebrews
Looking Up Exhortations in Hebrews
Approach of the Course
Unit 2: God's Superior Revelation
The Introduction (Heb 1:1–2a)
Conducting Research Using Logos Resources
Christ Defined (Heb 1:2b–4)
Exploring the Structure of Hebrews 1:1–4
Application of Hebrews 1:1–4
Unit 3: The Son's Superior Status
Superior to Angels (Heb 1:5–14)
Application of Hebrews 1:5–14
The First Warning (Heb 2:1–4)
Application of Hebrews 2:1–4
From Exaltation to Incarnation (Heb 2:5–9)
Researching the Subjection of All Things to Christ
Application of Hebrews 2:5–9
The Son's Incarnation (Heb 2:10–18)
The Old Testament in Hebrews 2:10–18
Application of Hebrews 2:10–18
Jesus and Moses (Heb 3:1–6)
Application of Hebrews 3:1–6
Exhortation to Faithfulness (Heb 3:7–19)
Discovering Common Vocabulary with Word Lists
True Faith and God's Rest (Heb 4:1–11)
Sabbath-Rest and Application of Hebrews 4:1–11
The Second Warning (Heb 4:12–13)
Unit 4: The Son's Superior Priesthood
A Crossroads (Heb 4:14–16)
Application of Hebrews 4:14–16
Introducing Christ's High Priesthood (Heb 5:1–10)
Four Principles of High Priesthood (Heb 5:1–4)
Studying Old Testament Sacrifices
Psalm 110:4 and Application (Heb 5:5–10)
From Foundations to Maturity (Heb 5:11–6:3)
Application of Hebrews 5:11–6:3
The Third Warning (Heb 6:4–8)
Old Testament Imagery in Hebrews 6:4–8
Interpretations of Hebrews 6:4–8
Application of Hebrews 6:4–8
Strong Encouragement in Faith (Heb 6:9–12)
Using the Sermon Starter Guide to Prepare a Lesson on Assurance
A Stable Faith (Heb 6:13–20)
Unit 5: The Son's Superior Ministry
The King of Salem (Heb 7:1–10)
Melchizedek's Superiority (Heb 7:4–10)
A Different Priesthood (Heb 7:11–28)
Jesus' Indestructible Life (Heb 7:16–28)
A Heavenly Ministry (Heb 8:1–2)
Searching for Passages That Mention Jesus' Exaltation
A Heavenly Tabernacle (Heb 8:3–6)
The New Covenant (Heb 8:7–13)
Unit 6: The Son's Superior Sacrifice
Jesus' Superior Offering (Heb 9:1–10)
Examining the Translations of the Greek Term Thymiatērion in Hebrews 9:4
Application of Hebrews 9:1–10
Cleansed by His Blood (Heb 9:11–28)
Mediation through Sacrificial Death (Heb 9:15–24)
An Eternally Effective Sacrifice (Heb 9:25–28)
The Law's Shadow (Heb 10:1–18)
A Posture of Obedience (Heb 10:5–10)
Decisive Sanctification (Heb 10:11–18)
Confidence to Enter (Heb 10:19–25)
Application of Hebrews 10:19–25
The Fourth Warning (Heb 10:26–31)
Using the Bible Word Study Guide to Research Katapateō
Application of Hebrews 10:26–31
Encouragement to Stand Together (Heb 10:32–34)
The Need for Patient Endurance (Heb 10:35–39)
Unit 7: Examples of Faith
The Great Hall of Faith (Heb 11:1–40)
Faith Defined (Heb 11:1–3)
Heroes of the Faith (Heb 11:4–40)
Application of Hebrews 11
Jesus' Example of Faith (Heb 12:1–2)
Legitimized through Discipline (Heb 12:3–11)
Studying God's Fatherly Discipline with the Topic Guide
Walk the Straight Path (Heb 12:12–17)
Approaching the Mountain (Heb 12:18–24)
Application of Hebrews 12:18–24
The Final Warning (Heb 12:25–29)
Application of Hebrews 12:25–29
Unit 8: Final Exhortations and Benediction
Practical Community Instructions (Heb 13:1–6)
A Sacrifice of Praise (Heb 13:7–16)
Call to Obedience and Prayer (Heb 13:17–19)
Application of Hebrews 13:1–19
Closing Benediction (Heb 13:20–25)
About George H. Guthrie
Dr. George H. Guthrie serves as the Benjamin W. Perry Professor of Bible at Union University in Jackson, Tennessee. A specialist in New Testament and Koine Greek, he's authored numerous articles and has written 11 books, including the NIV Application Commentary: Hebrews.
Dr. Guthrie has participated in translation projects, such as the revision of The New Living Translation, and has served as a consultant on the Holman Christian Standard Bible, the New Century Version, and the English Standard Version. He also served for five years as a cochair of the "Biblical Greek Language and Linguistics" section of SBL, has served on the executive committee of the Institute for Biblical Research, and has served on the editorial board for Sheffield's JSNTS monograph series. At Union University, he has led in the establishment of, and serves as senior fellow in, the Ryan Center for Biblical Studies, which is committed to promoting sound Bible reading, study, and interpretation at the grassroots level of the church. Dr. Guthrie holds both PhD and MDiv degrees from Southwestern Baptist Theological Seminary and a ThM from Trinity Evangelical Divinity School.
More details about this resource