Mobile Ed: NT311 The World of Jesus and the Gospels (audio)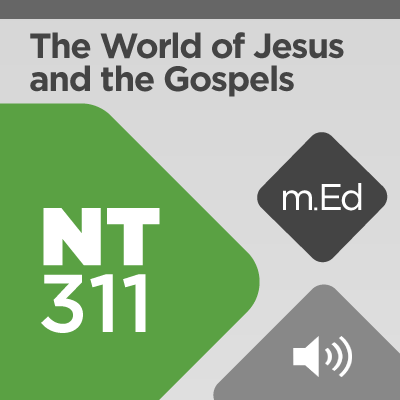 Mobile Ed: NT311 The World of Jesus and the Gospels (audio)
•
Runs on Windows, Mac and mobile.
Overview
Gain clarity in your reading of the Gospels with a study of the intertestamental period. The decline of the Persian Empire, the rise of Alexander the Great, Israel's military engagements and religious movements—the events between the final book of the Old Testament and the first Gospel are a backdrop for Christ's appearance and the development of Christianity. Intertestamental history clarifies the context of the New Testament for a deeper, more robust understanding of Scripture.
This is the audio only version of NT311 The World of Jesus and the Gospels. To purchase the full course, click here.
Course Outline
Introduction
Introducing the Speaker and the Course
Unit 1: Intertestamental Socio-Religious World
Timeline
Succession of Imperial Powers
Using the Timeline to Trace the History of the Intertestamental Period
Antiochus Epiphanes
Accessing and Utilizing the Perseus Classics Collection in Logos
Hasmoneans
Using the Topic Section in Search Results to Research Antiochus IV
Roman Intervention
Creating a Custom Series and Layout to Study the Bible with Apocrypha
History of Rome
Herod the Great
Using the Favorites Tool to Store and Organize Research
Roman Prefects and Procurators
Using the Bible Facts Tool to Distinguish between the Herods
Jewish Agitators: "Messiahs"
Jewish Agitators: "Prophets"
Searching the Writings of Josephus for Mentions of Christ
Time of Jesus: Religious and Cultural Background
Time of Jesus: Social and Economic Background
Temple
Finding and Exporting Images with the Bible Facts Tool
Synagogues
Unit 2: Intertestamental Ideas
Interpreting Scripture
Using a Proximity Search to Find Images of the Synagogue at Capernaum
Intertestamental Literature
Extracanonical Insights: Parable of the Vineyard
Creating a Layout to Study the Targums
Extracanonical Insights: John the Baptist's Messianic Doubts
Extracanonical Insights: John's Prologue
Intertestamental Development of Old Testament Ideas
Graeco-Roman Philosophies
Summary and Conclusions
About Craig A. Evans
Dr. Craig A. Evans received his PhD in New Testament from Claremont Graduate University and his DHabil from the Karoli Gaspar Reformed University in Budapest. He is the John Bisagno Distinguished Professor of Christian Origins at Houston Baptist University in Texas.
Evans taught at Trinity Western University in British Columbia for 21 years, where he directed the graduate program in biblical studies and founded the Dead Sea Scrolls Institute. He has recently served on the advisory board for the Gospel of Judas for National Geographic Society and has appeared frequently as an expert commentator on network television programs.
Evans has written and edited extensively on the historical Jesus and the Jewish background of the New Testament era. His published works include From Prophecy to Testament: The Function of the Old Testament in the New , Jesus and the Ossuaries, Jesus: The Final Days, and Dictionary of New Testament Background.
More details about this resource