Mobile Ed: NT306 The Dead Sea Scrolls and the New Testament (audio)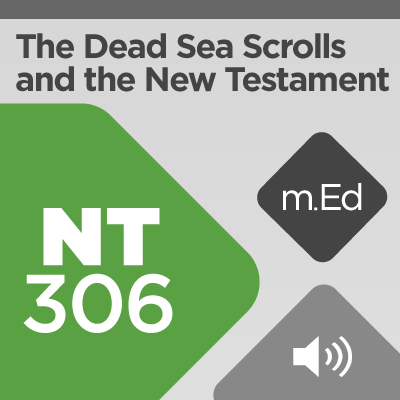 Mobile Ed: NT306 The Dead Sea Scrolls and the New Testament (audio)
•
Runs on Windows, Mac and mobile.
Overview
Dr. Craig Evans combines his extensive knowledge of ancient manuscripts and New Testament studies to survey the contents, context, and influence of the Dead Sea Scrolls. He details the history of the scrolls and the Essenes, and shows how the scrolls affect our understanding of Jesus, John the Baptist, and the early church.
This is the audio only version of NT306 The Dead Sea Scrolls and the New Testament. To purchase the full course, click here.
Course Outline
Unit 1: Introduction and Overview
Introducing the Speaker and the Course
Overview of the Course
Creating a Layout for the Biblical Dead Sea Scrolls
The First Discovery
Important Genizah Finds
The Second Find
Scripture Scrolls
Pesharim: Commentary Scrolls
Militant Messianic Pesharim
Adding the Sectarian Dead Sea Scrolls to the Dead Sea Scrolls Layout
Sectarian Scrolls
The Essenes and the Origins of the Scrolls
Building and Searching a Collection of Dead Sea Scrolls Resources
What the Ruins Tell Us
Unit 2: Dead Sea Scrolls: Gospels
John the Baptist: Part 1
John the Baptist: Part 2
Jesus and the Dead Sea Scrolls
Jesus' Proclamation of Jubilee
Jesus' Exorcism and Healing
Exorcism and the Psalms
Strings of Beatitudes
Jesus' Assurance for John the Baptist
Jesus on Divorce and Monogamy
Qumran on Divorce and Monogamy
Researching the Essenes' Belief about Divorce
The Temple Tax
The Eschatological Banquet
God's Vineyard
The Law and Life
Conclusions: Value of the Dead Sea Scrolls
Unit 3: Dead Sea Scrolls: Epistles and Revelation
Paul and Qumran: Ecclesiastical Terminology
Paul and Qumran: "Works of the Law"
James versus Priestly Zeal for the Law
Qumran and "Works of the Law"
The Sons of Light
Mystery and Revelations
The Flesh and Spirit
Covered Heads and Angels
Order in the Assembly
James and Doing the Law/Word
Hebrews on Melchizedek
Qumran on Melchizedek
Spiritual Sacrifice
Qumran and John: Dualism
Qumran and John: Conceptual Parallels
Revelation on New Jerusalem
Qumran on New Jerusalem
New Jerusalem: Summary
Use of the Scrolls for New Testament Interpretation
Postscript: Possible Early Discoveries
About Craig A. Evans
Craig A. Evans is the Payzant Distinguished Professor of New Testament and director of the graduate program at Acadia Divinity College in Wolfville, Nova Scotia. He has written extensively on the historical Jesus and the Jewish background of the New Testament era. His books include Jesus and His Contemporaries: Comparative Studies, a commentary on Mark in the Word Biblical Commentary, Jesus and the Ossuaries, and Ancient Texts for New Testament Studies. He has recently served on the advisory board of the Gospel of Judas for National Geographic Society and has appeared frequently as an expert commentator on network television programs such as Dateline, and in various documentaries on the BBC, the Discovery Channel and the History Channel.
More details about this resource