Reading Scripture Collection (2 vols.)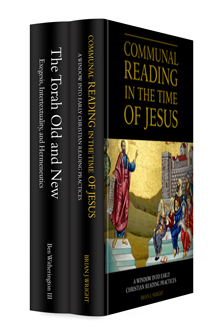 Reading Scripture Collection (2 vols.)
•
Runs on Windows, Mac and mobile.
Your Custom Discount
Reg. Price $49.99
Sale Price $29.99
Your Price $29.99
You Save $20.00 40%
Your Price
What's Pre-Pub?
$29.99
Overview
Understanding how the first audience of scripture read and responded to the text is an essential task in hermeneutics and exegesis. The Reading Scripture Collection examines how those audiences interpreted the Pentateuch in the Old Testament and the Gospels in the New Testament. Together leading scholars Ben Witherington III and Brian J. Wright guide contemporary readers in reading, studying, and understanding these important texts.
In the Logos edition, these volumes are enhanced by amazing functionality. Important terms link to dictionaries, encyclopedias, and a wealth of other resources in your digital library. Perform powerful searches to find exactly what you're looking for. Take the discussion with you using tablet and mobile apps. With Logos Bible Software, the most efficient and comprehensive research tools are in one place, so you get the most out of your study.
Key Features
Lays out an erudite commentary on important biblical texts
Brings insights from the ancient world into a contemporary setting
Valuable appendices that examine citations and allusions to the Pentateuch in the New Testament
Individual Titles
Reading the books of the Law, the Pentateuch, in their original context is the crucial prerequisite for reading their citation and use in later interpretation, including the New Testament writings, argues Ben Witherington III. Here, he offers pastors, teachers, and students an accessible commentary on the Pentateuch, as well as a reasoned consideration of how these books were heard and read in early Christianity. By reading "forward and backward," Witherington advances the scholarly discussion of intertextuality and opens a new avenue for biblical theology.
Contents include:
The "Law" by the Numbers and Its Influence in Early Judaism
The Genesis of It All
The Exodus and the Entrance
Cracking the Levitical Code and Counting Up the Numbers
Deuteronomy and the Demise of Moses
Coda: Final Reflections
Appendix A: Citations, Allusions, and Echoes of the Pentateuch in the New Testament, according to Nestlé-Aland 28
Appendix B: A Review of Adam and the Genome
Appendix C: Ascending Enoch, or Jesus and Falling Spirits
Withington's convivial writing style will attract a wide readership to this next installment of his "old and new" series. His Christocentric approach to the "old" law will continue to incite dialogue and his explanation of the "new" law will be a help to readers of the New Testament
—Bill T. Arnold, Asbury Theological Seminary
Completing his trilogy of exploring intertextuality in the Psalms, Isaiah, and now the Torah, this volume puts Witherington's impressive command of the biblical documents and their backgrounds on full display. Will don't agree with all his proposals, I've learned much from this well-conceived study
—Andreas J. Kostenberger, Southeastern Baptist Theological Seminary
Ben Witherington III is Amos Professor of New Testament for Doctoral Studies at Asbury Theological Seminary in Wilmore, Kentucky, and is on the doctoral faculty at the University of St. Andrews in Scotland; he has also taught at Ashland Theological Seminary, Vanderbilt University, Duke Divinity School, and Gordon-Conwell Theological Seminary.
Much of the contemporary discussion of the Jesus tradition has focused on aspects of oral performance, story telling, and social memory, on the premise that the practice of communal reading of written texts was a phenomenon documented no earlier than the second century C.E. Brian J. Wright overturns that premise by examining evidence that demonstrates communal reading events in the first century. Wright disproves the simplistic notion that only a small segment of society in certain urban areas could have been involved in such communal reading events during the first century; rather, communal reading permeated a complex, multifaceted cultural field in which early Christians, Philo, and many others participated.
His study thus pushes the academic conversation back by at least a century and raises important new questions regarding the formation of the Jesus tradition, the contours of book culture in early Christianity, and factors shaping the transmission of the text of the New Testament. These fresh insights have the potential to inform historical reconstructions of the nature of the earliest churches as well as the story of canon formation and textual transmission.
Contents:
Introducing a New Control Category
Finding Communal Reading Events in the Time of Jesus
Economic and Political Factors
Social Context
Communal Reading Events in the First Century: Selected Authors and Texts
Communal Reading Events in the First Century: The New Testament Corpus
Concluding Remarks
Wright's results are important, indeed seminal not only to those whoo work in this field, but to our knowledge of early Christians who give every sign of being book-driven believers.
—D.A. Carson, Trinity Evangelical Divinity School
This Book fills what was a genuine and essential gpa in our knowledge of ancient antiquity relevant to the New Testament. Although subsequent scholarship regularly debates some conclusions of any ground breaking work, it remains indebted to the foundations that such a work lays. This work exhibits careful methodology and thorough engagement with both primary and secondary sources.
—Craig S. Keener, F. M. and Ada Thompson Professor of Biblical STudies, Asbury Theological Seminary
Brian J. Wright is adjunct professor at Palm Beach Atlantic University and has published a number of academic studies in the Journal of Theological Studies, Catholic Biblical Quarterly, Bulletin for Biblical Research, Trinity Journal, and Tyndale Bulletin. He is also coauthor of Revisiting the Corruption of the New Testament: Manuscript, Patristic, and Apocryphal Evidence (2011).