Kärkkäinen's Global Introductions to Systematic Theology 2nd ed. (3 vols.)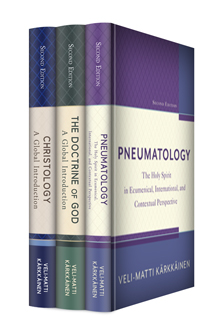 Kärkkäinen's Global Introductions to Systematic Theology 2nd ed. (3 vols.)
•
Runs on Windows, Mac and mobile.
Overview
These updated editions of systematic theologies produced by Veli-Matti Kärkkäinen are a thoroughly contemporary studies of theology that take into account historical Christian theology. As a professor of systematic theology at Fuller Seminary, he offers differing perspectives in Christology, Pneumatology, and theology proper with an eye to the past that never lacks an awareness of the shape of Christianity as a global faith. The author also provides discussion of questions raised by contemporary interfaith issues. The value of these proven and valuable theology texts for modern Christian thinkers in the world today meets a real need for understanding theology found in the Global South, in Asia, and beyond.
In the Logos edition, these volumes are enhanced by amazing functionality. Important terms link to dictionaries, encyclopedias, and a wealth of other resources in your digital library. Perform powerful searches to find exactly what you're looking for. Take the discussion with you using tablet and mobile apps. With Logos Bible Software, the most efficient and comprehensive research tools are in one place, so you get the most out of your study.
Key Features
Provides global and ecumenical viewpoints on aspects of systematic theology
Updated to include the most recent trends and developments in systematic theology
Introduces important issues in ecumenical and interdisciplinary theology
Individual Titles
In this revised introduction, an internationally respected scholar explores biblical, historical, and contemporary developments in Christology. The book focuses on the global and contextual diversity of contemporary theology, including views of Christ found in the Global South and North and in the Abrahamic and Asian faith traditions. It is ideal for readers who desire to know how the global Christian community understands the person and work of Jesus Christ. This new edition accounts for the significant developments in theology over the past decade.
No other book so comprehensively and helpfully surveys contemporary options in Christian thinking about Christ, including Christologies arising out of the two-thirds world. It is a reliable guide to cutting-edge reflection on the history, development, and contemporary contextualization of the doctrine of Jesus Christ.
—Roger E. Olson, professor of theology, George W. Truett Theological Seminary, Baylor University
This remarkably accessible panoramic survey introduces the complex world of Christology, the heart of Christian theology. Kärkkäinen has succeeded in the difficult task of drawing together the many strands of Christology in the Bible, in Christian history, and in the contemporary world. This survey, which reflects Kärkkäinen's personal commitment to ecumenicity, is both global and ecumenical. Kärkkäinen has given attention to Christologies from various parts of the world and from different Christian traditions, outlining key representatives of these multifaceted Christologies. The result is a fascinating kaleidoscope of images and reflections on the person of Christ, an essential textbook for the theology classroom, and important reading for anyone wanting to discover the meaning of Christ in this postmodern age.
—Allan Anderson, University of Birmingham
In recent years, the doctrine of God has once again become a central focus of theological discussion and debate. In this ecumenical, international, and contextual introduction, internationally respected scholar Veli-Matti Kärkkäinen offers a global survey of understandings of God in Scripture, Christian history, and contemporary theology. This new edition incorporates developments in theological research over the past decade and has been substantially updated throughout.
This astonishingly wide-ranging and well-informed book will serve as an introduction to the doctrine of God for scholars of all kinds and for many generations of students. The story of the numerous theologians and thinkers within the long, rich, and varied Christian tradition is freshly told with great insight and intelligence. In addition to providing a systematic treatment of the historical development of a Christian doctrine of God, this book addresses those parts of the world that, as the twenty-first century develops, are likely to become crucial to Christian scholarship--Africa, Latin America, and Asia. I warmly recommend this book for its thoroughness, scope, clarity, and fairness.
—William K. Kay, professor of Pentecostal studies, University of Chester
Kärkkäinen has produced a trilogy that will become a prophetic call for a new theological paradigm. In completing this series, he has created a work that will serve the global Christian world for the new century. He has rendered a particular service to the churches in the South and the East by challenging them to ponder their theological richness and by showing them how they can make unique theological contributions to shape healthy, global Christianity that is familiar and friendly to their varying sociocultural contexts.
—Wonsuk Ma, distinguished professor of global Christianity, Oral Roberts University
An internationally respected scholar offers a biblical, historical, and theological assessment of the doctrine of the Holy Spirit, focusing on the ecumenical and contextual experiences of the Spirit. This comprehensive review of pneumatology in global perspective examines various theological and denominational understandings of the Spirit, assesses key contemporary theologians of the Spirit, and inquires into several contextual approaches. The new edition has been substantially updated throughout to account for major developments in theology over the past decade and includes added coverage of interfaith issues.
Veli-Matti Kärkkäinen's Pneumatology is the most comprehensive yet succinct introductory text on the doctrine of the Holy Spirit on the market today. It covers a tremendous amount of ground and does not miss much of importance in reflection on the Holy Spirit in the last two generations. Readers will come away with their appetite whetted for more in-depth study on this topic. Even seasoned theologians would be well-advised to look at Kärkkäinen's text to ensure that they do not overlook important resources for reflection and engagement. Here is evangelical theologizing on pneumatology at its best: ecumenical, engaged, aware, and alert.
—Amos Yong, professor of theology and mission, Fuller Theological Seminary
Veli-Matti Kärkkäinen's book provides an excellent introduction to the study of contemporary pneumatology. It offers the reader a number of entry points to the subject by looking at pneumatology from various perspectives. Kärkkäinen summarizes an impressive array of positions and viewpoints accurately and succinctly without losing sight of the main issues, themes, and theologians. Pentecostals and charismatics will find it particularly helpful, as Kärkkäinen keeps many of their distinctive concerns in view. I highly recommend it as an introductory text.
—Simon Chan, Trinity Theological College
About Veli-Matti Kärkkäinen
Veli-Matti Kärkkäinen (DrTheol, University of Helsinki) is professor of systematic theology at Fuller Theological Seminary in Pasadena, California, where he has taught for over fifteen years. He is also docent of ecumenics at the University of Helsinki, Finland. A prolific writer, Kärkkäinen has authored or edited numerous books, including Christology, The Doctrine of God, and A Constructive Christian Theology for the Pluralistic World, a five-volume project that aims to develop a new approach to and method of doing Christian theology.
More details about these resources