Philosophical Foundations for a Christian Worldview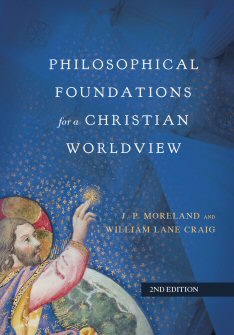 Philosophical Foundations for a Christian Worldview
•
IVP 2017
Runs on Windows, Mac and mobile.
Your Custom Discount
Reg. Price $42.99
Sale Price $29.99
Your Price $29.99
You Save $13.00 30%
Your Price
What's Pre-Pub?
$29.99
Overview
There are fundamental questions that any thinking person wants answers to. What is real? What is truth? What can we know? What should we believe? What should we do and why? Is there a God? Can we know him? These are questions that philosophy addresses. And the answers we give to these kinds of questions serve as the foundation stones for constructing any kind of worldview.
Now updated and expanded in this second edition, Philosophical Foundations for a Christian Worldview by J. P. Moreland and William Lane Craig offers a comprehensive introduction to philosophy from a Christian perspective. In their broad sweep they seek to introduce readers to the principal subdisciplines of philosophy, including epistemology, metaphysics, philosophy of science, ethics, and philosophy of religion. They do so with characteristic clarity and incisiveness. Arguments are clearly outlined, and rival theories are presented with fairness and accuracy.
In the Logos edition, this volume is enhanced by amazing functionality. Important terms link to dictionaries, encyclopedias, and a wealth of other resources in your digital library. Perform powerful searches to find exactly what you're looking for. Take the discussion with you using tablet and mobile apps. With Logos Bible Software, the most efficient and comprehensive research tools are in one place, so you get the most out of your study.
Key Features
Lays out a comprehensive survey of the field of philosophy from a Christian perspective
Emphasizes the centrality of understanding the Christian worldview
Goes into detail about philosophy's subdisciplines, such as epistemology, metaphysics, and ethics
Contents
An Invitation to Christian Philosophy
Part I: Introduction

What Is Philosophy?
Argumentation and Logic

Part II: Epistemology

Knowledge and Rationality
The Problem of Skepticism
The Structure of Justification
Theories of Truth and Postmodernism
Religious Epistemology

Part III: Metaphysics

What Is Metaphysics?
General Ontology: Existence, Identity, and Reductionism
General Ontology: Two Categories? Property and Substance
The Mind-Body Problem Part IA: Consciousness and Property Dualism or Mere-Property Dualism
The Mind-Body Problem Part IB: Alternatives to Property Dualism or Mere-Property Dualism
The Mind-Body Problem Part IIA: Arguments Regarding and Versions of Substance Dualism
The Mind-Body Problem Part IIB: The Main Physicalist Alternatives to Substance Dualism
Free Will and Determinism
Personal Identity and Life After Death

Part IV: Philosophy of Science

Scientific Methodology
The Realism-Antirealism Debate
Philosophy and the Integration of Science and Theology
Philosophy of Time and Space

Part V: Ethics

Ethics, Morality, and Metaethics
Ethical Relativism and Absolutism
Normative Ethical Theories: Egoism and Utilitarianism
Normative Ethical Theories: Deontological and Virtue Ethics

Part VI: Philosophy of Religion and Philosophical Theology

The Existence of God I
The Existence of God II
The Coherence of Theism I
The Coherence of Theism II
The Problem of Evil
Creation, Providence, and Miracle
Christian Doctrines I: The Trinity
Christian Doctrines II: The Incarnation
Christian Doctrines III: Atonement
Christian Doctrines IV: Christian Particularism

Suggestions for Further Reading
Praise for the Print Edition
Philosophical Foundations for a Christian Worldview has been the book I most frequently recommend for those desiring a clearly-written, distinctively Christian overview of the key subdisciplines of philosophy. So I am pleased that this volume is now in an updated second edition, written by two influential Christian philosophers whose academic work, personal integrity, and warm friendship have had an impact on my own life and writings over the years.
—Paul Copan, professor, Pledger Family Chair of Philosophy and Ethics, Palm Beach Atlantic University
Addressing some of the most important questions concerning the relationship between faith and reason, Craig and Moreland provide the serious student of philosophy a coherent and tightly argued account of the intellectual credentials of Christian belief. Although I sometimes find myself disagreeing with them (e.g., on divine simplicity and timelessness), their mastery of philosophical argument is impressive.
—Francis J. Beckwith, professor of philosophy, Baylor University
Moreland and Craig have taken a great text and made it even better. Since the original publication of Philosophical Foundations for a Christian Worldview in 2003, it has risen to the top of the pyramid as a resource for Christian students and scholars in expounding and defending the philosophical basis for the Christian worldview. The comprehensiveness of this text is overwhelming and now has been made even better with updates including new chapters on substance dualism, new evidence for the Kalam argument and the fine-tuning argument, an updated section on divine aseity, and a whole new chapter on the atonement. While accessible to the new student, it also offers the depth required for the graduate philosophy student. As the authors themselves affirm, 'This is no bedtime reading!' It will require hard work but pays off like no other philosophy book I am aware of.
—Mark W. Foreman, professor of philosophy, Liberty University
About the Authors
J. P. Moreland (PhD, University of Southern California) is Distinguished Professor of Philosophy at Talbot School of Theology, Biola University, in La Mirada, California. He is the author, coauthor, or contributor to over ninety-five books, including Does God Exist?, Universals, The Blackwell Companion to Natural Theology, Consciousness and the Existence of God, Philosophical Foundations for a Christian Worldview, In Search of a Confident Faith, Love Your God With All Your Mind, The God Question, and Debating Christian Theism.
William Lane Craig (PhD, University of Birmingham, England) is professor of philosophy at Talbot School of Theology and at Houston Baptist University. Craig has authored or edited over forty books, including The Kalam Cosmological Argument; Divine Foreknowledge and Human Freedom; God, Time, and Eternity; and God and Abstract Objects, as well as over 150 articles in professional publications of philosophy and theology, including The Journal of Philosophy, and New Testament Studies.
Sample Pages from the Print Edition